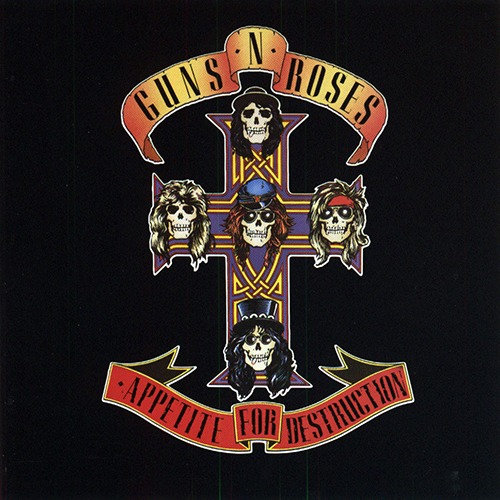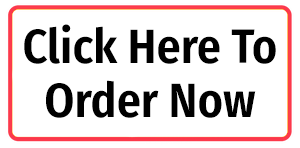 What is the best rock and roll album ever made? The question that was asked a million times. It is better to ask what are the best albums and making them stand out from the rest? Deep Purple "In Rock", Black Sabbath's first album, the Sex Pistols' Nevermind the Bollocks, Here's The Sex Pistols, "Pink Floyd" Dark Side of the Moon ", Dire Strait's first album, Led Zeppelin" Physical graphite "… are just a few that fall into this category rock'n'roll album that brought down the leg millions of people who have managed to turn the course in which the scene was moving, and today there are so many that we need a lot of pages to describe it. With all these giants "Appetite for Destruction" of the band Guns N 'Roses is written with huge letters. What is it that makes it stand out so much? What is so unique to this album? Why they are so respected? Why is the "Appetite for Destruction" symbol of a generation?
As a kid, I first heard of Guns sometime in 1988, a year after the release of Appetite. Even then the band was tourist attraction, had bad luck at Donington, fans were blindly followed by hotels and even threatened by jumping from the roof in London, if they do not come to the window of the hotel rooms, but were still only attraction, and the album, although respected and listened to, no one, except perhaps a handful of the most mature, he had no doubt that it will one day be such size. The numbers are gradually growing and growing and growing. And still growing and "Appetite for Destruction" is the kind of album that always sells, who always has an audience.
The combination of youthful arrogance, adrenaline, testosterone, talent and sleepless night purifying steel in the course of fire American clubs and all kinds of holes, are paid in full. Guns were an ideal combination of more opposites. Peace and tranquility of Izzy Stradlin (a dynamite talent for highly flammable riffs. It was this his gift might be the biggest factor in the success of the album and after his departure, music of Guns 'n9 Roses was no longer the same), chaos and rude arrogance in life and on stage and rough but very distinctive voice of Axl Rose, Slash's guitar ingenuity, bass lines of Duff McKagan, the whole album is full of hits with absolutely not even one weaker song and of course, good looks that have fallen all girls and guys secretly envy. As the Beatles eighties (although Beatles on alcohol and madness) Guns 'n' Roses were out of control and the dream of every teenager – very garish modern knights riding on the wings of fame and rebels with a grimace in the corner of the upper lip dressed in leather pants under a leather hats, hair that constantly waving in the wind and with hundreds of bracelets and necklaces as a Native American shamans. The truth is of course far from this romantic image, which later proved to tragic example drummer Steven Adler (who today holds its copyright?) and all the silly discussions that led to the breakup of the original cast. But we ignore all this. This is talking about a masterpiece of modern rock and roll.
Sale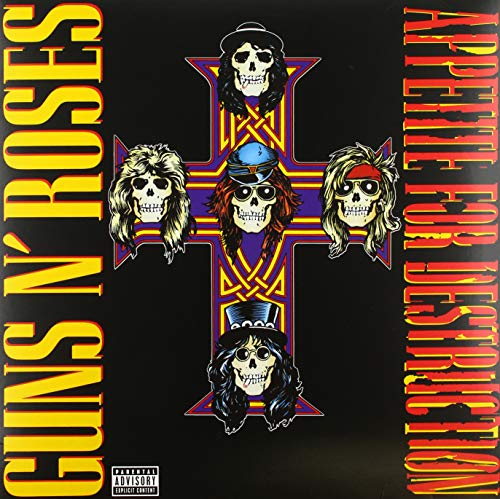 To disbelieve that song and after nearly thirty years and still sound fresh, as if they were recorded yesterday, and even a little outdated or lazy. The sound, as opposed to the later albums, always "modern", does not sound outdated. A huge dose of energy invested in the record, ie. the interpretation is ensured immortality to all the songs. The rhythm section on "Night Train", an introduction to the "Welcome to the Jungle", the dreaded forces "Paradise City", recognizable tunes "Sweet Child o 'Mine" which puts it on par with "Stairway to Heaven", arrogant confession in "It's So Easy, "a tragic story," My Michelle ", a furious speed performances on" You're Crazy "… each of the twelve songs have something of their special and exceptional, was it on the music, performing or text plan. And the censored original cover, as well as the alternative with the cross with skulls members, have become visual icons of rock and roll. Each song on the album and this is a fact – all twelve songs could be heard as a radio hit, and video spots are still revolving and always provoke strong reactions.
Guns had grown too quickly in the world surrounded by violence, inexpensive material pleasures, and fraud. They were like some of the iconic American muscle cars – a huge noisy engine, familiar, and the speed with which they burned vital fluid are killed very quickly. "Appetite For Destruction" is one of the best rock and roll albums of today, without hesitation, for whose success has paid a high price. The story of the Crossroads? Maybe. Welcome to the Jungle.
Sale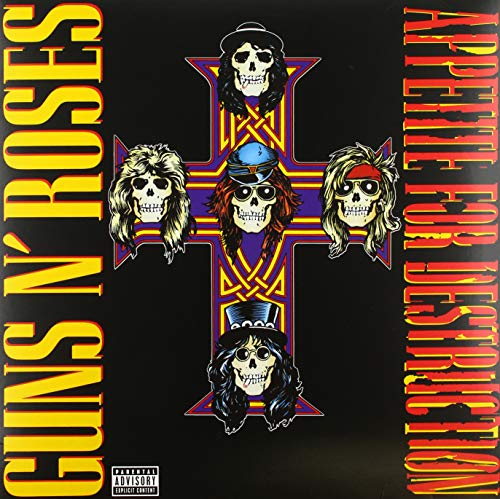 (Visited 659 times, 1 visits today)