Marantz TT-15S1 Reference Belt Turntable Review
Remember some really good Marantz turntables? Although I was a fan of Thorens in the vinyl era, it seems to me that in the sea of properly looking and barely playing plastic turntables, the TT 1000 Esotec was the only one worth remembering.
Disclaimer: If you purchase through links on our site, we may earn an affiliate commission. Read More
For those younger, those with lesser memory, as well as those who have never cared much about Marantz, this is the only "big" Marantz turntable from the early '80s to show how the company has the knowledge and ability to produce a HIGH-END device. The TT 1000 Esotec is today highly ranked both on the collector's list of sought-after antiquities and among good-sound lovers who believe that even a quarter of a century ago, the Japanese knew how to make a superb turntable. The TT 1000 looked great, weighed equally, they say it played great, and it went too early in history without grabbing some of the glory that really belongs to it. The tsunami called the CD just mixed everything up, leaving no economic hope for vinyl. In Marantz, as a real market-driven company, they threw themselves to the new media, and it is a fact that from the very beginning until today, for a company that is more interested in "ready-made" than "tailor-made", they have been extremely successful and popular with audiophiles. Marantz has become synonymous with good value for money. The master craftsman Ken Ishiwata also helped a lot with the sovereign handling of the technique and the idea of ​​faithful reproduction, while at the same time skillfully swimming in the hard frames of the market.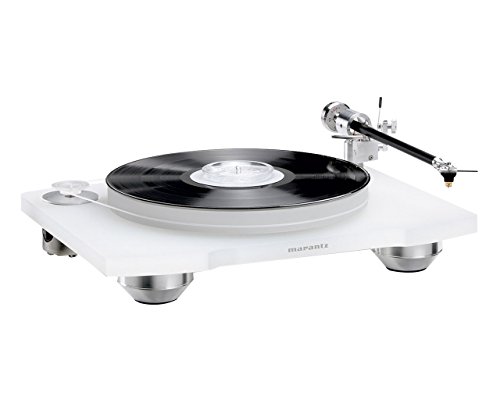 The same market has recently started sending signals that the number of vinyl lovers is increasing and how this company can take its own piece of cake. For Marantz and Ken Ishiwata, that means joining and offering a Marantz turntable. Market analysis has probably determined in which direction they will go, and what their expectations are. There is also the fact that unlike a CD player, any turntable is not a plug and play device, but a high-end toy that requires a little knowledge and attention for optimal performance. To combine a winning combination of platter/motor/chassis/tonearm/cartridge requires a lot of luck or knowledge. If you are gambling, chances are only slightly higher than in any gambling game, so you are more likely to get an average or even below-average result with excellent components. There's also a story with a phono preamplifier that will further complicate everything and it seems like getting the most out of every element is more like winning a lottery than a simple process in which an ordinary Hi-Fi mortal can handle it easily.
Look & Feel
All these temptations are known to a craftsman like Ken Ishiwata and it is not surprising Marantz choose him. Marantz's new turntable is called the TT-15S1 and comes as an easy-to-install package that requires a minimum of tuning and has a turntable (platter/motor/chassis) with tonearm and cartridge. The device itself is not a Marantz product, although it will thank you in the user manual for purchasing a "made by Marantz" device. A little carelessness, or simply a guild in the hectic times we live in, only a little bit later, the same instructions tell you how to clean your Emotion turntable. What Emotion ?! Well, the one leftover from the copy/paste manual writing because it's actually another company's Emotion model. Marantz is not the manufacturer of this turntable, but rather the famous German Clearaudio, but it should be said that the amount of changes to the original Emotion model is so great that it is not unfair to call this device a Marantz turntable. Clearaudio Emotion is a successful product that Ken Ishiwata has decided to tailor to his vision of a well-played device, with changes to the platter, tonearm, and feet on the base, a matte mat, and Clearaudio Virtuoso Wood cartridge included. The changes are not cosmetic in nature, given that each turntable is one large microphone sensitive to vibration, both externally and from its own drive. Adjusting resonant frequencies means playing with the amount and type of material, dumping, compliments … and this is a game for big players.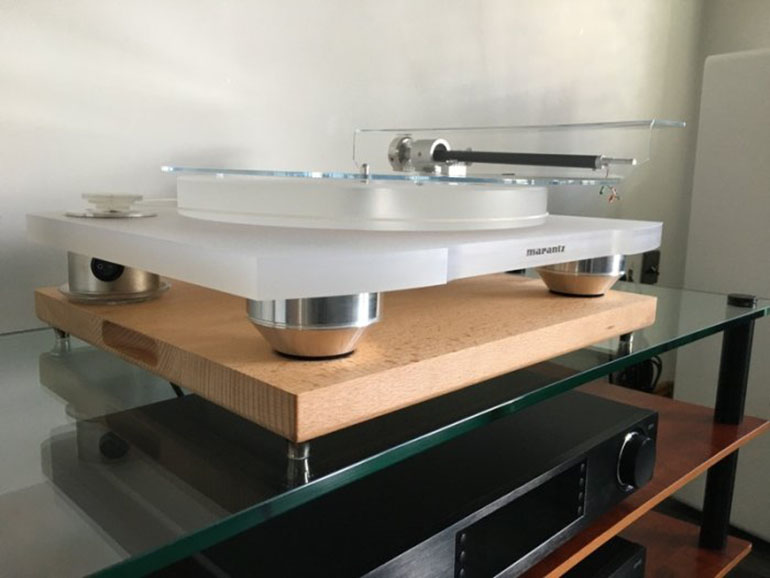 There's no cover in the package, so there's no way to convince yourself that it's one of the more fatal things for good sound. You cannot even try to change the cable of the tonearm, as it is permanently attached. You cannot change the power cable either since it is integrated into the motor housing. Everything adjusted as it should be and the intention of the constructor to reduce the future owner's chances of failure was evident. If you want to play, this is not the device for you. This is a variation on the former "plug and play" turntables, only this time in an actual audiophile release.
This kit comes packaged perfectly, followed by good instructions that will allow you to install it successfully and quickly without big effort. For practical reasons, the device is not assembled, and it is a good idea, as it would be a shame to miss the pleasure of getting to know the basic parts of your new device. The finish is German-style – precisely and solid. The build quality justifies the asking price. The instructions pictorially show what to do with the height of the tonearm if the mat is used or not. Height adjustment (Vertical Tracking Angle or VTA) is one of the more critical installation points and it is difficult to make a mistake here. If it is not intended to use a mat, the counterweight is used as a precision altimeter, and with the mat – the same counterweight is supported by an additional piece of the mat that has a diameter of the counterweight! Height can be easily adjusted, and as far as height variations with different weight of records. For the more ambitious, I recommend moderate experimentation because the tonearm mounting system does not look like something intended for frequent use. The most critical part of the operation, the installation of the cartridge, as opposed to the usual practice, is reduced to just a few precision-guided and simple operations. It is hard to make a mistake here.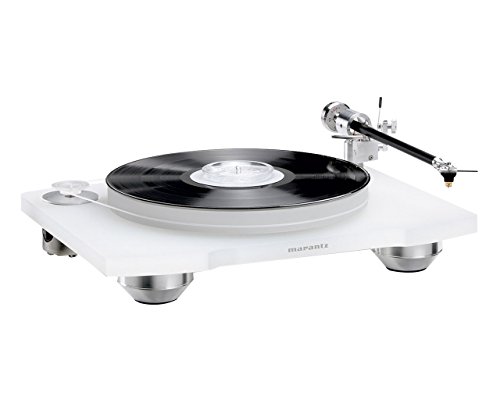 If all is done as advised by the instructions and you have placed the motor housing in the appropriate circular opening at the base so that it does not touch it, you can start the turntable. The ON/OFF switch is located on the motor housing itself. It's tough enough, so it will take more pressure to start or stop the platter. Pressed a little harder, not only will the switch change position, the entire motor housing will change position and probably lean against the base. And so the whole idea that the motor and base are only mediated by the drive belt fails. After some exercise, my condition improved, but every time I would look at whether everything was in place or required correction. Whether this is a design flaw or just part of the charm of analog reproduction, I leave it up to you to evaluate.
The charm of a well-thought-out package certainly includes a spare silicone drive belt and bearing oil. A spare belt will be great for a year or two to compare it to a work belt. If it stretched, it should, of course, be replaced and provided with a new reserve. It is not so easy with bearing oil, as the instructions say that the oil should be added when it is noticed that the platter is turning slightly slower. I would be more pleased with the small measuring bar and a slightly more accurate approach, but this is also something.
Like any turntable, this one is sensitive to the base on which it is placed. A little experimentation with MDF, plywood, and glass showed that the TT-15S1 loves thick glass. The difference with and without mat is also interesting. If it strives for a more coherent sound with slightly less detail, but therefore more fluid, you should choose the mat option. As a rule, a more coherent sound is added by the record clamp, which will provide a better connection between the platter/mat and vinyl while preventing the effect of slipping. Of the various designs on the market today, Marantz has opted for a very practical solution – a well-designed plastic record clamp, called the Clever Clamp, which will sit across the shaft to press the record.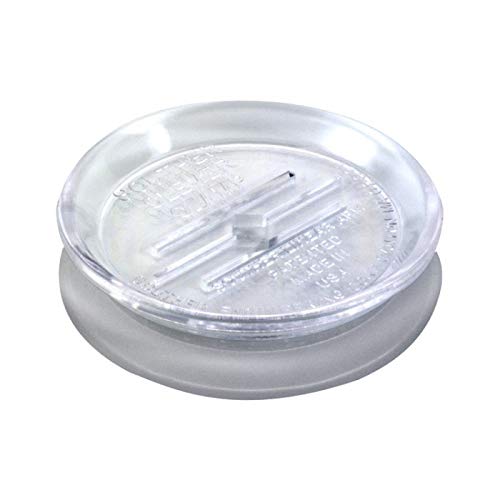 Clearaudio - Clever Clamp
Record clamp
Lightweight design
'Locks' record in place
Upturned edge allow for easy handling and removal
Plastic construction
In addition to not loading the shaft, this lightweight piece of plastic also has one completely practical side. If you drop this record clamp, and that is something that happens sooner or later, the damage it will do is usually insignificant, unlike any heavyweight clamps who will surely record his existence by a suitable groove on the floor or something even more memorable.
Marantz TT-15S1 Sound Test
The impression the finish gives is exactly the same as the result of the hearing test. Precise and solid. From the Revox B250S, through the Graham Era Gold V, to the tubular McIntosh MX 110, this turntable shows what it looks like when a name like Ken Ishiwata decides to present his vision of good reproduction. For your money, you have to get the maximum that can be deduced from the given material. And that is truly so. The rating for sound is good, appropriate for the price range, noting that this is not an average rating, but the only one that applies to all categories of reproduction. Frequency response, details, and microdetails, dynamics and microdynamics, the definition of space, musicality, and the ability to reproduce complex contents, it is all perfectly arranged with the same sense of measure. The TT-15S1 is a combination of such well-balanced virtues and flaws that we can only congratulate Ishiwata on the art.
If you find it worth adding more layered and harmoniously richer middle tones, then you are faced with the fact that it also means a little more money. A little more depth and microdynamics are a ticket for a class or two higher, which means we're not talking about the price of this device. On the other hand, such a turntable will easily handle any CD player of the same price in all aspects.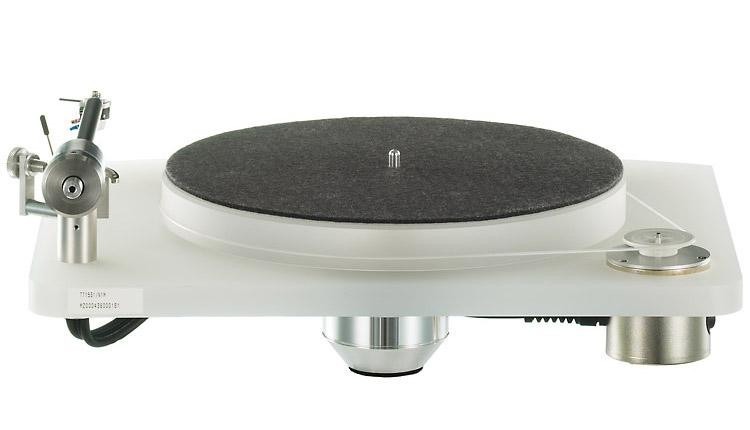 Marantz TT-15S1 Features
Low-Resonance High-Density Acrylic Chassis and Platter
Floating Motor Mount Construction
Asynchronous AC Motor
Belt Drive System with Endless Silicon Belt
Anodized Aluminum Straight Type Tone Arm
Magnetic Type Anti-Skating Mechanism
Fine Adjustable Counter Weight
Solid Aluminum 3 points Support Feet
Wood Base, High-Quality MM Cartridge
"Clever Clamp" by Souther Engineering
Moving Magnet Clearaudio Virtuoso Cartridge
As with all other components, the compatibility issue remains eternal. The TT-15S1 was a satisfactory combination with the Revox 260S. Certainly not my first choice, if I can choose. With the excellent Graham Era Gold V phono section, it turned out how well this turntable is balanced, how deep and how high it can go, how accurate and precise it is. Maybe I was missing a little more music here, so I reached for the old tube amp McIntosh MX 110. Reason? Not the fact that the tubes are in question, but a memorable experience from a few years ago when I had a Marantz PM 16 integrated amp in the system. Then the new Marantz and the old McIntosh showed unusual similarities in the character of the phono sections. It was a good measure of warmth and softness in presentation, with McIntosh richer in the middle, and with Marantz a slightly less luxurious middle with a noticeably better upper and lower range. Today, the MX 110 can't handle the lab-precise Graham Era Gold V, but the amount of music it carries is undeniably charming. How the TT-15S1 works with the new Marantz integrated amp, I don't know, but judging by McIntosh, it's a winning combination.
That is why Marantz amplifier owners who are considering buying a turntable in this class can say that Ken Ishiwata has a lot to think about and that the TT-15S1 is an unmistakable choice.
√ Check The Price and Read Customer Reviews √
Conclusion
We recommend everyone else to put this Marantz on their wish list as well. Great product.
Pros
Gorgeous design
Incredible range and clarity
Excellent value
Cons
Unforgivingly detailed
No dust cover
Bass lovers will be disappointed
Marantz TT-15S1 Specifications
General
Color: Transparent White
Platter height: 1.2″
Power Consumption: 5W
Dimensions W x H x D (Inches): 16.5" x 5.4" x 14.2" (w/o Tonearm)
Weight (lbs): 19.6lbs (w/o Tonearm & motor)
Features
Motor: Non-Servo AC Motor
Drive System: Belt Drive (Silicon Belt)
Operation: Manual
Speed; 33 1/3 & 45 RPM
Stylus: MM (Moving Magnet)
Inputs/Outputs
Technical
Speed variation: +/- 0.2%
Rated output: (1kHZ, 5m/s) 3.6mV
Freq. Response: (Digital Audio) 20Hz – 20kHz
S/N MM/MC: 80dB/-
Channel separation: >30dB
If you liked this article, please rate below.
(Visited 16,108 times, 1 visits today)