Pro-Ject T1 Phono SB Review
The new model from the basic series, Pro-Ject T1 Phono SB (actually the upgraded T1), now brings an integrated turntable preamplifier and button speed switch. Read further details in our review below.
Disclaimer: If you purchase through links on our site, we may earn an affiliate commission. Read More
Pro-Ject should simplify its complex range of turntables and thus make it clearer to customers. That, however, did not happen, even though the Xpression and Experience lines were shut down. In the meantime two new types of devices were added so there are 12 turntable lines again. In the last few years, Pro-Ject has paid the most attention to basic models intended for those who would enter the world of turntables with less effort and investment.
Design & Adjustments
The T-line is intended, as Pro-Ject claims, for beginner audiophiles. Admittedly, a newcomer who comes to their website would rather click on the Primary, Essential, or Debut lines by name than on the T Line, but that is another topic. A beginner audiophile here should label a turntable with basic functions and performance that are further optimized so that the end result is not a beginner, but a very good sound. Let's go in order.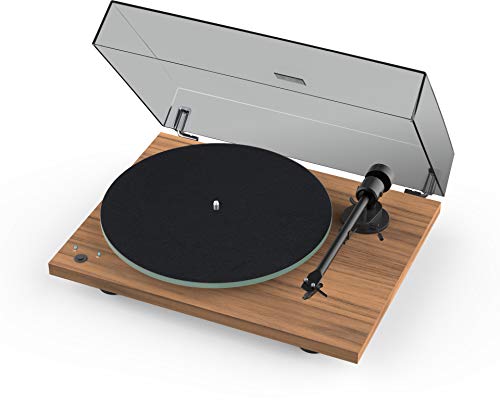 The T1 Phono SB rests on an MDF base, with fully enclosed cavities to eliminate resonance in the bass that relies on four flexible feet that offer the only damping insulation from the substrate here. The motor is isolated from the chassis and operates on the alternating current generated by the servo-control in accordance with the read speed of the motor itself, in a closed-loop, which ensures good speed stability. Via the belt, the drive is transferred to a sub-platter with a steel shaft in a brass bearing with a machining precision of one micron. An 8 mm thick glass platter together with a felted mat should provide a solid numbness of the acoustic system. The 8.6-inch tonearm is made of one piece of aluminum with an integrated headshell. Similar to platter bearings, high precision of suspension and bearing processing is applied here, which reduces vibrations and contributes to the overall clarity and sharpness of the tonal record in the groove.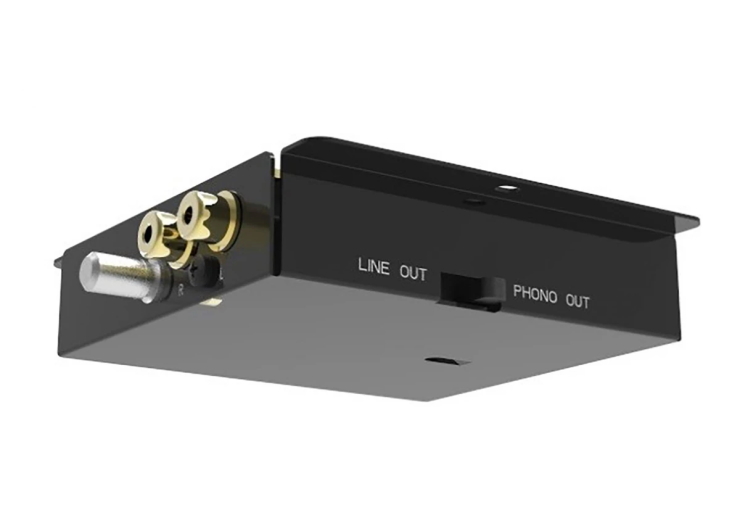 The MM cartridge Ortofon OM 5e with 22 dB of channel separation and a 4 mV output is factory-mounted and precisely adjusted on the tonearm. A novelty on the SB model is the built-in MM preamplifier, optimized according to the built-in Ortofon OM 5e so that the turntable is connected directly to the line input of the amplifier. If you want to use the turntable section on the amplifier or the stand-alone preamplifier that you already have, the switch on the bottom allows you to choose between line and signal directly from the cartridge. Another improvement on this turntable is the electronic speed selector via a button on the top instead of manually shifting the belt under the platter. Practically, but this is not an everyday need. The T1 Phono SB turntable in a black or white glossy finish or walnut veneer comes with a cover, a 45 RPM adapter, a mechanical scale, and a key for adjusting the counterweight. This whole set proudly bears the label "handmade in Europe".
Pro-Ject T1 Phono SB Sound Test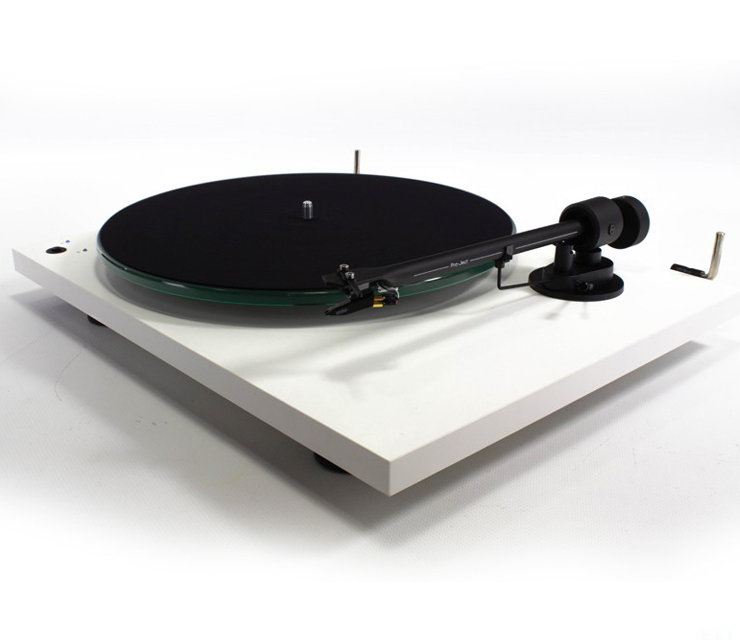 Although the Essential line, as its name suggests with its basic user settings, is intended for quick setup and switching to listening, the T1 further shortens the preparation by a few steps. The headshell was very precisely adjusted, but we checked the VTF and it was 2.4 grams. Setting to the recommended 1.75 by moving the counterweight is a touchy job, and tightening the Allen screw inevitably leads to a change in weight, so you will definitely have to settle for the first decimal.
The sound of the T1 Phono SB via the built-in preamplifier can be described as pleasant and easy to listen to for a long time. The bass is plump and the high range is gradually cut off, which is without a doubt a characteristic of the cartridge, which can be easily improved. Of course, this turntable should not be expected to overshadow you or bring musicians into your room. What it offers is a relatively faithful and readable reproduction of the record, which arouses curiosity for further discovery, which is probably Pro-Ject's hidden strategy to get fed up after a while and want a better turntable from their higher classes.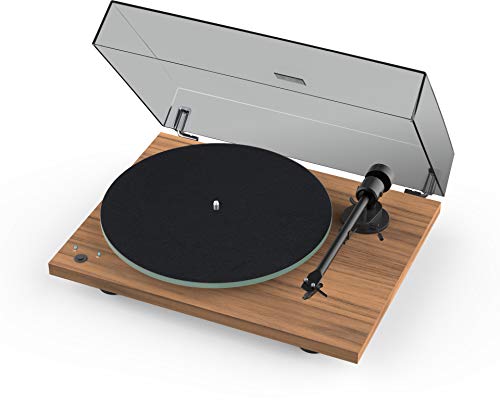 On the other hand, if you are an experienced listener, you will notice the sound characteristics typical of this class of turntable, such as a slight lack of separation of instruments, bass without sufficient definition and a bit of dry sound overall. Truth be told, if you notice these shortcomings, then you have long outgrown this turntable that is no longer for you.
One minor problem appeared before the end of the day in the form of a soft creak of the belt under the platter. It is possible that after a whole day of turning, there was a warming up. However, this is not heard while the music is playing, nor does it appear after a few hours of listening, so it is not a serious objection.
√ Check The Price and Read Customer Reviews √
Verdict
The choice of Pro-Ject budget turntables may seem larger than it should be, however, Pro-Ject T1 Phono SB now introduces a "sweet spot" in the range of $300 to $500, in terms of optimal equipment ratio, ease of use and performance for its price. The Phono SB is a solid first step into the world of records. By replacing the cartridge for a better one or plugging in a better turntable preamplifier, you can extend that step further. However, it's just a matter of time when you'll want something better, and then your choice will go to the Essential and Debut lines. Don't say we didn't warn you.
The user manual is here: Pro-Ject T1 Phono SB User Manual
Pros
Optimally made Pro-Ject turntable in class $300 to 500
Great for longer listening
Cons
Counterweight adjustment difficulties
A thicker platter and base would further enhance the sound
Pro-Ject T1 Phono SB Specifications
Speed: 33,45 (electronic speed change)
Principle: Belt drive
Speed variance: 33: 0.7% 45: 0.6%
Wow & Flutter:  33: 0.25% 45: 0.23%
Platter: Heavy 8mm, blasted-glass platter with felt mat
Main bearing: Stainless steel/brass
Signal to noise: 65dB
Tonearm: 8.6" aluminium
Effective arm length: 218.5 mm
Overhang: 22.0 mm
Effective tonearm mass: 8.0 g
Counterweight for mass: 5 – 10g (pre-mounted)
Tracking force range: 0 – 50mN (17.5 mN pre-adjusted)
Outputs: RCA Phono/Line (switchable)
Included accessories: dustcover, feltmat, high quality Connect it E RCA Phono cable
Built-in Power Supply: 110 – 240V/50, 60Hz; 15 V DC 800mA
Power consumption: 4.5 Watt max
Dimensions: 415x100x335 mm (WxHxD)
Weight: 3.8 kg net
If you liked this article, please rate below.
(Visited 7,692 times, 5 visits today)