With its first Bluetooth speaker, 1MORE has come up with a number of pleasant surprises in terms of both: features and acoustic performance.
Having produced a number of excellent wired and wireless headphones, which you have already read about on this site, 1MORE decided to try out on a (pre) crowded field of portable Bluetooth speakers. The company's first such device bears the generic name Portable BT Speaker, but nothing about its capabilities is commonplace. What is more, we are of the opinion that for the given price it is one of the best choices on the market. It is the price of 100 $ for one piece and 200 $ for a set of two Portable BT Speakers, which then automatically connect into a stereo pair and offer even better acoustic performance. In places like the German Amazon, the price of the speakers regularly drops below 70 euros.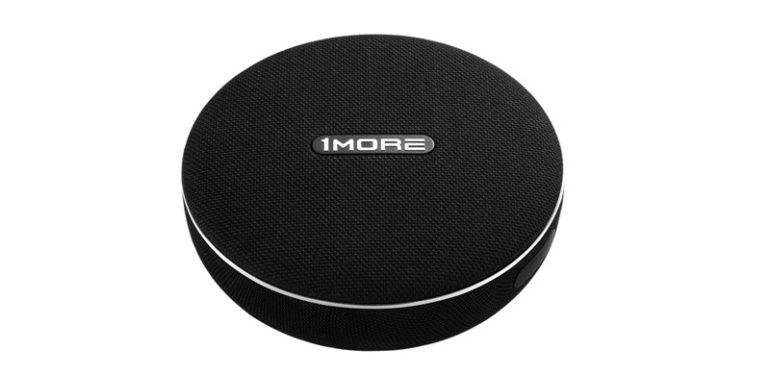 The speaker is covered with perforated canvas material, which looks nice and prevents it from slipping out of your hands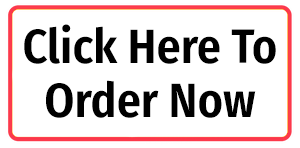 The round speaker is equipped with a 3.3-inch bass tweeter and 0.75-inch tweeter. The built-in D-Class amplifier delivers as much as 30 watts of power, which means the speaker can reach a high volume. Supports SBC and AAC Bluetooth codecs. Other worth mentioning features include the microphone for making phone calls and IPX4 liquid splash resistance – according to the manufacturer, it will take up to five minutes to spray from different directions. It is equipped with a lanyard for easy carrying, also usable for hanging the speaker to, for example, the door handle of the room where we use it. It has a very robust construction and is almost completely covered with perforated canvas. On the underside, it has a rubberized ring, which is responsible for stabilizing the speaker when placed on a solid surface.
Keys On The Side
On the side of the speaker is rubber cover, which hides the USB-C connector for charging the battery and a 3.5mm input for wired audio sources. Next to them is a set of five controls designed to adjust the volume, pause and play songs, mute the microphone, and turn the speaker on and off. The Power key also serves to pair two Portable BT Speakers in a stereo pair, in case you own two pieces, and to make phone calls.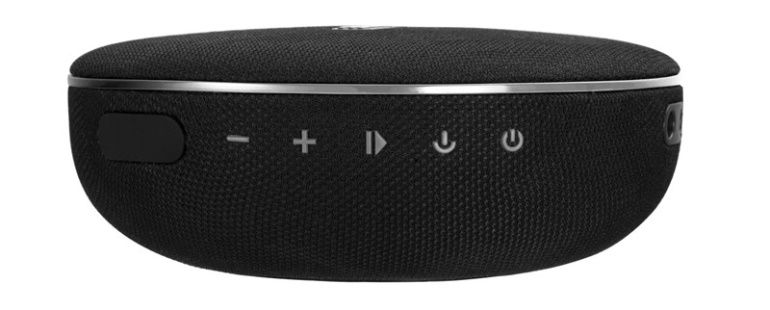 All speaker functions are controlled by the keys on the side, or via the cellphone from which we play the music
The Portable BT Speaker has a built-in 2,600 mAh battery, most of which will depend on the listening volume. At moderate volume, you can expect about 12 hours of playback. If you primarily use the loudspeaker to listen to music in the background or at night, autonomy can take up to twenty hours. The status of the battery will be informed by a female voice each time the speaker is turned on, though not by saying the exact percentage, but by the more general "Battery High", "Battery Medium" or "Battery Low". The battery percentage status is displayed neatly within the Bluetooth settings of the mobile phone.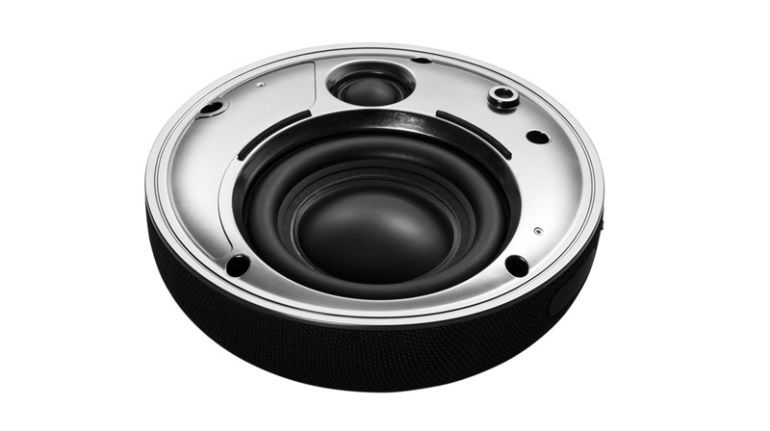 Inside of this Bluetooth speaker are 3.3″ bass and 0.75″ tweeter
Besides being loud – loud enough to fill a 45 m2 room, according to the manufacturer – 1MORE Portable BT Speaker is extremely comfortable to listen to. The company hired Luc Bignardi, a renowned Grammy Award-winning audio engineer and winner, to tune the speaker units and configure a smart DSP, which manages the speaker's frequency response to the listening volume, ensuring that the sound is not lifeless and dull at any time. For example, at lower listening volumes, the DSP automatically boosts the bass, thus increasing the warmth and meatiness of the sound while maintaining its liveliness and vigor. The technology that 1MORE calls "Virtual Bass Technology" has also been implemented. Regarding Virtual Bass Technology, 1MORE says: when a speaker has to produce frequencies lower than those covered by the built-in bass midrange (70-5,000 Hz), the DSP produces harmonics that simulate lower frequencies and make the brain perceive them as sound energy. We have not been able to come up with a more detailed technical explanation of how Virtual Bass Technology works, but we can certainly say that the Portable BT Speaker does not, for a moment, seem to be breathless at 70 Hz.
1MORE Portable BT Speaker Details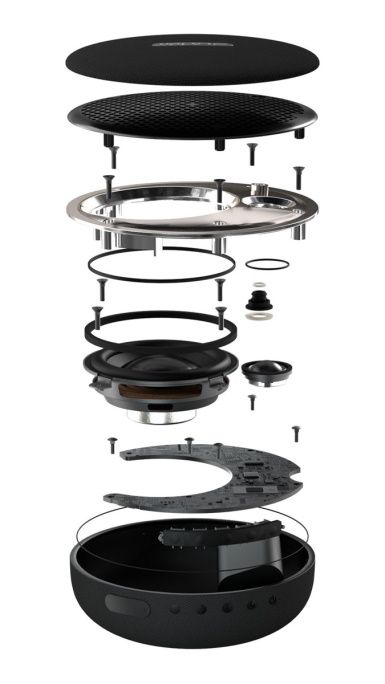 With the speaker units positioned so that the tweeter looks up and the sound spreads in all directions, this speaker manages to produce a surprisingly wide sound image and can handle situations when it is necessary to fill an average large room and entertain two or more people. more people. If you listen to it yourself, you might consider tilting the speaker so that your tweeter is pointing toward your ears. This increases the detail of the vocals and instruments at the same time. Admittedly, it also loses some of its meatiness and bass volumes, because the speaker uses a subwoofer to boost the bass. With that in mind, most will still want to use it in a natural, "horizontal" position where it delivers really catchy sound, with deep and striking bass, comfortable midrange and smoothed, unobtrusive treble.
1MORE Portable BT Speaker Specifications
Form / Performance: Bluetooth speaker
Speaker units: 3.3″ bass midrange + 0.75″ tweeter
Power: 30 W (4 Ω)
Connectivity: Bluetooth 4.2 (SBC, AAC), 3.5mm audio
Dimensions and weight: 136.5 x 51 mm, 500 g
2-year warranty
You can find a manual here: 1more Portable BT User Manual
√ Check The Price And Read Customer Reviews √
All the positive aspects of the acoustic presentation of the Portable BT Speaker get a few more levels better when two copies of this speaker are paired with a stereo pair. The connection between them is established wirelessly, and once it is made, each time they connect automatically – just switch them on. Together they build an even greater and more luxurious sound and become quite useful for larger spaces and outdoor entertainments.
If you liked this article, please rate below.
(Visited 780 times, 1 visits today)