5 Incredible Record Players
Here is a list of a 5 incredible turntables that all exists today:
1. Submerged Turntable Installation
Listen to the sound of record

submerged in water
The artist Evan Holm performed something that everyone rational consider impossible – a record player works perfectly even under water.
To create 'Submerged Turntable' (immersed turntable), Holm has used various objects, including a piece of old wood and makeshift pool in which the same piece is submerged. The message of this installation was that people deliberately destroy natural resources and that on a daily basis, but despite this, there is a glimmer of repentance and good faith (in this case the sound of a record) although we sinking slowly.
" The time will come when there will be any trace of human civilization incinerate. Swimming pool, black and bottomless, represents the loss, the misery and the collective subconscious. By placing these albums in the dark and obscure pool, though I got a sound that represents the speck of remorse for everything we do. " Said Holm.
Watch the video below to see how the whole installation looks and functions. 2. Beatblox
Incredible project made with Arduino Uno
BeatBlox is an incredibly clever system for making beats created by Swedish planner Per Holmquist that uses little square blocks set on a turntable. The false turntable's arm utilizes proximity sensors to distinguish when a piece goes underneath it, making one of various artificial sounds. Holmquist's present framework uses three turntables modified to play keyboard, drum, and bass sounds, individually, all turning at a similar speed, so the beats are always synchronized in the same speed. The creation permits anybody to make music in a substantial, fun and artistic way!
How Beatblox works ?
The whole framework involves three separate turntable stations, every one with their own particular Arduino board. Each Arduino imitates an alternate instrument: One plays the drums, another plays the bass and the third plays the song. To utilize it, players simply put little square pieces on the turntable platter. Remove sensors stick to the underside of the turntable arm; as players add pieces to the turning platter, the sensors trigger a particular sound contingent upon witch track the square is set.
Watch the video for a better understanding
3. Hyperion Turntable
Why is so special ?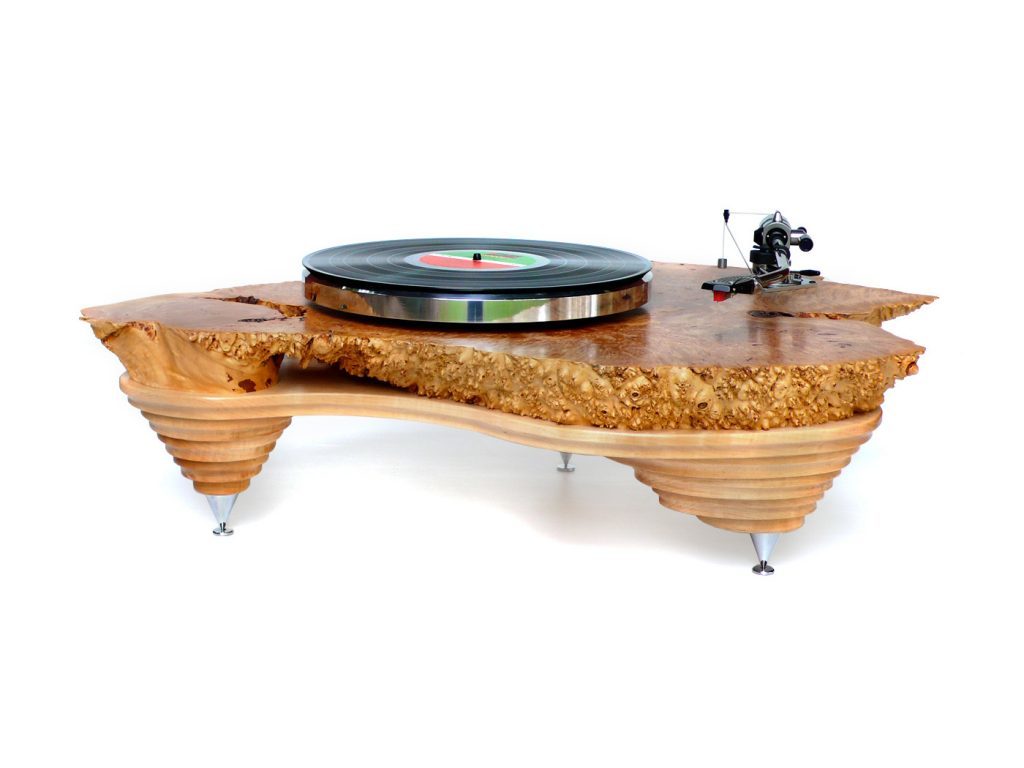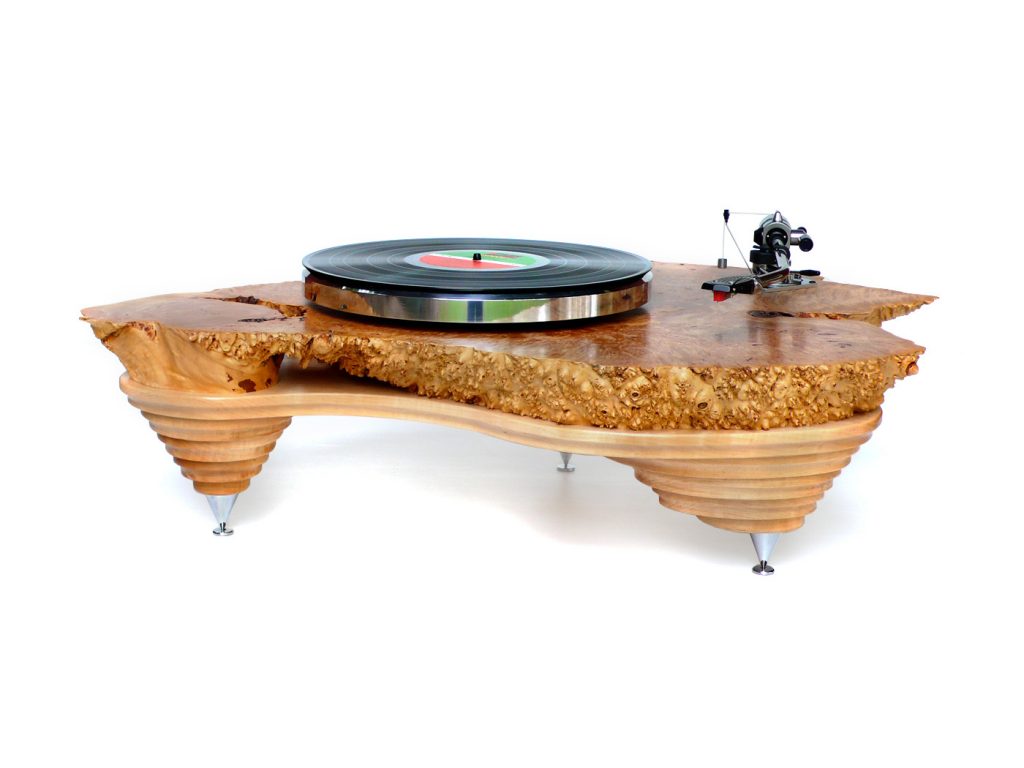 It was designed by Joel Scilley from Audiowood company and it is hand made from a solid piece of maple.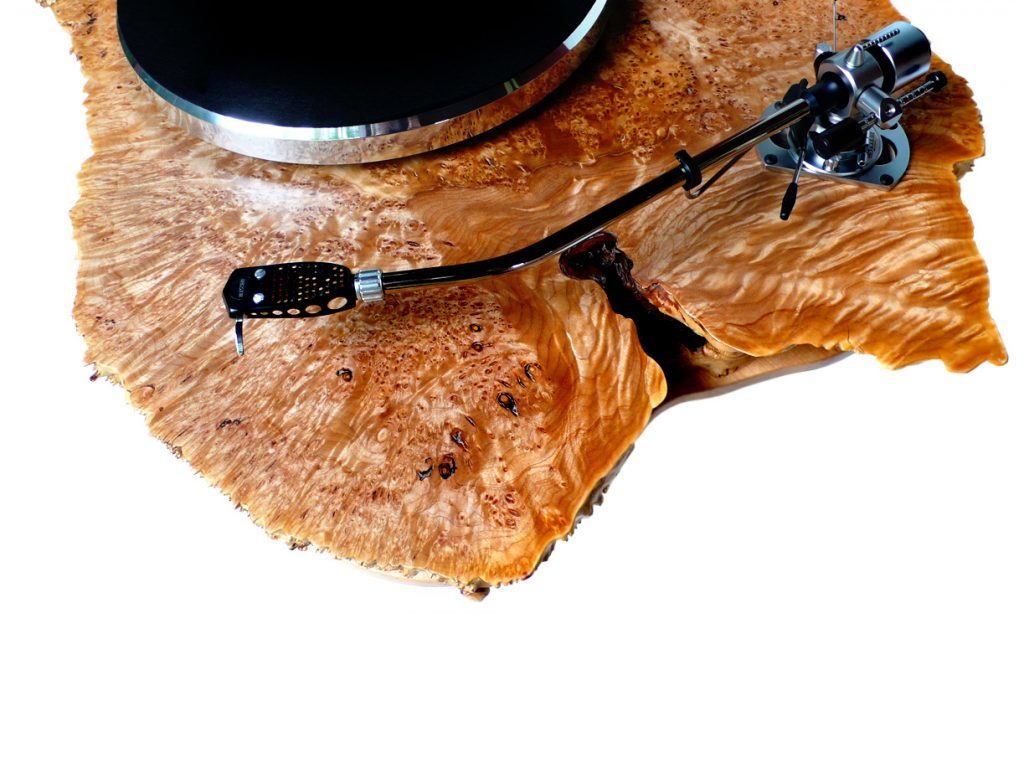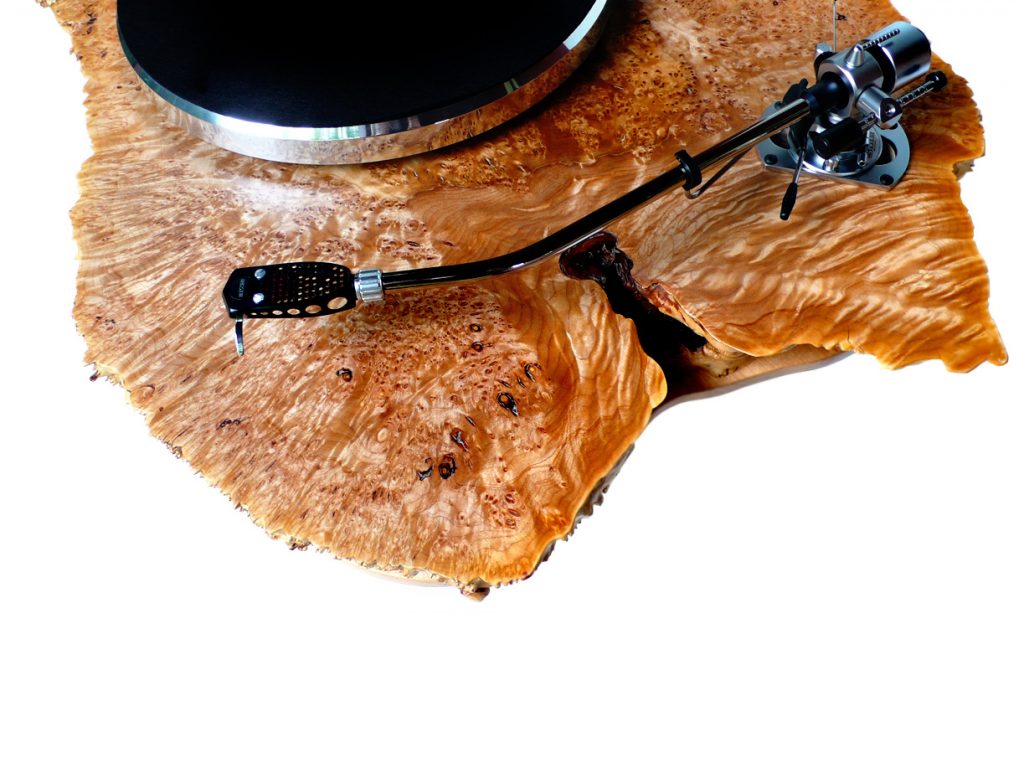 It has Rega 24V drive system and Choir Audio aluminium platter, SME S2-12R Tonearm and a Rega Elys cartridge. Custom woodwork meets top of the line stereo parts in Audiowood, Joel Scilley's line of handmade, nature-inspired turntables, speakers and other audio gear and home accessories. Scilley, who portrays his eco-friendly turntables designs as "organic modern" says, "I'm moving far from dark plastic boxes… towards wood." If you run into this turntable somewhere, the price is about $ 6,000.
4. TOC – Vertical Record Player by Ron Harpaz
Inspired by the simplicity and functionality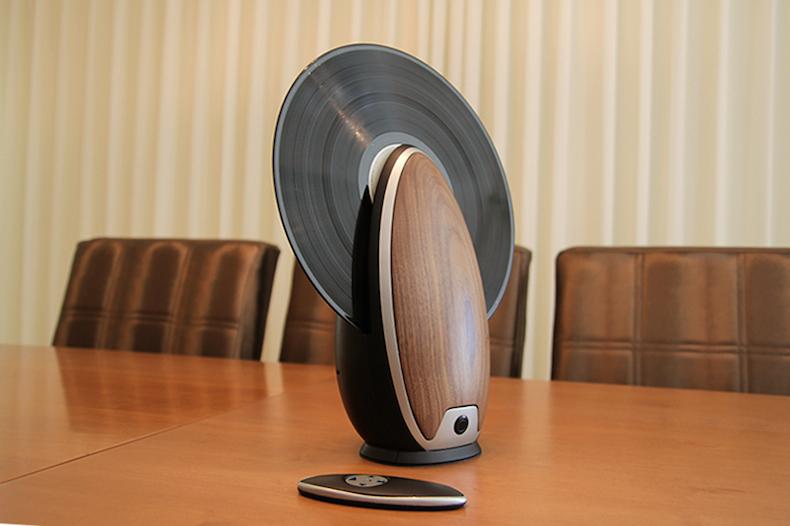 Israeli industrial designer Roy Harpaz designed a vertical turntable interesting oval forms called TOC, which is inspired by the key principles of industrial design – simplicity and functionality
The result is a beautiful design with a focus on the natural look and feel of wood derived in modern smooth lines would be this innovative turntable could appeal not only to lovers of vinyl records but also the fans of the original design that fits nicely in a modern interior.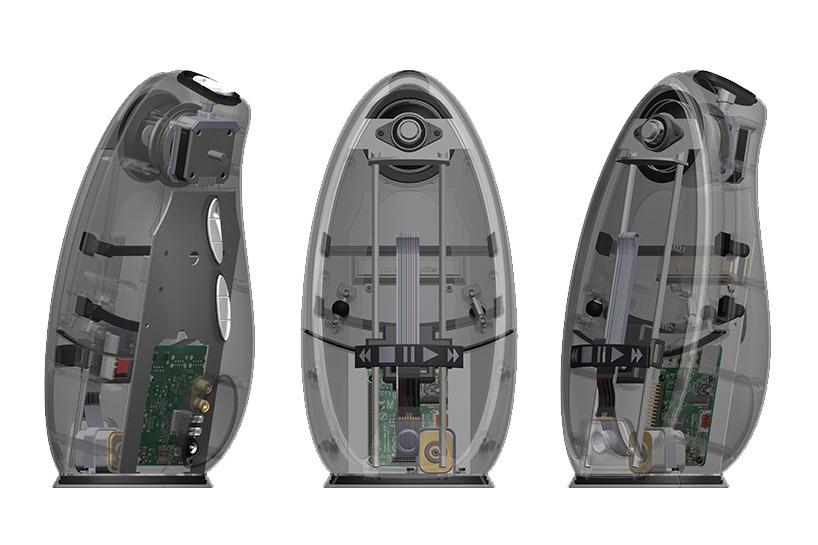 Minimalist turntable can be proud of the great features such as a linear system of monitoring to the analog error-free, and complemented by modern LED touch screen and remote, so you do not have to get up to change the side of the record. In addition, vertical turntable allows skipping certain songs thanks to sensors that scans the songs on each side. And best of all is that on this record player you can play the old records that have may earned some scratches over the years, and you couldn't play those records on the classic turntable because of a dull crackling sound. Thanks to a special anti-friction bearing this record player allows even that. In addition to the technological advantages this turntable with its truly impressive design will meet the most demanding aesthetic criteria of modern design.
5. Soundwagon
Portable VW Bus record player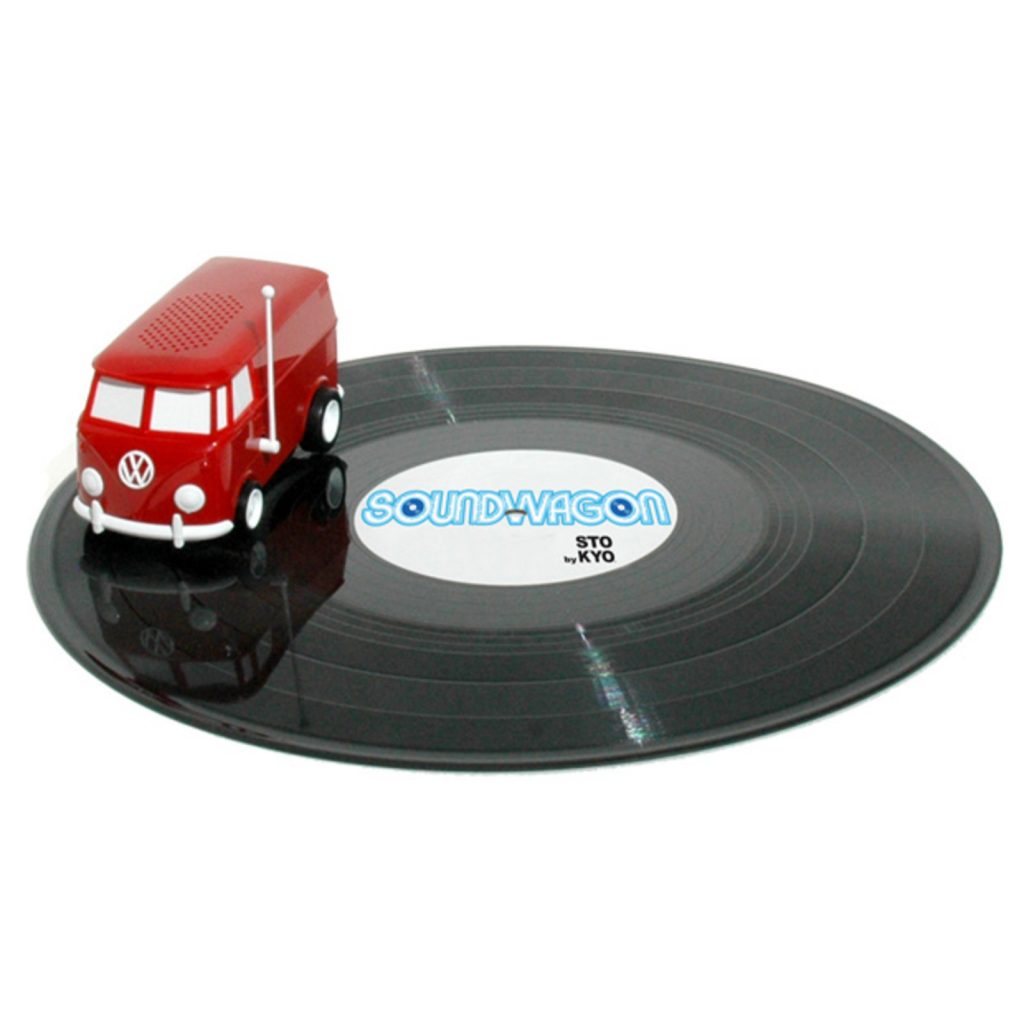 Ok, let's say you have a bunch of LPs but you no longer have a record player. Soundwagon is the portable record player for LP records in the form of VW van, and is available for 99 US dollars on the site www.soundwagon.jp . But do not try this on your favorite records; Soundwagon is known as a record killer – obviously not without reason. Try it, for example, on the Boney M album you've received for the birthday from a not-so-good friends back in eighties (alternative: they found this record in their parents collection), and not on a Joy Division record…
(Visited 1,539 times, 1 visits today)