Wireless headphones are steadily flooding the market, and the most popular are the True Wireless Stereo models, where the headphones communicate wirelessly with the audio source as well as with each other.
I recently spoke with the European marketing director of a company that makes great wireless headphones. I would be happy to state what it was about, but the man asked me to leave him unnamed if I had to quote him. His company specializes in wireless in-ear headphones – these are the ones that should be pushed into the ear canal. I enthusiastically conveyed to him the impressions of one of their wireless models, the testing of which I had just completed over a week. These were headphones based on the so-called neckband design, where the left and right headphones are interconnected by wire, and the wire is usually drawn through a silicone "half ring" resting around our neck. He patiently waited for me to finish the praises and then said indifferently: "Bro, I know all this, but nobody buys it. We struggle to sell such headphones, although they are cheap and of good quality. Anyone who has decided to buy wireless headphones is only interested in True Wireless Stereo models and doesn't care about anything else. "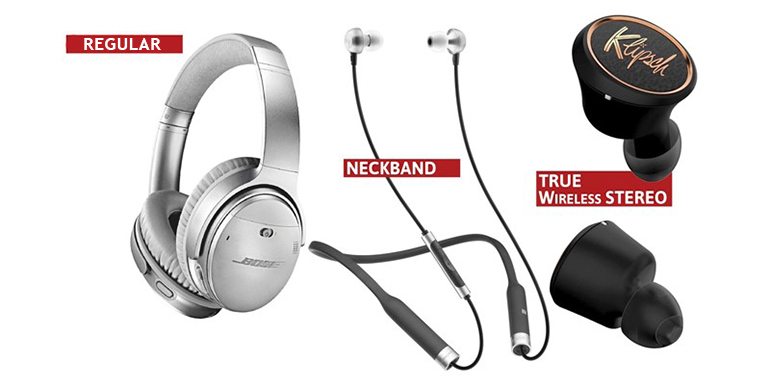 This story clearly confirms a previously known fact: True Wireless Stereo headphones are the best selling piece of technology currently available. We have written about the reasons for this situation several times, but it all comes down to the fact that cell phones with a physical 3.5mm headphone jack become a rarity, so wireless headphones are the only ones we can connect with at all.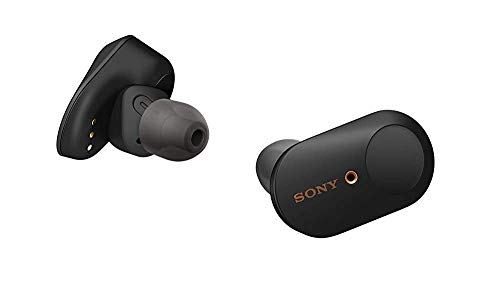 Sony WF-1000XM3 True Wireless Bluetooth Noise Canceling in-Ear Headphones Black (Renewed)
24bit Audio signal processing delivers dramatically improved sound quality
Battery life up to 24 hours with carrying case (with 10min quick charge for...
Truly wireless design with uninterrupted L/R simultaneous Bluetooth...
Alexa enabled for voice access to music, information, and more. Activate...
Smart listening by adaptive sound control automatically switches to ambient...
In the absence of a more appropriate term, the name "True Wireless Stereo" has become semi-official for fully wireless headphones – those that are not only wireless on the headphones-to-cellphone connection but also establish wireless communication between the left and right earphone piece. In other words, unlike neckband-based wireless headphones, True Wireless Stereo (TWS) models have absolutely no wires and give their users complete freedom. With freedom comes a certain level of peace of mind – there is no wire we can get stuck in when removing our clothes, waving our hands, or exercising in the gym.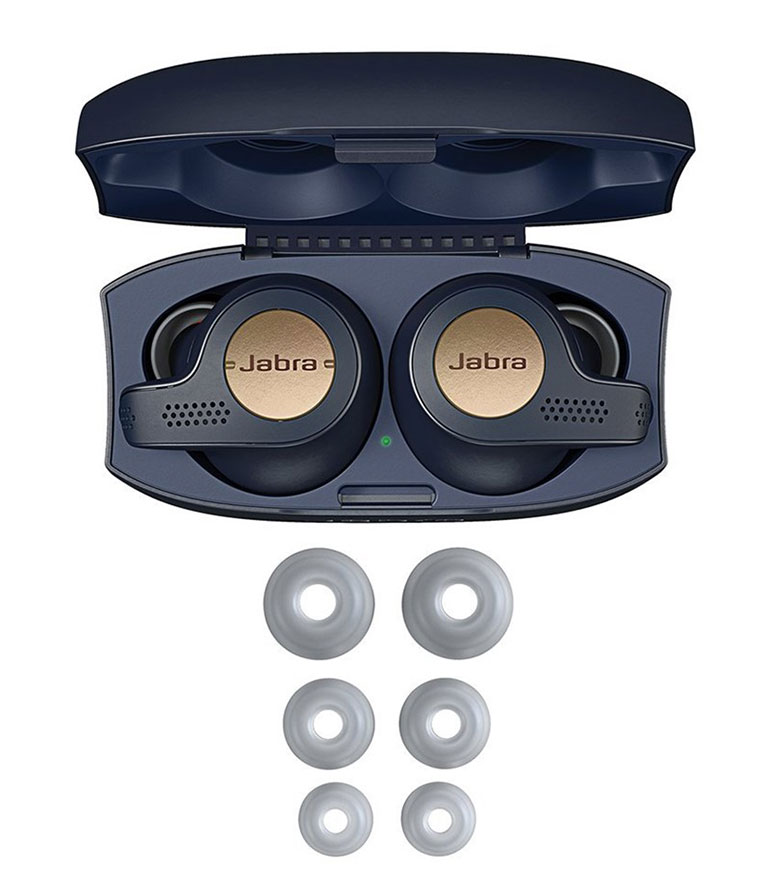 Given the global popularity of TWS headphones, it should not surprise you that the market is flooded with models from a variety of manufacturers, prices, and quality classes. Just about everyone gets involved in the fight for their share of the pie: tech companies like Apple, Samsung, and Huawei, all relevant audio brands (Audio Technica, Sennheiser, JBL, Bose, Cambridge Audio, Klipsch and Sony – to name a few), as well as countless Easterners no-name "manufacturers". As a result, the price range of TWS headphones ranges from $30 to over $300, making it almost impossible for a potential buyer to distinguish bad from a good.
Below, we will go through some general questions and potential concerns that TWS headphones buyers might have in order to get a better idea of their features, but also to make it easier to follow our reviews of such models.
QUESTIONS AND ANSWERS ABOUT TWS
1. What Is The Principle Of True Wireless Stereo (TWS) Headphones?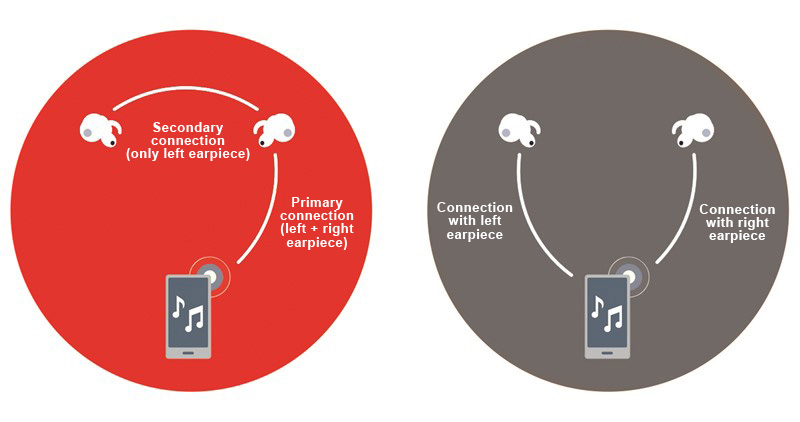 Like today's neckband and regular headphones, the TWS headphones communicate via Bluetooth using the 2.4GHz band. The specific communication method depends on the Bluetooth chip in the headphones and mobile phone. The most widespread and most traditional approach is one where one of the two earbuds is declared primary or main. This earbud receives a signal (audio) from the cellphone and forwards it to another earbud so that it can reproduce the sound belonging to that "side" (channel). Although in our conceptual system, our ears do not perceive a deviation in the signal played in the left and right channels, we still want the headphones(and the device from which we play the music) to support the latest version of Bluetooth – Bluetooth 5.0 or higher. The latest Bluetooth iteration has implemented the Bluetooth Low Energy standard, which conserves the battery of connected devices significantly, and has all the other benefits of new technology, such as double the bandwidth and quadruple range. In addition, older versions of Bluetooth have higher latencies between connected devices, which is especially noticeable on Android, where the Bluetooth signal from the app (such as Deezer or YouTube) to our ears goes through a long and complex software and hardware chain. In practice, we have made sure that some TWS headphones based on the Bluetooth 4.2 chip, like all JBL models tested, have a small but noticeable sound delay for the image when playing and watching videos on services such as YouTube. As a rule, there were no such problems with Bluetooth 5.0 headphones. Of course, when we listen to music, the problem of latency loses its importance, because we have no reference to detect a delay in the signal (such as moving one's mouth).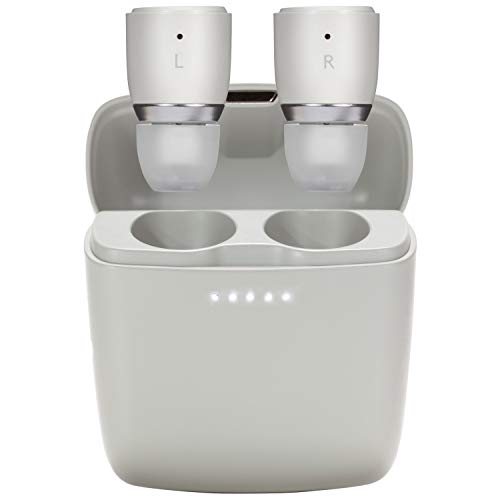 Although Bluetooth 5.0 headphones are fully usable for video viewing and gaming, Qualcomm has developed TrueWireless Stereo Plus technology, which treats the TWS headphones differently to further reduce latency, extend battery life and improve signal quality. Instead of describing the division into primary and secondary earbud, the audio signal is sent to both earbuds at the same time. It is currently available on a very small number of headphones(supported by, for example, 1More models), and requires a cellphone based on Snapdragon 845 or later, which further complicates its wider adoption.
2. What Bluetooth Audio Codecs Exists And What's The Difference Between Them?
The maximum theoretical audio quality that some wireless headphones can deliver depends on the supported and used Bluetooth audio codec. It is not enough that the headphones itself support some more advanced codec – it must also be supported by the device from which we send the sound. Because many wireless headphones do not have a precise and detailed sound enough to hear the difference between individual Bluetooth codecs, many users simply do not bother with this issue. However, this does not mean that one does not need to know their name and what they are different from.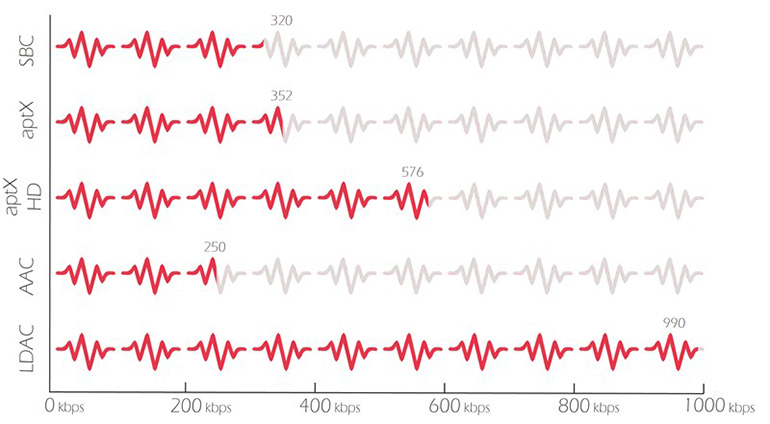 The most widely used Bluetooth audio codec is called SBC (Low Complexity Subband Coding). It is a lossy codec that does its job with a certain loss of information (compression), limited to frequencies up to 48 kHz and a maximum bitrate of 345 kbit/s, when transmitting audio in stereo. The SBC itself is not designed to transmit audio in audiophile quality, so it is not surprising that it cannot, for example, qualitatively cover the entire auditory part of the frequency spectrum (interpretation of sound frequencies above 16 kHz is problematic). However, it is used for excellent compatibility – all devices with Bluetooth must support it, so It will not happen that the headphones do not work on the cellphone, even if the cellphone does not support any of the more advanced codecs the headphones know how to work with. SBC will always work.
The AAC (Advanced Audio Coding) codec, which is firmly held by Apple, is also widespread. Its maximum bitrate is limited to 250 kbit/s and is properly used only by Apple devices. Although neatly supported on Android, users of Google's mobile OS should use the SBC codec.
A more powerful alternative to SBC is called aptX (read "aptix"). Although this is also a lossy codec, which also does its job of compressing information, compression itself is much more advanced in its case. The so-called Split-Band Adaptive Differential Pulse Code Modulation (ADPCM) is used. It is a type of modulation in which the spectrum of audible frequencies is divided into four frequency bands and each is assigned different resolution (bit depth), and therefore its own signal-to-noise ratio. According to the specification, aptX is capable of transmitting sound in "CD quality" (352 kbps), and in practice, this should mean that we can hear the finer details of instruments and vocals lighter and nicer – basically, anything that happens in the spectrum below 5 kHz. Of course, assuming we are sending good quality sound from the source.
The aptX HD codec is basically an evolution of the "ordinary" aptX codec. An additional two bits of resolution can be added to said frequency bands and the maximum resolution of the audio that can be played back wirelessly is raised to 24 bits, with a sample rate of 48 kHz. The maximum bit rate of aptX HD goes up to a high of 576 kbps.
Sony's most advanced Bluetooth codec is called LDAC. It raises the quality of the wireless playback sound to 24 bits 96 kHz and speeds up to 990 kbps.
3. How Long Does The TWS Headphones Battery Last?
The battery life of TWS headphones depends on the model, but nowadays it ranges from four to six hours depending on the listening volume. Some models barely reach three hours, and there are those who will play over eight hours, but these are rare exceptions. However, when lamenting the battery life of TWS headphones, one more feature should be considered – they always come with a box designed to carry the headphones, but also to charge its battery.
The box is equipped with its own larger battery, which holds enough power to charge the headphones more than once. The amount of extra charge involved depends primarily on the manufacturer's intention to make the box more or less compact. But even the most compact boxes can charge the headphones battery at least twice. Thanks to this approach, where the headphones are always connected to the "mobile charger" in moments of unused use, TWS headphones will not last five or six hours for many users, but for 15, 20 or more hours.
4. How Do I Know About The Remaining Battery Capacity In The Headphones?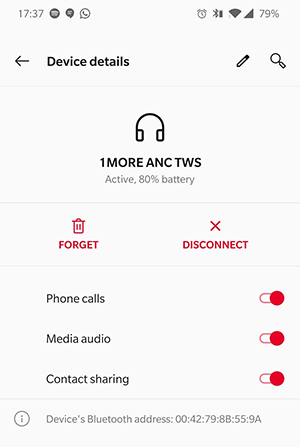 Some headphones have the ability to receive voice notification of the current battery status. Some of the models, mostly more expensive, come with the associated mobile applications, which often read the remaining capacity. Some boxes also know how to display the capacity of the batteries in the headphones, or at least the batteries in the box itself, usually through a combination of LEDs, in 20 or 25% increments. Last but not least, all headphones report battery power to Android itself, in increments of 10%, so that the battery status can be checked at any time within the Bluetooth settings of the mobile phone.
5. What Is The Range Of The TWS Headphones?
The range depends on the quality of the integrated Bluetooth antennas and the supported version of the Bluetooth standard, as well as the location of the application. The latter is particularly delicate, so the headphones manufacturers state their range, noting that it was measured in a fully open area. Of course, inserting a cellphone into a backpack or back pocket would pose more of a challenge for Bluetooth connectivity than keeping it in your front pockets, but in practice, we did not encounter headphones that would lose connection to a cellphone somewhere on the body. Many models will also let you walk around – for example, leaving your cellphone with your computer when you decide to visit an office toilet.
6. How Are TWS Headphones Fixed Inside Their Box?
Magnetic connectors are used to secure the headphones inside the case. Absolutely all manufacturers have this approach, and we have not come across any other solutions, or need for it. TWS headphones are extremely lightweight, so magnetic PINs hold them firmly in place.
7. Can A TWS Headphones Carrying Box Serve As A Powerbank So Be Used To Charge A Cell Phone?
This is a feature that some models offer, but there are few. The battery in the TWS headphones box rarely has a capacity greater than 700 mAh, so it would not be particularly useful as a power bank. For models with boxes that have a USB outlet for charging other devices, the built-in batteries have a capacity of 1,500 or more mAh, and the boxes themselves are bulky above average.
7. What Are The Common Features Of All TWS Headphones?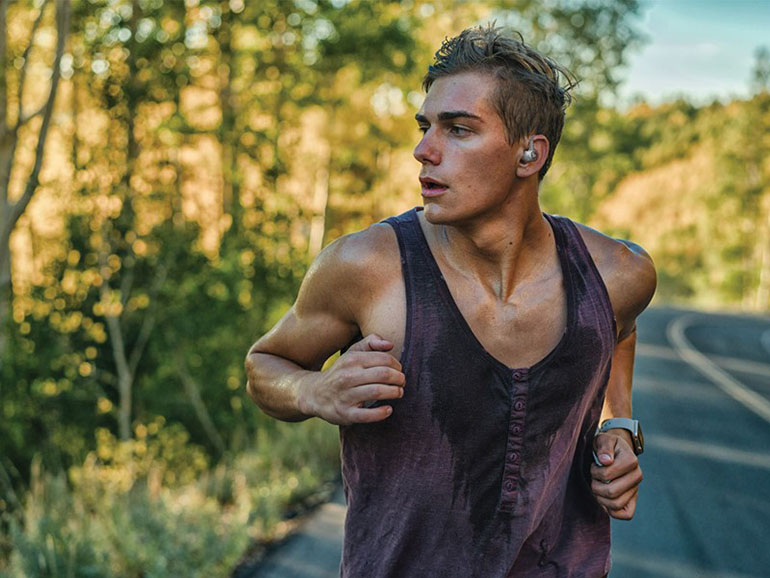 When you buy TWS headphones, you can always count on some options, no matter how expensive or cheap you paid them. Some of them have already been mentioned: all models come with a case for carrying and recharging the battery, and all use a magnetic locking mechanism in their respective bay. Likewise, all units are equipped with one or more microphones intended for telephone conversations, and most often for commands to a voice assistant (Google Assistant or Siri). Finally, after successfully pairing with the desired device for the first time, they are all used in the same way. Just remove them from the box, after which they immediately turn on and automatically connect to the same device. When done, they should be stored in a box, which immediately switches off and starts charging.
8. How Long Does It Take To Charge The TWS Headphones And Box?
These parameters vary from manufacturer to manufacturer and model to model, but some regularities exist. The box is usually filled in two hours, and the headphones itself in an hour and a half to two. The higher-end models support fast charging technology, so it is enough to keep the headphones in the box for ten minutes to get enough power for an hour or two of wireless work. When the box is connected to the charger and the headphones are inserted into the box, the built-in electronics simultaneously charge the box and headphones.
9. What Happens When The Batteries Of The Headphones And Box Are Discharged, Can They Still Be Used?

It is not possible. Once the battery from the headphones is discharged and the battery in the box runs out, the usage is over. TWS headphones do not support passive, wired mode in any form.
10. Can I Bring Only TWS Headphones With Me And Leave The Box at Home?
With most models, this is possible, but not all, because some headsets only turn on and off when inserted or removed from the box. If the handsets have physical keys, they can usually be switched on and off without a box. However, use without a box is not recommended, because the box also functions as a mobile battery, physically protecting the headphones, but also protecting against loss.
11. Can I Only Use One Earbud And Leave The Other Ear Free?
Most often it is possible. For headphones that have primary and secondary earbud predefined, it is essential to use the primary earbud. Some models, such as the 1MORE Stylish True Wireless, do not have a predefined earbud but are chosen as needed (or desired).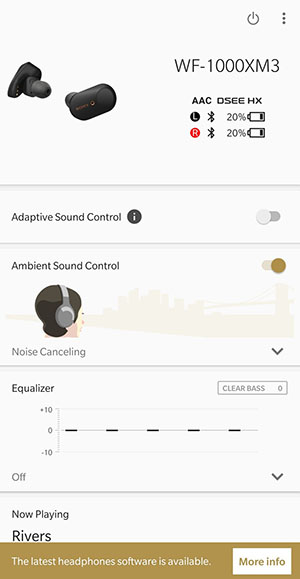 12. Is It Possible To Connect TWS Headphones To Multiple Devices?
Don't count on this possibility. When you want to switch headphones from one cellphone to another or transfer them from a cellphone to a laptop, you will first need to disconnect from your existing device. Then many models will automatically switch to pairing – just search for them on another device and make the connection. For headphones that do not activate pairing automatically, it must be started manually, which is usually done by inserting and removing it from the box, or by holding the appropriate keys.
13. What Additional Features Can I Expect From A TWS Headphones?
The capabilities of TWS headphones are in direct proportion to their price. More advanced (more expensive) models often offer useful features such as automatically pausing music when removing earbuds from your ears and transferring ambient sounds through built-in microphones (a great thing for running and other situations when we don't want to be isolated). Some of them come with mobile applications, within which we can perform firmware upgrades (extremely useful – often resulting in an increase in sound and microphone quality, improved wireless connectivity or new features), set up an equalizer, and the like. The best models also support Active Noise Cancelling. We will also mention the possibility of wireless charging of the box, which we encountered in some of the models tested, using Qi technology.
Somewhat unexpectedly, another feature that not all TWS headphones have is to adjust the volume using the controls on the headphones itself. When this is not the case, you will need to perform amplification and muting on your mobile phone – irritating.
If you liked this article, please rate below.
(Visited 1,539 times, 1 visits today)