Audio Technica AT-LP3 Test & Review
This is a new turntable from Audio Technica's first time presented at 2017 CES. Audio Technica AT-LP3 is a fully automatic belt-driven turntable that is compromising between ease of use and sound quality. Like some high-end turntable models, Audio Technica AT-LP3 also has damped base construction made to avoid and reduce low-frequency feedback coloration and accidental needle skipping on your favorite record. The platter is made of die-cast aluminum with 4.5 mm thick rubber mat to counter unwanted vibration.
Disclaimer: If you purchase through links on our site, we may earn an affiliate commission. Read More
Audio Technica AT-LP3 Review & Test
Audio Technica has offered another step towards the good sound with this new Audio Technica AT-LP3 turntable. This belt-driven turntable is an excellent upgrade to the original models such as the AT-LP60, although is somewhat more expensive than AT-LP60.
Compared to the initial categories of turntables, all segments like chassis drive and platter have been improved, and most importantly the tonearm that allows the adjustment of tracking force and anti-skating is also improved. It is a balanced straight tonearm with a radial and pivot ball bearing and hydraulic lift control.
The precisely adjusted tonearm and undamaged needle are necessary for the LP records to remain well preserved and sound through long-lasting listening. An AT91R MM cartridge with an aluminum cantilever is attached and the cartridge upgrade is easy to make because it is mounted on a universal HS3 headshell. The built-in phono preamp supports MM and MC cartridges which is perhaps the unique case in the world of turntables with built-in phono preamplifiers.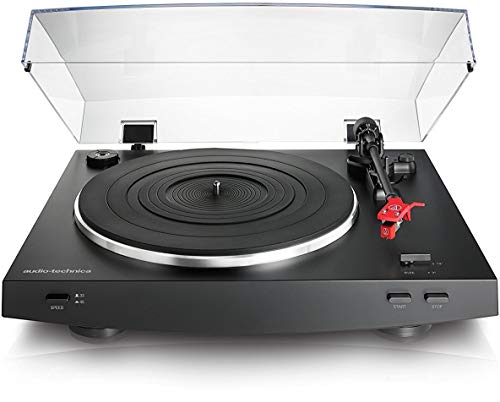 Audio-Technica AT-LP3BK Fully Automatic Belt-Drive Stereo Turntable, Black
Take your analog listening experience to the next level with advanced...
Balanced straight tone arm comes with a 1/2" mount universal headshell and...
Hydraulically damped lift control allows the stylus to be precisely and...
Offers fully automatic operation; simply press the Start button to begin...
Constructed of anti-vibration damping materials that limits low-frequency...
Audio Technica AT-LP3 features:
Fully automatic belt-drive turntable operation with two speeds: 33-1/3 and 45 RPM

Balanced straight tonearm with hydraulically damped lift control and lockable rest

Built-in switchable phono/line pre-amplifier with attached dual RCA output cable

Switchable Pre-Amp modes for MM and MC cartridges

½" mount universal headshell with AT91R Dual Moving Magnet phono cartridge and long-life diamond stylus

Anti-resonance, die-cast aluminum platter with 4 mm thick rubber mat

Damped base construction for reduced low-frequency feedback coloration

Includes 45 RPM adapter and removable hinged dust cover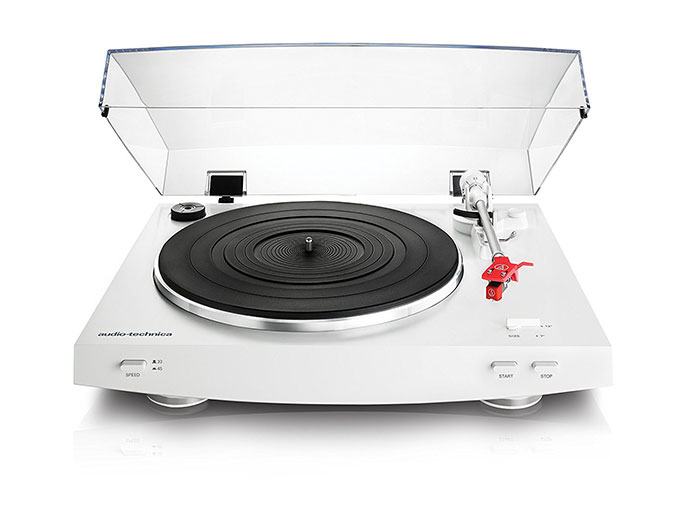 This turntable is a new model so we don't have any experience with this, but according to users on the various audio and hi-fi forums, this is the next best buy turntable in a turntable under $200 category. On Amazon, this turntable has 31 reviews currently.
AT LP3 offers a full automatic in handling, meaning that the turntable will find the first groove on the record by itself and you will not have to worry if you have left the needle in the groove after listening to the entire side of the record. The tonearm will then lift and return to the stand. With the ease of use, the AT-LP3 also has an interesting look and it will easily fit into any interior design just like the very popular and award-winning AT-LP5 turntable.
Here is a detailed video of how to set up this great turntable for the best sound possible:
√ Check The Price and Read Customer Reviews √
Conclusion
In our opinion, this turntable will be the best turntable under $200 very soon, if it is not yet. It offers many features like much more expensive turntables but the price of this turntable is still under $300 which is great. So if you want to buy a turntable for less than $200 you definitely can't go wrong with Audio Technica AT-LP3 turntable.
User manual for this turntable can be viewed or downloaded here: Audio Technica AT-LP3 User Manual
Pros
Easy to use
Automatic system
Value For Money
Musicality
Cons
No tonearm safety latch
Moving Coil option
Strident mids
Smeary treble
Bass Details
Audio Technica AT-LP3 Specifications:
Color: Black/White
Type: Belt-drive turntable, fully automatic
Motor: DC servo-controlled
Speeds: 33-1/3 RPM, 45 RPM
Turntable Platter: Die-cast aluminum
Wow and Flutter: Less than 0.25% (WTD) @ 3 kHz (JIS)
Signal-to-Noise Ratio: >50 dB (DIN-B)
Output Level: Pre-amp PHONO: 1.5-3.6 mV nominal at 1 kHz, 5 cm/sec
Output Level: Pre-amp LINE: 129-313 mV nominal at 1 kHz, 5 cm/sec
Phono Pre-Amp Gain: 36 dB nominal, RIAA equalized
Power Supply Requirements: 120V AC, 60 Hz
Accessories Included: AT91R Dual Moving Magnet stereo cartridge with a replaceable stylus; 1/2″ mount universal headshell; power cord; 45 RPM adapter; removable hinged dust cover; 4 mm rubber mat
If you liked this article, please rate below.
(Visited 13,824 times, 1 visits today)