Audio Technica AT-LP60 Review
Audio Technica AT LP60 Review
Audio Technica AT LP60BK is an example of a stereo turntable used to connect directly to the powered speakers, home stereo, computers, and other components that lack a turntable input through an inbuilt USB output. Once purchased the users experience direct vinyl's high-fidelity audio and also have the option to convert it to digital.
Disclaimer: If you purchase through links on our site, we may earn an affiliate commission. Read More
The turntable contains a switchable phono preamp that is inbuilt into the system and allows it to be connected to powered speakers and audio systems. Audio Technica AT-LP60 USB comes with a complete automatic belt-turntable configured to operate at speeds of either 45 or 33-1/3 RPM. The device is made of die-cast and anti-resonance aluminum platter that makes it durable.
There are several turntables devices in the market with varying prices. Best turntable under $200 presents a great opportunity for consumers with a range of options to select products that are being sold at affordable prices. The music lovers can purchase high sound systems of their dreams with just less than $200. Audio Technica AT LP60 is the best turntable offer in the market currently when compared to other sound systems under $200.
Audio Technica AT-LP60 USB Test
Audio Technica AT-LP60 USB is regarded as one of the best record players under $200. At first glance, many people may perceive this device to only plays LP records. However, the device has other features that meet the expectations of music lovers. It is advisable to purchase this 6.5-pound belt machine if the users need to digitalize their LP records.
This turntable is compatible with PC and Mac and therefore it makes it easy to connect to the computer and change your preferred tunes into MP3 files. The connection to your computer does not need any special drivers just like most other turntables that come with this feature.
Audio Technica AT-LP60 USB also performs well when used as a simple record player. This turntable can be used with different stereo systems by conveniently switching a built-in pre-amplifier from phono to line level. A majority of the vinyl lovers and casual listeners prefer to use this automatic machine, but this record player may not have the capacity to please the most trained ears.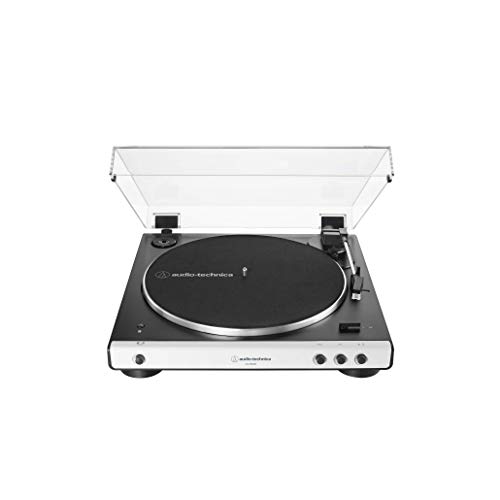 This turntable is considered the most decent sound quality player that retails at a lower price range. This device is hard to beat among other turntables at a similar price. The manufacturer usually displays this device as an "LP-to-Digital Recording System" that reflects the particular purpose with which this device was designed to do. The manufacturer, Audio-Technica, is a famous company that produces high-quality products and well respected for its outstanding customer service.
While advertising Audio Technica AT-LP60 USB as a "Recording System", some reviewers view it as just a marketing strategy, and therefore, they claim this marketing strategy can be misleading. Users should understand that this device cannot perform the recording itself, but the recording process is done by the software and the computer.
Based on customer reviews, some users have found the process of recording using this device difficult and time-consuming. The users should understand almost all turntables may be used to convert your music to a digital format without the utilization of a USB port. Before this transfer is made, the users should use the right connection and good software to ensure this process is successful.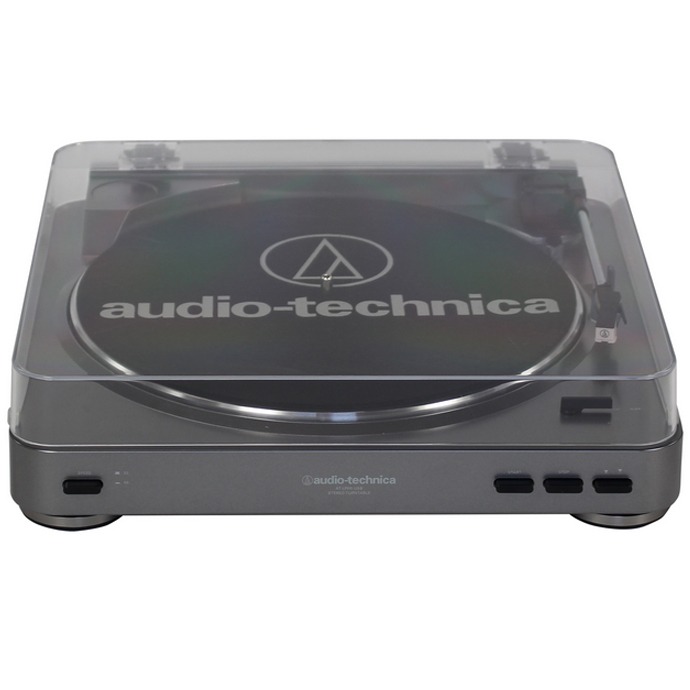 It is advisable that customers understand how to use this product after purchasing it. They should view this product as the best, automatic record player, easy to use, and can be used to digitized the users' vinyl collection. The customers should never purchase this turntable because it is advertised as a recording system, as a customer you should know that any turntable can be used as a record player. Thus, it is worthwhile to look for the turntables that fit your budget and preference of choice.
If you prefer a device that is easy to use and guarantee fast digitization of your music, then you can consider purchasing Stanton T62 that has a built-in CD recorder. This device suits those with no experience of record players as it allows a direct transfer of LPs to an iPod, iPhone, or iPad touch. Besides, this device also has a slight tracking improvement features that make it an important device for DJs. Therefore, this machine is suitable for DJs and other users because it is easy to use and delivers quality sound.
Here is a setup video of this great beginner turntable:
Stanton T62 turntable still lacks some features present in Audio Technica AT-LP60 USB. Audio Technica AT-LP60 USB is still the best entry-level device that suits new users of vinyl considering its decent sound quality and lower price. Even if you have little experience of how to use a turntable, the Audio-Technica LP60 is still the best choice because it is an automatic player with super easy to use features. Audio Technica AT-LP60 USB gives the users real listening experience regardless if you already have a vinyl collection, or you want to start one.
If you have bought other cheaper turntables in the past, it is advisable to consider this device as a good upgrade, and you will notice the difference in sound quality. Audio-Technica AT-LP60-USB is an excellent product that surpasses its competitors. Thus, if you are an average consumer, then this device is the best option.
Audio-Technica AT-LP60 USB Features
High fidelity audio with Bluetooth wireless technology

Connects wirelessly to speakers and other devices equipped with Bluetooth wireless technology or to wired audio systems and powered speakers via included dual RCA output cable

Compatible with aptX codec. Compatible Bluetooth Profile – A2DP

Fully automatic operation with two speeds: 33 1/3 and 45 RPM

Anti resonance die-cast aluminum platter
√ Check The Price and Read Customer Reviews √
Is the Audio Technica LP60 Good?
It is apparent that these specifications make Audio-Technica AT-LP60 USB the best turntable under $200 in the market and every potential user is highly recommended to purchase this device. Apart from excellent features, this device is also affordable and therefore anyone can buy it. Customers are advised to ensure that the Audio-Technica AT-LP60-USB test is done to ascertain that the device is functional before making any purchase.
The manual can be found here: Audio Technica AT LP60 manual
Although this is a great turntable for its price, there is one thing nowhere mentioned before:
This unit is designed to be used with a line voltage of 115 VAC. That's great IF your line voltage is actually 115 VAC. Unfortunately, line voltages vary from district to district all across the country and this turntable played records way too fast. I measured the speed with a free iPhone app (RPM) and it was measuring 43.68 RPM. There were no instructions in the booklet to adjust the speed and I was getting ready to return the unit. After Googling the problem, I found you can adjust the speed by locating 2 holes under the unit marked: 33 and 45. You need to poke through the rubber covering the screw and turn it counterclockwise to slow it down. After several small adjustments, it now sounds just fine. I didn't mess with the 45 adjustments. For all that is holy, why is there not a more convenient way to do this adjustment? And why isn't this important detail mentioned in the product description or instruction booklet?
Will the Audio Technica LP60 Damage Records?
According to users' reviews on the Internet there are no such reports about damaging records with this turntable. If you want a better sound you can always mount better cartridge.
We have come to the end of this review. Ifyou didn't find this turntable worth buying, maybe you will like some other turntables under $200 . Our recommendation is to read Sony PSLX300 USB Review, or maybe Pioneer PL-990 turntable review.
Pros
Good quality, ultra-low price
Built-in phono preamp
Fully automatic
Plays 7 and 12 inch records
Cons
Built-in phono cartridge is fixed
Doesn't have a counterweight
Audio-Technica AT-LP60XBT Specifications
Type: Belt drive turntable, fully automatic
Motor: DC servo-controlled
Speeds: 33-1/3 RPM, 45 RPM
Turntable Platter: Aluminum
Wow and Flutter: Less than 0.25% (WTD) @ 3 kHz
Signal-to-Noise Ratio: >50 dB (DIN-B)
Output Level: Pre-amp "PHONO" 2.5 mV nominal at 1 kHz, 5 cm/sec
Pre-amp "LINE" 150 mV nominal at 1 kHz, 5 cm/sec
Phono Pre-Amp Gain: 36 dB nominal, RIAA equalized
Power Supply Requirements: 100 to 240V, 50/60 Hz,0.6 A Max.
Power Consumption: 1.5 W
Dimensions: 359.5 mm (14.15″) W x 97.5 mm (3.84″) H x 373.3 mm (14.70″) D
Weight: 2.6 kg (5.73 lbs.)
Accessories Included: Dust cover, felt mat, platter (with drive belt), 45 RPM adapter, RCA audio cable (approx. 1.2 m (3.9′)), AC adapter (approx. 1.5 m (4.9′))
AC adapter: 12 V, 2 A
Replacement Stylus: ATN3600L
Communication System: Bluetooth Version 5.0
Maximum Communication Range: Line of sight – approx. 10 m (33′)
Compatible Bluetooth Profile: A2DP
Support Codec: SBC, Qualcomm aptX
If you liked this article, please rate below.
(Visited 4,878 times, 2 visits today)