Audio Technica AT-LP5 Review
Today we have the opportunity to make Audio Technica AT-LP5 Review. This is a relatively new model from Audio Technica Company. What is good and what is bad in this turntable? Read below in our review article.
Disclaimer: If you purchase through links on our site, we may earn an affiliate commission. Read More
I have to admit that I'm constantly surprised by the rate of return of the vinyl to the audio scene. At a time when every free moment of your time is valuable and there is a huge offer of simple music players, a turntable that requires time, attention and certainly not the most practical sound source is returned to the scene.
The record player has its charm and impression that leaves on a listener, as well as dealing with the records and interacting with the true music lover. Looking at a few days ago by one owner and the whole rally of getting out a vinyl record from a sleeve and cleaning it, it seemed to me that the preparation to play a record makes him happy at least as well as just listening. Thus, more and more competent models are available on the market, many of which are given additional functionality, and as it usually is in a large market the prices of high-quality models are becoming more and more reasonable. The situation with new records is somewhat different, but as we have already concluded, in the world of vinyl reproduction different rules are applied.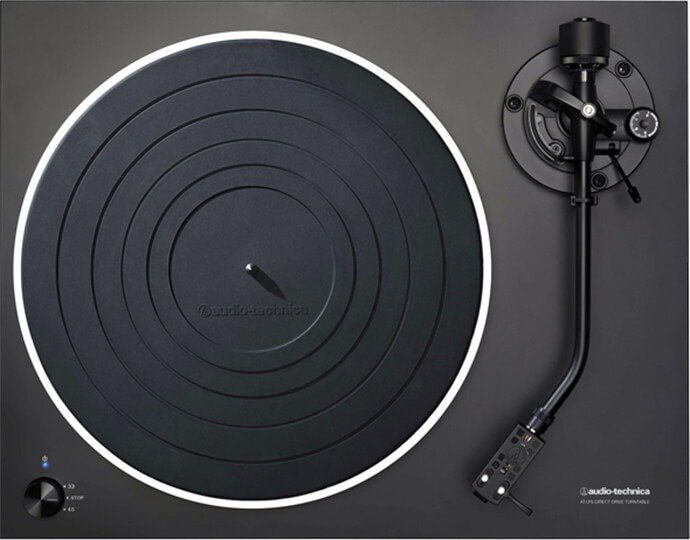 Build & Features
An excellent example of high quality and a very well equipped turntable is the Audio Technica AT-LP5. There are several segments on which this technically simple, but extremely balanced configuration rests. The device has come to the test already assembled and with a little adjustment of the geometry, I started to play records. It took me a few hours to realize that there is a Direct Drive model in front of me. Most models in the comparable price class that I have had to listen to rely on the belt drive system and that is for a reason.
Direct transmission at the very beginning is simpler and requires an extremely accurate engine that performs its job with as little vibration as it can penetrate vital parts of the turntable and can significantly compromise the reproduction. The tranquility in the work shown by the construction is more like belt drive based models whose vibration, in part, eases with the drive belt itself.
Furthermore, the chassis is fitted with metal struts that also help with unwanted external and internal vibrations and we should not forget the finely crafted and heavy aluminum platter equipped with a rubber damping mat.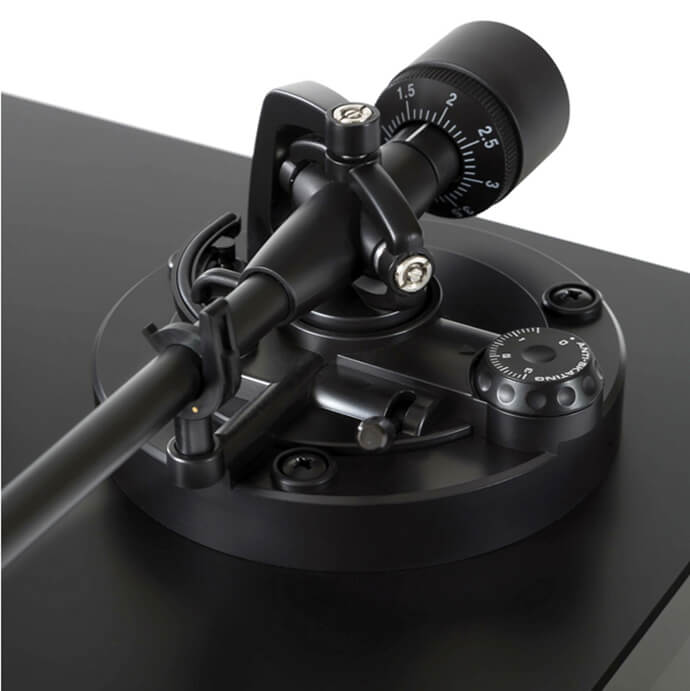 Another interesting element is certainly the tonearm that will remind a little older analog lovers on time when Audio Technica was also a very significant tonearm manufacturer. It is "J" shape and settings are a reminder of the days when the company ran a fight with numerous competitors, of which only a small number is active today.
The tonearm carries a lightweight HS AT10 headshell and the already prepared AT95EX cartridge. The cartridge is, of course, a derivative of the legendary AT95, which has experienced a small redesign with which the company is particularly pleased. A dual magnet has remained the backbone of the popular MM model, but minor improvements and slightly different materials have been able to further improve the already familiar product of classical design, quality of production, and popular price. For this occasion, the cartridge, instead of a recognizable green color, is made in even more attractive red.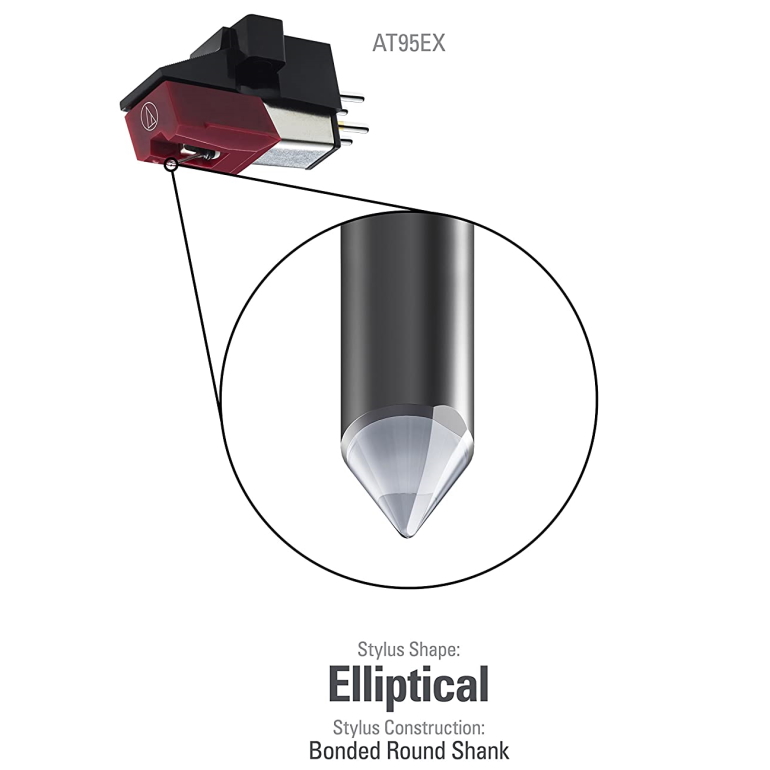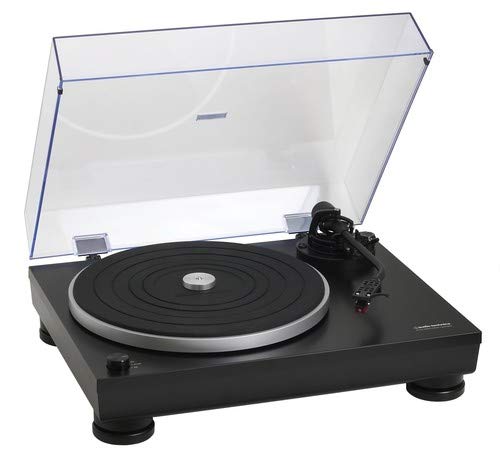 Audio-Technica ATLP5 AT-LP5 Direct-Drive Turntable, Black
Manually operated direct-drive, high-torque motor with stable on-axis...
Balanced tonearm with hydraulic lift, anti-skate control and adjustable...
Switchable built-in pre-amplifier enables connection to components with or...
Anti-resonance die-cast aluminium platter with heavy rubber damping mat for...
Equipped with a USB output for direct connection to a computer, and comes...
Let's also mention the hydraulic lift of good precision and the anti-skating force knob, the counterweight that is easy to set up and we have almost all the important elements for playback, as well as any future upgrade for which the AT-LP5 is created.
Easy to set up even for a less experienced user, with a 10g headshell and a sleek design, it can accommodate a variety of cartridge models. With the quality of the base itself and the engine, this turntable is just provoking to try it at least with some better quality headshell. Classical speeds of 33 ½ RPM and everyday more interesting 45 RPM are determined by a very nice round switch, while the speed required is achieved very quickly thanks to the direct drive.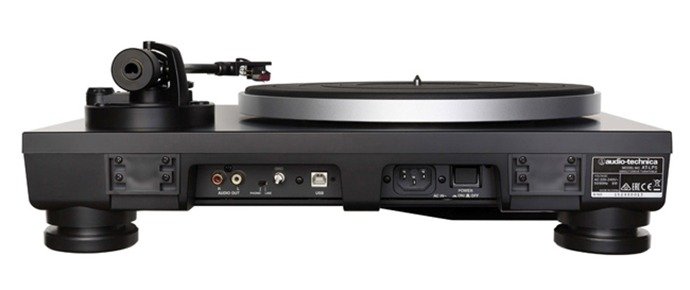 But this is not all that Audio Technica has been packed with. There are two more useful things: Built-in MM phono amplifier and USB port. The built-in amplifier can be turned off by a switch if the owner already has a quality solution but I recommend listening to it at least briefly. I stayed pleasantly surprised by the results. The USB port is an extremely convenient solution for digitizing vinyl in virtually two clicks. Just after connecting to the computer start any of the appropriate applications and start the recording.
Audacity software comes with this Audio Technica AT-LP5 turntable, but any other software can be used depending on the user's preferences. Please note that the software included is free and has a very frequent rhythm of new versions releases and a large user base, and is a suitable choice for targeted use. The IEC plug is designed for connection to the current so that we can experiment here as well as with the interconnect cables. For the turntable in this price range, this is a nice package of almost anything that a user may need.
Audio Technica AT-LP5 Sound Test
The hearing test was performed with the built-in MM amplifier and built-in tonearm. Impressions, therefore, relate to the configuration out-of-the-box as they had imagined in the factory only with checking and adjusting the geometry and tracking force. It required less than an hour and proved to be extremely simple.
For starters, let's say that the combination of built-in tonearm and cartridge has proven to be extremely fine to track the groove and extract large amounts of records and with slightly less preserved records. The elliptical needle is shown once again in the right light. These first impressions have motivated me to pull out the classic AT 95E which I have been keeping for years, only to mount it on quality integration. I'm interested in its reach outside of the box it usually uses. Part of that could be seen on the test.
Turntable sounded accentuated analogously, but with a lot of rhythms and very legato. The mid-range area was extra-supple, soft with lots of details, and seemed like a pivot around which a sound image was formed. But no less praise does not deserve bass, which with its rhythm, good focus, speed, and solid depth, also has unexpectedly good control, but also a sufficient amount of detail. I could hardly even assume that the word "authoritative" would ever be used in the turntable integration test in this price class, but major orchestras were just like that. Turntable showed speed, and easily crossed heavy stocks.
On the other side of the spectrum, one that belongs to the treble area, the situation is quite similar, but for the louder sections, the transitional peaks tend to jump a little out of the overall picture, so the louder parts can leave an unbalanced and stiff impression on the loud listening. There is not too much euphony in the sound, but in general, there is quite enough warmth, softness, and suppleness.
Here is Audio Technica AT-LP5 setup video:
√ Check The Price and Read Customer Reviews √
Verdict
For an owner who wants to play safely and have an almost complete, proven solution, the Audio Technica AT-LP5 is an outstanding opportunity, but those who want to further enhance the turntable have the space to do it. Easy adjustment, superior sound for this device class, excellent equipment, and truly quality design deserve a clear recommendation. The tonearm proves once again why it has successfully resisted the time and was also favored by other manufacturers who were charged it significantly more with their brands.
In a case you need a user manual you can download it(or view it online) in this link: Audio Technica AT-LP5 User Manual
Pros
Powerful and entertaining sound
Impressive build
Scope to upgrade
Cons
Cartridge can be a little bright
Not exactly pretty
Lid a cost option
Audio Technica AT-LP5 Specifications:
Direct-drive, high-torque motor

Fully manual operation with two speeds: 33-1/3 and 45 RPM

Exclusive AT95EX Dual Moving Magnet stereo cartridge with replaceable stylus

Lightweight AT-HS10 headshell

J-shaped tonearm, modeled after original Audio-Technica designs from the 1960s and '70s, are engineered to minimize tracking errors

Switchable built-in pre-amplifier enables connection to components with or without a dedicated phono input

Anti-resonance, die-cast aluminum platter

Heavy rubber damping mat for improved low-frequency reproduction

Sleek, matte black finish

Includes dual RCA (male) to dual RCA (male) stereo cable, 45 RPM adapter, USB cable, and Audacity recording software for MAC or PC

Included dust cover and mounting hardware
If you liked this article, please rate below.
(Visited 15,015 times, 2 visits today)