Rega RP1 – Review, Test and Final Verdict
The turntable in the initial class can sound soft and seductive on the first impression, but over time, that impression can turn into a feeling that we have a deal with a subtle, "lazy" device. Rega RP1 does not belong to that line of "budget" turntable classes. We can say it is a turntable under $500, but it has a sound that belongs in a higher price class. Read the details below.

Disclaimer: If you purchase through links on our site, we may earn an affiliate commission. Read More
RP1 is a new entry-level model of the legendary British music company that has built its name for decades on high-quality and affordable turntables and tonearms.
Rega RP1 replaces the P1 model with upgrades that we could not just call cosmetics. Namely, RP1 has a brand new, lighter tonearm RB101, it looks like it is borrowed from the P2 model, and it's a new platter made of highly durable and persistent phenolic resin, popularly referred to as bakelite.
Rega does not keep up with some unspoken rules in hi-fi, especially not in the initial series. For example, the weight of the component is talking about the quality of the device. If that were true, Rega's cheaper devices would not be worth anything. We remember the small Rega R1 compared the competition in the same class with the impression that there was no built-in unit as light as it was. Also the low quality of the terminal. But when R1 was connected, it showed a character that did not come out of memory so easily. Simply, when Rega thinks something is not important for the sound, then it does not try to hide it. And RP1 is an unusually lightweight device, including a bakelite platter.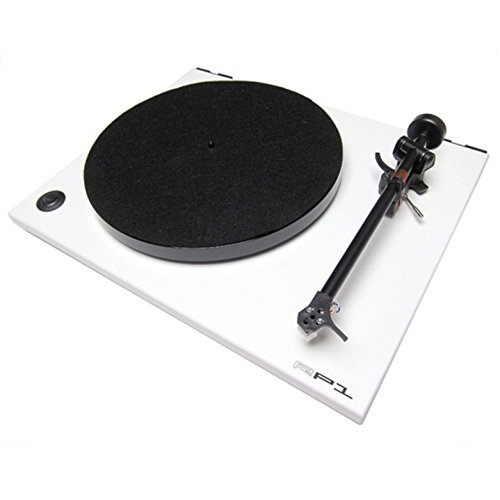 The interconnection wire is not worth mentioning since it is a very cheap thing. And it can only be replaced if you open the mechanism and solder a new wire. A piece of a thin cloth is on the platter, the base of the turntable is a relatively thin panel covered with a plastic furnace. Although Rega seems to have nothing to do with the impression that it is a collectors device(except "brilliant" tonearms), the overall RP1 is a very harmonious, eye-pleasing device designed, well not in China, but in England.
Rega RP-1 has only one ON/OFF switch, which is also the trigger for starting/stopping the platter. To change the 33 rpm to 45 rpm and vice versa you need to remove the platter and move the rubber belt from one pulley to the other. Considering the less disturbance of the signal, this is desirable minimalism, commonplace with other cheap turntables with audiophiles pretensions.
Rega RP1 is a true plug & play device; It is factory-installed inexpensive, but very solid Rega Carbon MM cartridge and the tracking force is factory set to the value Rega claims in the range of 1.5 to 2 g. The counterweight, though, can move, but there is no common thread for adjusting the weight at will, which could be a problem to those who decide to upgrade this turntable with a tonearm that requires tracking force beyond the default range. As with the interconnect, Rega thinks it just does not matter. If they have concluded that the Rega Carbon MM cartridge works well with RP1 then that's the way it is.
The Sound
And just when Rega is a little overdone in deciding what is important and what's wrong, they hit our ears with such a sound so we quickly forget about the interconnection stories and the impossibility of setting the tracking force. The old, pretty "dry" mono-recording of Ramsey Lewis trio revealed the contours of the sound of this turntable. In this class the turntable can "toughen" the harder recording a bit, rounding off the edges, as it does ProJect RPM4 turntable in this same class. Rega did not give up, the recording was reproduced tightly and clearly in the middle, and in the highs, there were some grainy edges. The piano of Ramsey Lewis showed the correct contours of the volume in the lower registers and gave the impression of timbral correction in the higher, the double bass was fast and tense, and the drum – at least on the transitions – kept somewhat of not a very pleasant resonance, which is a matter of recordings rather than a turntable. With Lewis, we came to the first conclusion; RP1 does not enhance tart recordings that respond to Rega's philosophy of sound.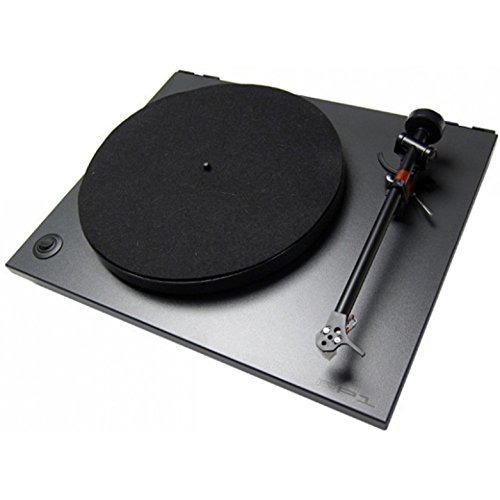 Rega - RP1 Turntable (Cool Gray)
Hand-assembled Rega RB101 tonearm
Precision main bearing and sub-platter assembly
High quailty, low vibration motor
Phenolic resin flywheel effect platter improves speed stability
Rega Carbon moving magnet cartridge
Stevie Wonder's albums from his most adventurous stage don't have a hi-fi sound, are pretty dark and a bad system will give us a restriction of details. But "Sir Duke" and other hits with the Rega RP1 get on the dynamics, and the rich brass section and Wonder's voice on the transparency. With these easy-to-see features, RP1 discovered a concealed, but precious one; Compared to the Pro-Ject, Rega RP1 drawn a smoother and darker background from the vinyl grooves.
A better record of the cult American rocker Meat Puppets confirmed the original impression of sound tightness with less softness but more details. The voice of Curt Kirkwood is presented and in a deep perspective pushed forward. The post-punk Arctic Mokey's latest date seemed to be warmer than we remember the sound of the same songs from the CD, but the cymbals sound is more natural and organic, just like the guitar riffs. With a great record of the Swiss avant-garde Yello and in this case, the referent Pro-Ject RPM4 and the RP1 tested have been brilliant in every way – Pro-Ject is playing a bit warmer with a more luxurious stereo picture, while Rega catches bass control and speed as well as the impressive depth of stage. When Miles Davis started to play, Rega RP1 was brilliant; With a clear separation of instruments Miles's trumpet floated in the room and conveyed the craftsmanship of the master. Impressive for this class of device with a tonearm of $50.
Here is this great turntable in action:
Conclusion
Initial music genres can sound soft and seductive on the first, but over time, that impression can turn into the feeling that we have a deal with a subtle, "lazy" device. Rega RP1 does not belong to that line of "budget" turntable classes. Like many other Rega's products, this can be attributed to a specific character. Its focus is music and music, providing a presentation and a fast sound with a rich mid-range sound spectrum. With its debut and Genie models, Pro-ject has held power in this class of the turntables, retiring the P1 model and inaugurating the better RP1 Rega, once again throwing down the gauntlet into the face of the competition. This is a top of the record players under $500 class.
No doubt, the RP1 can provide a lot of excitement and musical pleasure in the adventure of first or rediscovering the world of analog sound and magic of vinyl.
Rega RP-1 Performance Pack: Upgrade kit for Rega RP-1 comprising new drive belt & platter mat, new Rega Bias 2 moving-magnet cartridge: recommended downforce, 1.75gm; output, 6.8mV.
Dimensions: 17.5″ (450mm) W by ca 4.5″ (115mm) H (including dustcover) by 15″ (385mm) D. Weight: 9.2 lbs (4.2kg).
Finish: Medium-gray semigloss (dark gray and white semigloss available).
Manufacturer: Rega Research, Ltd., 6 Coopers Way, Temple Farm Industrial Estate, Southend on Sea, Essex, England SS2 5TE, UK. Web: www.rega.co.uk.
Here is Rega RP1 manual: Rega RP1 User Manual Download
Pros
Great quality of sound
in this price range
Minimalistic design with a focus
on the quality
Hollowed, phenolic resin platter
which eliminates resonance
Accurate tonearm tracking
Cons
Some might perceive it
as a turntable that's
too simple and minimalistic
Rega RP1 Specifications:
Description:
Two-speed belt-drive turntable with manual tonearm & moving-magnet cartridge.
Motor: AC synchronous.
Platter: phenolic resin.
Speeds: 33.3 & 45rpm.
Tonearm tube: aluminum alloy.
Downforce calibration: none.
Antiskating mechanism: magnetic.
Tonearm effective length: 240mm.
Cartridge:
Ortofon OM 5E.
Recommended tracking force: 1.75gm.
Output: 4mV at 1kHz, 5cm/s.
Wow & flutter: unspecified.
Rumble: unspecified.
Related Products: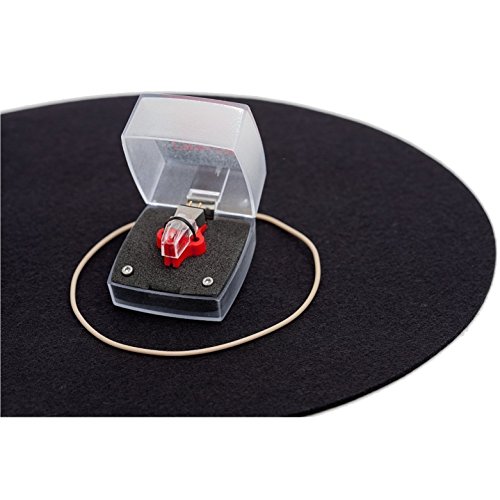 Rega - RP1 Pack - Performance Pack
The increased drive delivered by the upgrade belt offers greater speed,...
A hand assembled moving magnet cartridge which uses a high quality...
Housed in Rega's unique, lightweight, high rigidity cartridge body, the...
A high quality mat manufactured from 100% natural wool. Wool, having...
Housed in Rega's lightweight, high rigidity cartridge body, the Bias 2...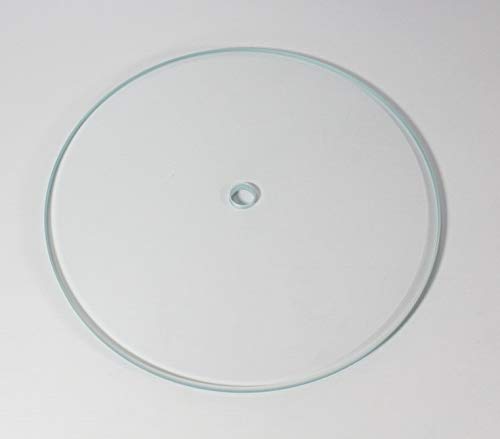 Rega Neo High-Performance Turntable TT-PSU Power Supply Upgrade
The Neo PSU is an advanced turntable power supply providing user...
The Neo PSU is compatible with the following Rega turntable models: P3-24 /...
Using the same DSP (digital signal processing) generator found in the RP10...
Output to motor bi-phase = 24 V AC protected by resettable fuse. Power...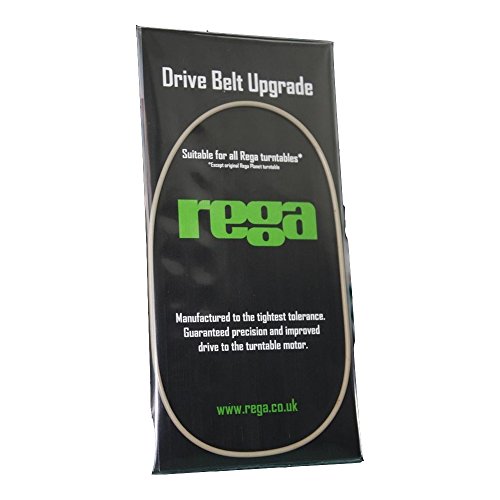 REGA - Reference Drive Belt Upgrade
Made from an ultra-pure rubber designed for Rega's cartridges, but now...
Far superior to the standard Rega Belt
New material is smoother and stronger than the standard drive belt
Works with any Rega turntable
Rega recommends replacing the belt on their tables every 4-5 years
If you liked this article, please rate below.
(Visited 20,794 times, 7 visits today)