A lot of times we need a good portable speaker. Whether it be a private party, a street gig, voice announcements in the schoolyard, or a brief performance at a pub. Existing solutions are good, but then something is always wrong. There is no power outlet nearby, the speaker is too quiet, the speaker is too big, the sound is undifferentiated … The Bose S1 Pro offers us a multifunction box that should do just this – a speaker for everyone.
Disclaimer: If you purchase through links on our site, we may earn an affiliate commission. Read More
The Bose S1 Pro is a compact 2-way PA active speaker with a 6-inch (15 cm) bass speaker and 3 mid/tweeters arranged in a row. The box can be operated standing, lying on its side, tilted upright or mounted on a speaker stand. With an integrated lithium-ion battery, the Bose S1 Pro can play for up to 11 hours without a power supply, according to the manufacturer. In order to avoid unnecessary cable connections during music playback, your smartphone or tablet can be connected to the box via Bluetooth.
In addition to the well-known good sound, Bose promises a remarkable sound pressure level of 109 dB at the top. This should enable the sound reinforcement tasks listed above to be mastered. Our practice test will show whether the Bose S1 Pro is up to the challenge. The Bose S1 Pro (incl. Li-ion battery) was available in stores at the time of our test for about $ 600.
First Impression
As was to be expected from Bose, the S1 Pro uses a high-quality speaker cabinet. "Design follows function" is probably the best match. The box looks unspectacular but valuable and above all robust. The speakers are protected by a stable metal grille, the box is stable and secure. In addition to the compact size, the low weight of just over 7 kg is encouraging. That makes the box really ultra-portable. There is space for this even in the smallest trunk. The grip shell arranged in the middle at the top is optimally worked out for good wearing comfort. The controls are also slightly offset inwards so that nothing protrudes during transport. In addition to the speaker, the box also contains operating instructions and a power cord, which can also be used to charge the battery.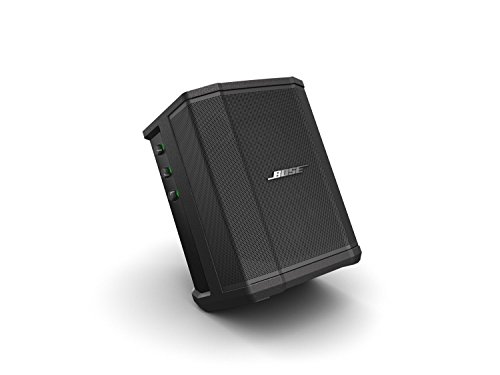 Bose S1 Pro Portable Bluetooth Speaker System w/ Battery – Black
Big sound from a rugged speaker that goes where you do
This portable Bluetooth PA system is made for parties, outdoor...
Wireless Bluetooth pairing and inputs for a microphone or musical...
Built-in sensors and multiple aiming positions for optimal sound in any...
Get up to 11 hours of play time with the rechargeable, lithium-ion battery
Construction
Bose stays relatively covered in terms of construction details. So we have to limit ourselves to what we see and hear. The box is built in a 2-way design and, in addition to a 15 cm woofer with a long stroke, has 3 5.75 cm mid-high speakers arranged in a row. The radiation is quasi coaxial, ie the signals of low and high frequency originate from an acoustic axis. This optimal radiation in the form of a point sound source has some advantages in terms of radiation and speech intelligibility. Due to the special arrangement of the mid-high speakers based on the well-known L1 Compact System from Bose, wide radiation of 100 ° is achieved in the horizontal. In the vertical, the beam angle is very narrow at 40 °, which makes sense, however, because the different positions always ensure the right coverage.
Technology
As already mentioned, the manufacturer does not provide any performance data, i.e. information on amplifier outputs, etc. Only a maximum sound pressure of 109 dB is specified. Measured by the size of the Bose S1 Pro, this is a decent value, which in practice is definitely sufficient for the sound from a short range of 5-10 meters. Sure, the Bose S1 Pro does not deliver the level of a conventional 12" or 15" 2-way box, but that's not the point. The crossover frequency between the woofer and the 3 mid-high speakers has been chosen to be quite low at around 600Hz, which has a very positive influence, especially with regard to the directional effect and the clarity of vocals and speech.
Crossover Frequency

Many conventional 2-way systems usually separate at or above 2 kHz. The upper mids and the highs of these boxes are transmitted by a compression driver with an upstream horn in order to achieve the directional effect. Compression drivers can hardly work below 2 kHz. It is precisely in this frequency range that the "presences" that are important for speech intelligibility are located. The frequency transition therefore often leads to problems with the transmission of speech and vocals, or intervention via EQ is required.
Service
A mobile sound solution for all occasions has to be one thing above all: easy to handle and intuitive to use. This is the case with the Bose S1 Pro. It is really little you can do wrong at all. Connections and controls are clearly labeled so that the functions of the built-in mixer can be seen at first glance.
The controls on the Bose S1 Pro are clearly labeled and arranged
At second glance it is surprising that there is no gain control for the input channels. The channels are, so to speak, generally "pre-leveled", which has advantages and disadvantages. The advantage should be the simple handling: connect the microphone, turn up the volume, play. The disadvantage is that some dynamic microphones require a little more gain. More on that later in the practical section. The connection of a Bluetooth device is exemplary simple. Press the BT button on the Bose S1 Pro for approx. 3 seconds, the box will immediately identify the Bluetooth devices in the reception area. Up to 10m distance was no problem in our test.
Sound
Bose is known for conjuring big sound out of small cases. This is particularly well known from the "Acoustimass" home systems or the "WAVE" compact systems. But this is not about high levels and certainly not about directional radiation. The Bose S1 Pro also impresses with its sound. The speaker shows its strengths especially when it comes to music playback (whether via Bluetooth or cable). The sound can be described as "punchy", so it has a lot of pressure underneath and draws the treble clean and clear. It's fun listening to music on this box.
Automatic Master EQ
A special feature that I would like to take a closer look at is an automatic EQ setting that adjusts the frequency response of the Bose S1 Pro to the installation position. What is this good for? Clearly, the box has different interfaces and beam angles depending on the position. As a result, the sound would change. It, therefore, makes sense to adapt the frequency response to the corresponding alignment by means of equalization. Bose achieves this through a position sensor known from the smartphone. If you turn the box or tilt it backward, this is registered by the sensor and the corresponding EQ setting is activated. Clever.
Mixer
You can use the mixer at the two multi-function inputs to influence the sound. First, there is a pre-select switch known from the Bose ToneMatch. Normal line signals (eg from the keyboard) remain unchanged with "OFF". Setup is available for vocal and (acoustic) guitar signals. The audio signal is indicated by a clearly visible LED (green = signal ok, red = warning of overload).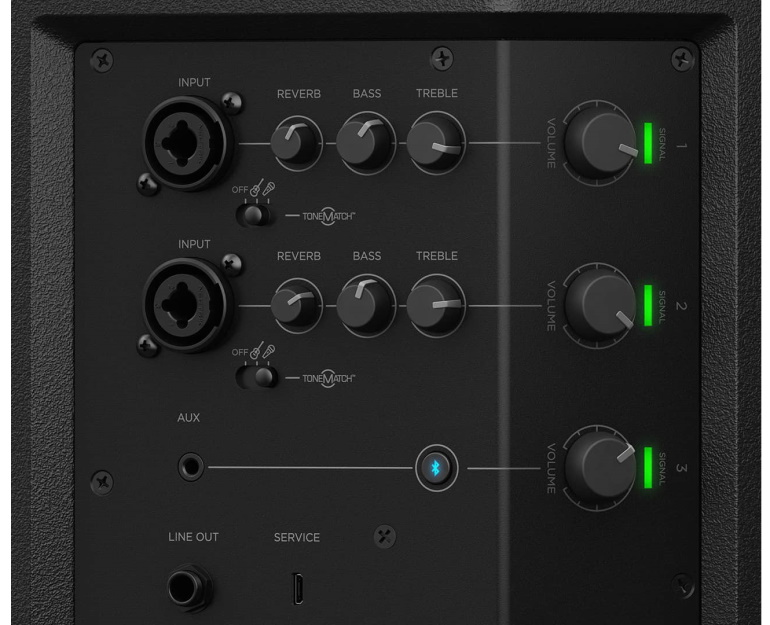 All controls are slightly retracted so that nothing protrudes during transport
For the "finishing touch" there are bass and treble controls. There is also a reverb effect that can be added via the "Reverb" control. The reverb is not a sonic revelation, but it is enough to give the signal a sense of space. Even at home and in small locations, it sounds like a big concert hall.
The Practical Part
Music Playback
In the practical part, the Bose S1 Pro had to master several tasks. First, there was a garden party. First of all, during the barbecue, for 3-4 hours of light background music, then there was a party and the music was turned up. Since there was no power connection nearby, this was done using the battery.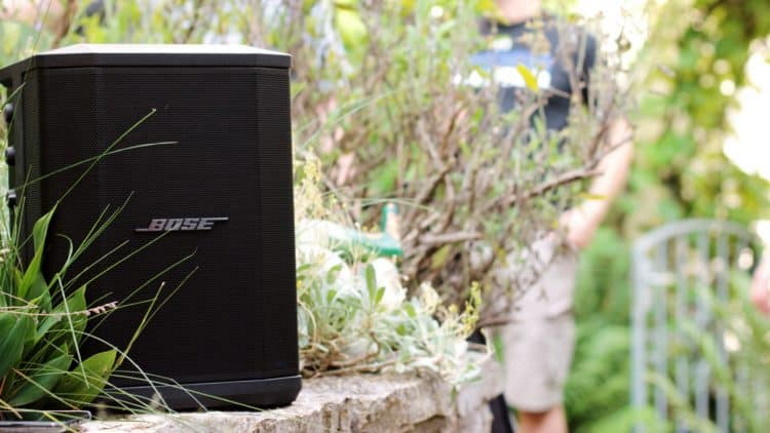 The hit of every garden party: The Bose S1 Pro with the battery pack in wireless Bluetooth mode
Result: perfect. The battery life of 8 hours (of which approx. 4 hours with low power and 4 hours at 80% of the possible volume) was completely sufficient. When the music went out at 1:30 a.m., the battery was largely empty. However, it can be assumed that the manufacturer's specification of approx. 11 hours can be achieved at a moderate volume.
Stereo in Bluetooth Mode?
For those who want more, Bose's Connect app (for iOS and Android devices) is a great way to operate 2 Bose S1 Pro via Bluetooth. Music can thus be realized in stereo or for a larger area of ​​the application without connecting the cables.
Live Sound
A classic setup was chosen for the live sound party. Singing and guitar should be broadcast in a small pub. To save an additional monitor, the box was placed in the upright tilted position in the middle behind the musician. An acoustic western guitar with Fishman pickups and a Shure SM-58 vocal microphone were used.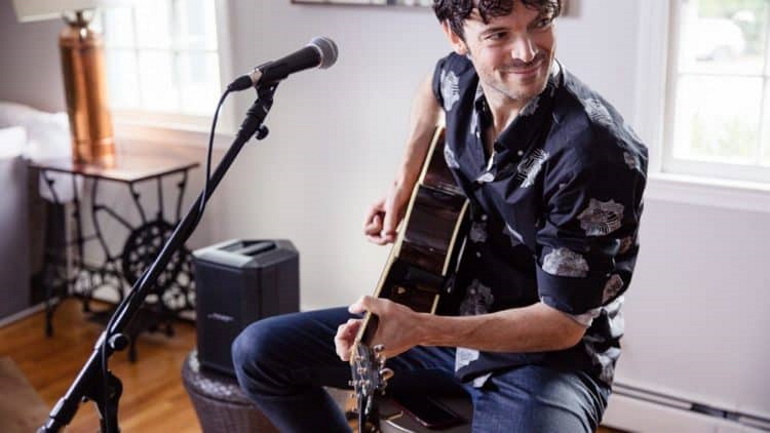 Guitar and vocals were selected accordingly with the PreSelect switches. The default setting for guitar takes quite a lot of bass from the signal, which has been added a bit via the bass control. The preset also contains compression, which often makes sense, but should have been a little more subtle for my taste. The sound was transmitted clearly and in a positive sense "beautifully", the presets from the ToneMatch do a good job. Due to the lack of gain in the microchannel, we could not amplify the microphone to the same extent as the guitar with a built-in preamp. The musician would have liked a bit more volume. Nevertheless, the level was just enough to sound the almost 40 people in the location with a pleasant volume.
Use As a Monitor
Not every musician is lucky enough to play on professional stages with the appropriate equipment. It is an advantage if you have your own monitor in your luggage. For this purpose, the Bose S1 Pro offers the possibility of being set up in the classic "wedge position", ie lying vertically tilted.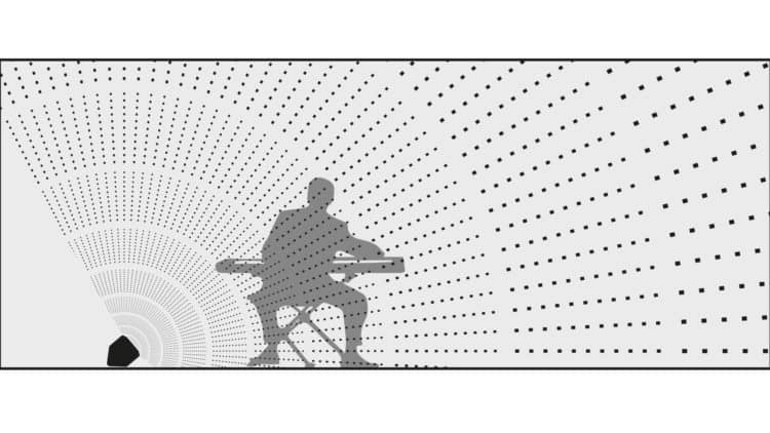 The input signal comes from the band's mixer. The lack of gain is not a problem here. The volume was correspondingly sufficient, although it must be mentioned here that it was an acoustic combo. So a drummer who played rather gently and the electric guitar was not amplified with a full stack but with a small transistor combo. With larger stages and a harder music style, you won't be able to avoid this great PA monitor. There was no feedback problem at any time.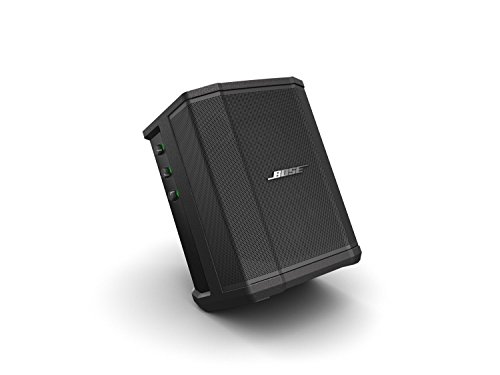 Bose S1 Pro Portable Bluetooth Speaker System w/ Battery – Black
Big sound from a rugged speaker that goes where you do
This portable Bluetooth PA system is made for parties, outdoor...
Wireless Bluetooth pairing and inputs for a microphone or musical...
Built-in sensors and multiple aiming positions for optimal sound in any...
Get up to 11 hours of play time with the rechargeable, lithium-ion battery
Bose S1 Pro Features

THE SOUND YOU WANT
Sound everyone can hear from a small, convenient system that is ready to perform whenever and wherever you are.

MADE TO TRAVEL
Lightweight, ultra-portable enclosure designed to transport effortlessly using the convenient carry handle.

SOUND LIKE A PRO
Onboard 3-channel mixer offers independent ToneMatch, reverb and EQ controls on two channels, with a dedicated channel for either wired (3.5 mm) or wireless music sources.

EASY PAIRING, VERSATILE APP
High-quality, wireless Bluetooth streaming from your mobile device, with one-touch pairing. Add Party Mode with the Bose Connect app and stream to a second S1 system or any compatible Bose Bluetooth speaker. Plus, the advanced configuration options help you get even more from your speaker.

PLACE AND PLAY
Multiple positions with Auto EQ ensure the best sound, regardless of placement orientation. It's also speaker-stand compatible with standard 35 mm mounting poles.

ALL NIGHT LONG
Rechargeable lithium-ion battery allows you to perform anywhere for up to 11 hours, while the Quick Charge function helps you recharge in a hurry.
Conclusion
The compact Bose S1 Pro is truly a universal PA solution for a wide range of tasks. The speaker can convince in all situations with an above-average sound and easy handling. The volume is sufficient to easily address smaller locations and up to 50 people. The possibility to operate the box in 4 positions is unique and not a gimmick, but really useful for a wide variety of situations where musicians, audiences, or both are to be played. The built-in battery is powerful and can last up to 11 hours depending on the intensity of use (8 hours were achieved in the test at 50% lower and 50% higher load). That should be more than sufficient for every gig. There is a half a point deduction for the lack of input gain and phantom power for the microchannels. This actually limits usability. On the one hand, because then the volume potential of the box can not be used, on the other hand, because owners of condenser microphones are not considered. All in all, I consider the excellent sounding space-saving miracle the Bose S1 Pro a great and powerful portable speaker.
The user manual is available here: Bose S1 Pro User Manual
√ Check The Price and Read Customer Reviews √
Pros
The battery power is adequate for most situations
Plenty of inputs for different scenarios
Bluetooth connection for wireless streams
Automatic sensors for hands-free adaptations
Light and portable
Cons
Not enough depth and reach in sound
No battery status indicator
A little overpriced
Bose S1 Pro Specifications
Number of Input Channels: 3
Connectivity: Audio I/O 2 x Combo XLR-1/4″ TS Input, 1 x 1/8″ / 3.5 mm TRS Input, 1 x 1/4″ TRS Thru
Wireless Connectivity: Bluetooth
Max Wireless Range: 30′ / 9.1 m
Battery Type: Lithium-Ion
Approximate Battery Life: 11 Hours, 6 Hours (Max Power)
Material: Metal Grille, Polypropylene
Dimensions: 13 x 9.5 x 11.2″ / 330.2 x 241.3 x 284.5 mm
Weight: 15 lb / 6.8 kg
Package Weight: 19.35 lb
Box Dimensions: (LxWxH) 17 x 14 x 13″
If you liked this article, please rate below.
(Visited 8,333 times, 1 visits today)