Edifier R1700BT – 2.0 Bluetooth Speakers for PC and Smartphone in the Test
Today we brought another 2.0 system to the test. 2.0 means that they are stereo speakers without an additional subwoofer. Naturally, this results in less bass power, but easier handling and – for most people an important point: less space. While the satellites are usually smaller in a 2.1 system, the problem is often that you do not know where to put the oversized subwoofer, which often somehow bothers on the floor. We also prefer the 2.0 systems for music.
Disclaimer: If you purchase through links on our site, we may earn an affiliate commission. Read More
Edifier has now made a name for itself as a provider of sound solutions in this country, although Chinese manufacturers are sometimes viewed with suspicion in hi-fi circles. However, Edifier has often proven that high-quality components also come from China. We would like to check today whether this also applies to the Edifier R1700BT.
The Edifier R1700BT comes from the Studio series from Edifier and they have Bluetooth support. So that the little ones with dimensions of 154 x 254 x 214 mm and deep enough in the frequency range are designed as bass-reflex speakers.
Construction
After unpacking, you can see two really stylish speakers. The body itself is black, but on the side, there are real wood veneered sides. The front, back, and top have beveled edges. This not only ensures a sleek appearance but is also intended to prevent standing waves inside the speakers. The R1700BT also comes with feet, which separate the speakers from the desk. The fabric front cover can of course be removed. All necessary cables and remote control are included.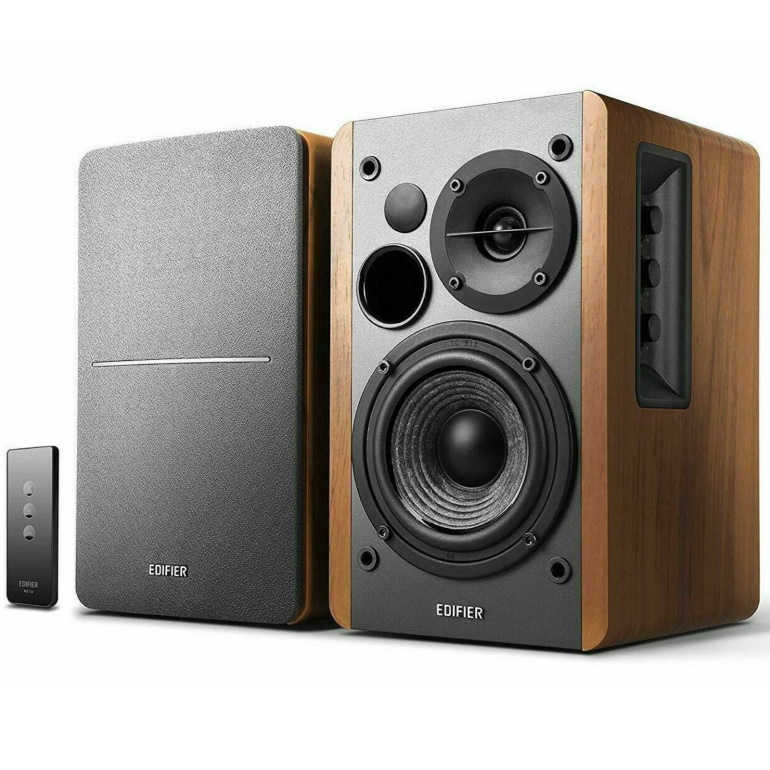 The wood used for these bookshelf speakers is also made of MDF (12mm). This is often used in loudspeaker construction because it resonates less. In the right speaker, there is a dent that contains the controls for volume, bass, and treble as well as an operating LED. The latter glows green in normal operation, but with a Bluetooth connection? You guessed it – blue. The Bluetooth function can be conveniently switched on and off with the remote control and works perfectly. The volume control has a grid and gives haptic feedback and – for whatever reason – can be rotated endlessly in both directions. The treble and bass controls do not have a grid, but they do have two attachment points, and they also snap slightly in the middle position. Regarding the treble and bass controls, it has to be said that their effect is rather small, which is especially true for the treble control.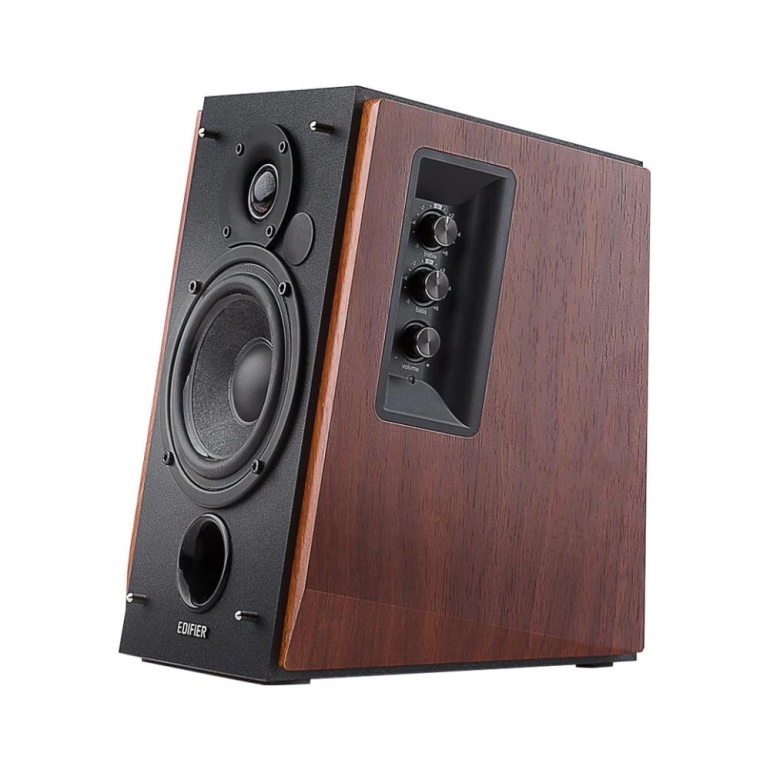 There is a special reason for this: The height regulator only regulates from -6dB to + 6dB, but not on a single frequency, but in the range of 6kHz to 20kHz. In a wide range, the ear does not perceive this regulation as strongly as change. Also unusual is the regulation in the bass range: If you amplify here, it happens at 80Hz. If you turn here in the other direction, the controller will adhere to 90Hz. The range here is from -12dB to + 12dB. The whole thing only works with one more special feature (DSP, see below).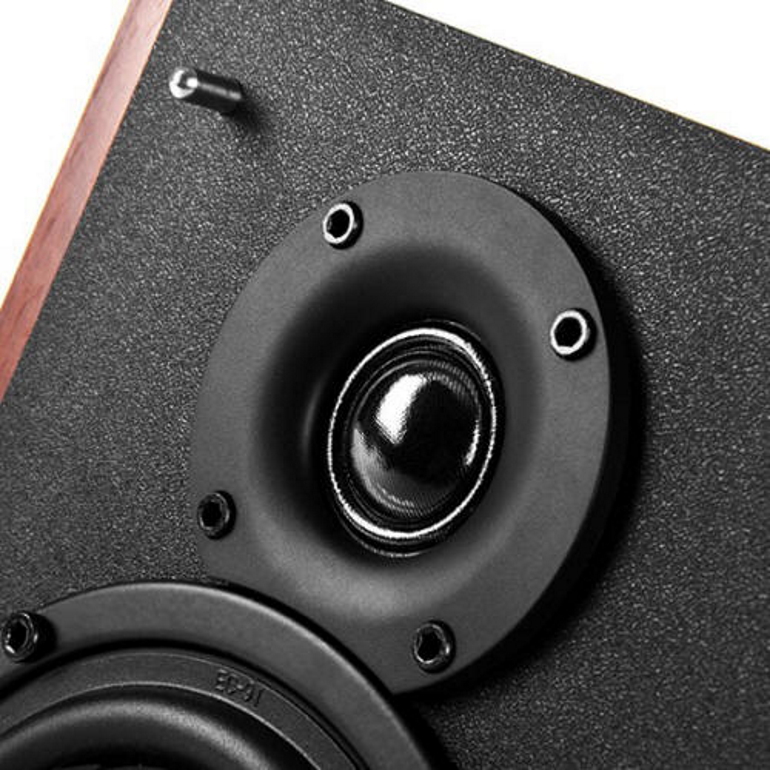 The 19mm silk dome and the 116mm (4 inches) woofer are fired by a Class-D amplifier, with 15 watts per channel and 18 watts per channel. This is pretty big, but you can see from the layout that the R1700BT is not intended for deep bass orgies.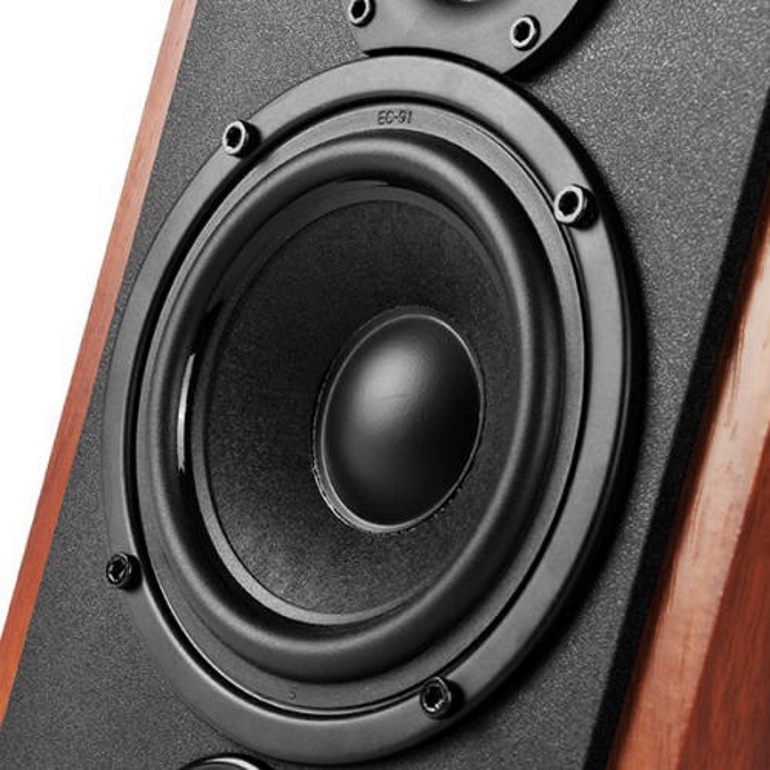 Another special feature is that the Edifier R1700BT Bluetooth speakers does not use a passive crossover, but separates low and high frequencies by DSP. Accordingly, the connection cable of the two speakers is also four-pole. Tweeters and woofers are placed as close to each other as possible, which is closer to a point sound source and benefits the spatial image. The woofer is cut out at around 3,000 Hz and the tweeter is faded in at around 3,100 Hz. A good choice because the crossover frequency is not in the particularly critical range.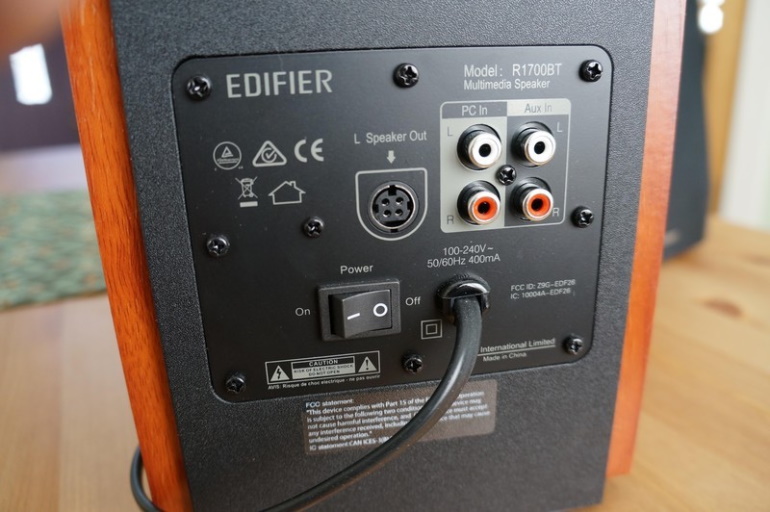 The bass reflex openings are located in the front of the speakers, which means that they are not critical to the installation when it comes to the distance to the rear wall. Since we usually place desks to the wall this a sensible measure. Even with free-standing desks, you still have a bass area that the speaker, whose openings point to the rear, do not offer.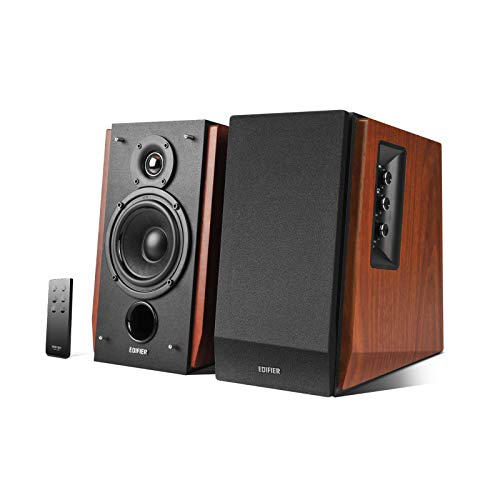 Test System and Cable Tips
If you want to start making sensible measurements, you will quickly find that this does not work adequately with standard equipment. Simply connect any microphone to any sound card and then expect accurate results – no, it is impossible.
From the many years that we have been testing components, we have a good set of sound cards, and have decided to take the following components:
Sound Card: Creative Labs E-MU 0404 USB
A very well-known external sound card/sampler that leaves no questions unanswered in terms of measurement technology and easily leaves many other sound cards behind, especially when it comes to recording. As an external model, it can also be used very flexibly. So you can use the E-MU 0404 USB both on a stationary computer or, as in our case, on a Dell Inspiron notebook. In order to avoid driver conflicts, the onboard sound card has been deactivated on the Dell notebook. The EMU 0404 naturally works with ASIO drivers, so that Windows or its mixer is also bypassed.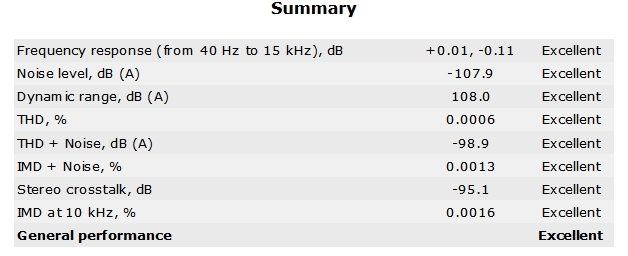 Microphone: Behringer ECM8000
The Behringer ECM8000 is a very linear microphone, which we even compared with a model for around $1000. Since there were only minimal differences, we chose the inexpensive model for cost reasons. The whole thing was then of course calibrated so that the measurements are really exact. We do not present the calibration process here, it would simply go too far. However, if we are already carrying out and presenting measurements, we naturally want to exclude potential sources of error. Accordingly, we have also used high-quality cables, which in our opinion are beyond any doubt. Cables that do not affect the measurements are of course also ideally suited to not distort the sound and to guarantee an optimal sound experience.
Here are the cables that we used and that we would recommend without reservation:
Jack Cinch Cable: ViaBlue NF-S1 SILVER QUATTRO
The ViaBlue NF-S1 consists of two tinned copper conductors, each with a cross-section of 0.5mm˛ and each consisting of 19 individual strands. The "Quattro Silver Shield" insulation consists of two ALU-PETP foils and two counter-rotating, silver-plated spiral shields with fine 0.15 mm individual wires. With a fourfold shielding, you are safe from outside interference.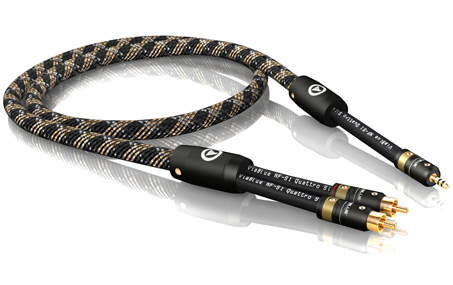 The ViaBlue T6s connectors are used for the NF-S1 so that the connectivity also fits. The contact surfaces are 24 carats gold-plated. Anyone who comes from hi-fi circles will recognize the ViaBlue cable by the typical Cobra fabric hose. The 9mm outer diameter also makes it clear that this is no standard cable.
In terms of sound, the ViaBlue NF-S1 is more likely to be found on the neutral side.
USB cable: ViaBlue KR-2 SILVER USB cable A/B:
We were less concerned with the sound, but more with correct measurements when choosing the USB cable. We also use ViaBlue here, which has the additional advantage that the cables used do not go in different directions.
The ViaBlue KR-2 Silver has silver-plated strands for data transmission. According to the manufacturer, this should ensure the fastest possible transfer. However, we do not care about this point here.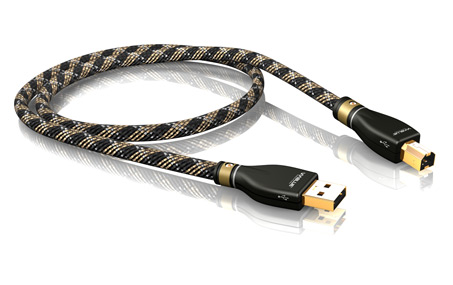 Measurements
Now we come to the measurements. These took place in a normal room and therefore differ from the typical measurements in magazines. We measure again at the listening position, which does not result in a nice measurement record, but comes closest to reality.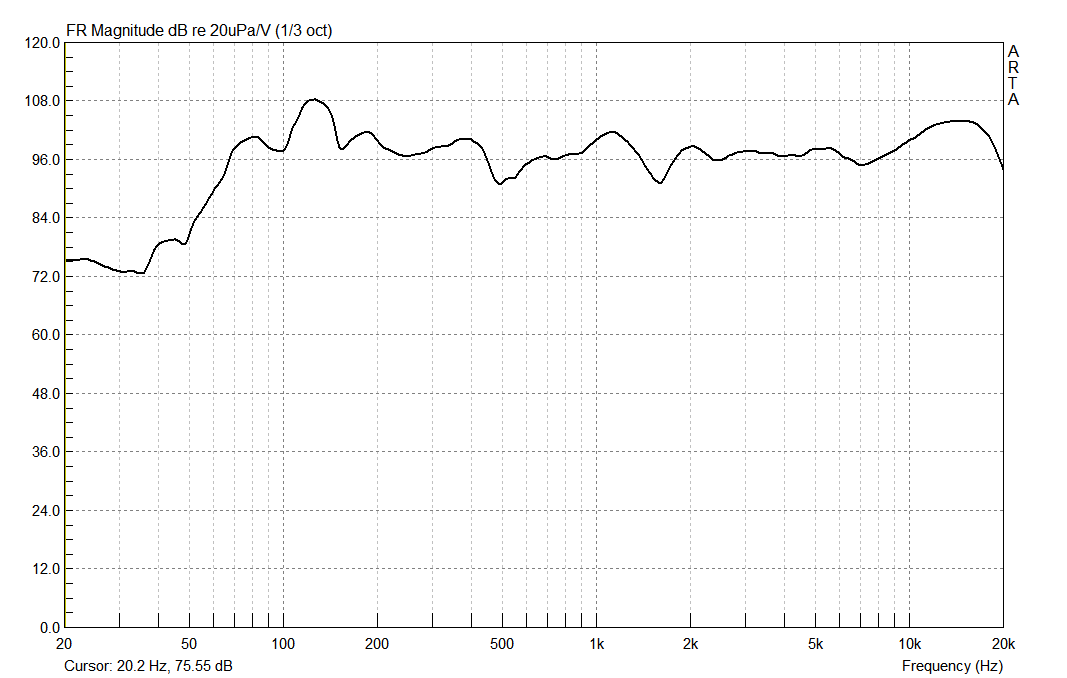 As usual, a measurement curve at the listening position looks more like the mountain than slick. The hump at around 120Hz is a room response, so it is not due to the speakers. It is easy to see that the frequency response drops sharply below 70Hz (the manufacturer's specification of 60Hz is somewhat benevolent). We had already heard that these bookshelf speakers are not deep bass monsters. It is also easy to see that the tweeter control works very broadband. We had turned it up for the measurement to show it (this is also recommended because the speakers sound "livelier").
Sound Quality
Fresh from the box, the R1700BT sounded very reserved, especially when it came to the mid and high frequencies. This admittedly surprised us a bit, because brand new speakers are usually rather pushy and sometimes harsh. So we gave the speakers a two-week break-in period. However, we cannot say that this measure has changed much in terms of the sound impression. The R1700BT continued to play smoothly and unobtrusively, so this seems to be wanted. This also has advantages, because the speakers never tend to annoy with a shrill high tone or the like. Also, less good recordings always sound pleasant and "round". The disadvantage is that even very good recordings are not as effective as they could be. Stands for the Edifier R1700BT are not exactly the first choice. To give you an example: If rain falls on a corrugated iron roof, it makes a very hard noise. On the R1700BT, however, it sounds like there is a thin film over the corrugated iron roof that somewhat mitigates this harsh noise. This description may help a little.
The R1700BT can score points in spatial illustration and depth. A lot of speakers sound much flatter here.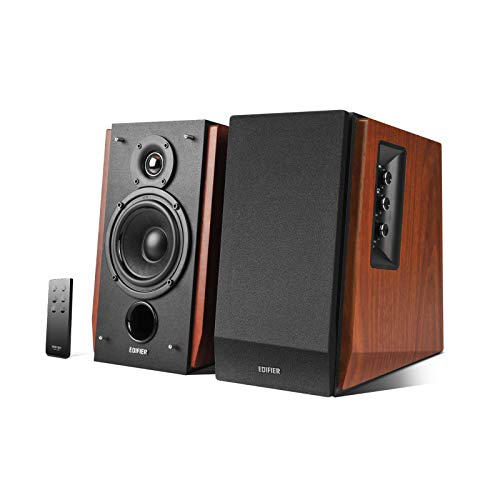 Are Edifier R1700BT Any Good?
If you want to tickle the last bit of sound information from the speakers, our test candidate is not intended for that. However, there is no harm in trying hard on the tweeter. You notice the R1700BT that they are designed for easy music enjoyment with smartphones or other consumer devices and are not designed for high-end sound. If you like a laid-back sound, i.e. effortless and want to listen to music over a longer period of time, you are welcome to use the R1700BT from Edifier. The speakers never get on your nerves, even with bad recordings. Especially those who listen to a lot of MP3s will find a suitable partner with the R1700BT. Especially since the Bluetooth support also comes into play here: for example, a smartphone can be easily connected with these speakers.
The uncritical list is commendable. Close to the wall or free, just put it down, angle it in and you're done. The sound image should amaze many. Visually, we really like the Edifier R1700BT. With classic/old school you never get wrong.
Edifier R1700BT price is ~ $150 and this is an ok price for such a set.
The user manual is here: Edifier R1700BT User Manual
√ Check The Price and Read Customer Reviews √
Pros
Comfortable Size
Classic Look
Easy To Setup
Very Good Spatial Representation
Easy Bluetooth Connection
Remote Control
Cons
Restrained Sound
Thin Bass
No Auto Standby
On/off Switch On The Back
Edifier R1700BT Specifications
Total power: 66 watts RMS (15W tweeter / 18W bass (each per channel))
Frequency range: 60 – 20,000 Hz
Tweeter: 19 mm silk dome
Bass: 116mm bass/midrange
THD: <0.5%
Connections: PC, AUX (both cinch), Bluetooth
Dimensions: 154mm x 254mm x 214mm
Total weight: 6.6 kg
Price: about 149 euros
Next: processing and construction
If you liked this article, please rate below.
(Visited 9,367 times, 3 visits today)