Finally, we can present a KEF LS50 Review article.
Read below why I bought the KEF LS50 speakers before testing, and why they became a permanent part of my own system.
Disclaimer: If you purchase through links on our site, we may earn an affiliate commission. Read More
It all starts from the High-End Fair in Munich where the KEF LS50 was premiered in 2012. They were created to commemorate the 50th anniversary of the company, but also as the 'successors' to the legendary BBC LS3/5A speakers, which KEF once produced under a BBC license. Even then, there was talk of a new 'killer' compact speaker on the market, and the KEF showroom filled many visitors eager to hear a new sensation. I was one of them and somehow managed to listen to the LS50 in that crowd.
These were rather inadequate listening conditions because the speakers found themselves in a large room, primarily intended to present far larger KEF Blade speakers. However, what I heard then remained long in my ears. These little ones were just brilliant. Already on such half listening, they provided a fresh, transparent and very fast sound with stunning grip in the lower registers. There was no doubt that KEF did a good job.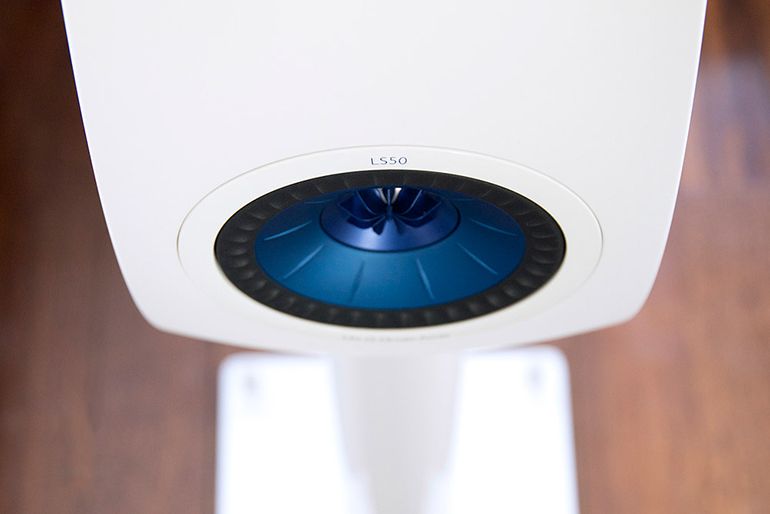 First Impressions
Since then, I have listened to the KEF LS50 several times in different places and somehow always came to the same conclusion -these are exceptional speakers. During that same period, miles of texts, reviews and tests, impressions of users, journalists, and everyone who came to them were printed. Dozens of awards have been awarded worldwide, proclaimed product of the year, best in class, etc. The KEF LS50 has found a place in the sun among audiophiles, music lovers, and studio professionals.
And even though I was already dealing with the far better and more expensive speakers around which I built the system and which are still in it, my love for the two-way speakers has never completely disappeared. Here's why. For one thing, two-way speakers will be easier to handle in most rooms and will not cause problems interacting with itself to the extent that it normally does with three-way speakers. The lack of a bass unit and the inability to play very low tones cancels a good deal of the problem from the start. Usually, people get overwhelmed by the number of units installed, especially the bass, and then when they bring the speakers home and the banging starts throughout the apartment, then the question is – my God, what can I do ?!
Secondly, two-way speaker systems are a lighter load for amplifiers, just for the aforementioned reason, so choosing an amplifier is easier. And third, two-way speakers are easier to sound in the room and provide more transparent sound at first. Of course, this should not be taken for granted since not all two-way speakers are the same, not to say that upper-class two-way speakers can outperform three-way speakers by all parameters.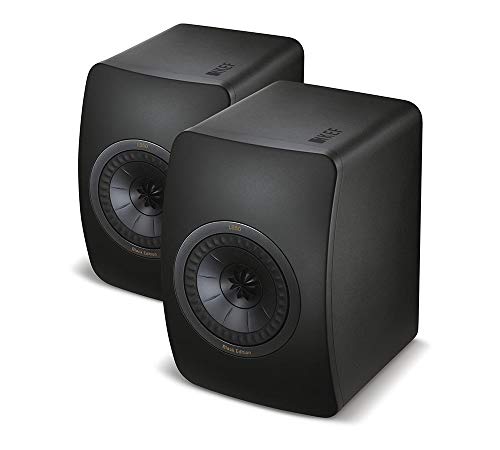 KEF LS50 Mini Monitor - Black Edition (Pair)
The LS50 radiates an extremely large listening sweet spot and delivers a...
The construction of the ls50's cabinets plays a big Part in their sound....
The LS50 comes in four spectacular colors, each with its own corresponding...
The LS50 is one of the most award-winning speaker products ever released by...
Frequency range (-6db)-47hz - 45Khz. crossover frequency-2.2Khz. Maximum...
Construction
During my audiophile internship, I have used both: entry-level and high-end. Moreover, it somehow turned out that I first bought just a two-way speaker system, then three-way, and better two-way speakers, and so on alternating to the Wilson Audio Sophia 3 three-way speakers. The desire to get two-way speakers was present all the time, this time as a backup variant, but also due to the fact that I could not objectively, as objectively as possible, test midrange or lower power amplifiers with multiple expensive and more demanding speakers such as Sophia 3.
Since the KEF LS50 caught my attention with sound and a very fair price (original MSRP of ~$1,500), they are my first choice. Finally, at the beginning of last year, an opportunity arose and I purchased LS50 speakers.
So it's a two-system bass-reflex speaker with a built-in Uni-Q coaxial speaker unit that connects the midrange and tweeter. The midrange membrane is made of aluminum, magnesium, and lithium alloys, while the tweeter is made of aluminum in two layers to achieve maximum strength.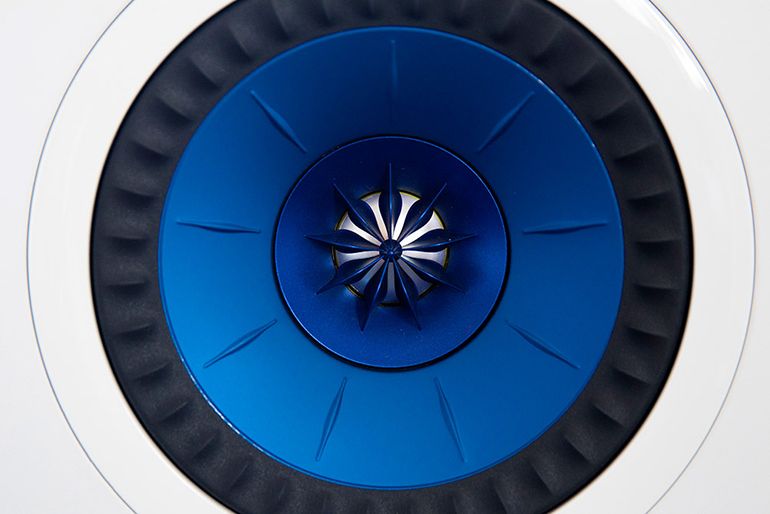 Uni-Q Speaker Unit
The tweeter unit is located in the center of the midrange, or in an ideal acoustic position. A special system was constructed in the background to eliminate distortions and sound pressure behind the tweeter. In addition, patented technology was used, the so-called 'Tangerine Waveguide', which allows the tweeter to have a far wider dispersion of sound waves than standard solutions. Ribbed protrusions made of polymers are noticeable on the membrane of the middle tone unit. Here, too, the solution is to further achieve membrane strength and avoid distortions in operation. The entire Uni-Q unit is accompanied by a powerful neodymium magnet.
As for the cabinet, it also represents a small technological tour-de-force. Specifically, considerable effort has been made to get the maximum out of the Uni-Q unit from the small cabinet volume. The cabinet includes patented structural solutions and complex materials research. The vibrations were minimized and the cabinet rigidity was achieved. The front panel is designed to cancel resonances on the inside while minimizing sound wave diffraction from the outside.
The speakers cover a frequency range of 47 to 45,000 Hz (-6 dB) with a sensitivity of 85 dB (2.83 V/1 m) and a nominal impedance of 8 Ohms (3.2 minimum). Speakers do not require a monstrous amplifier to work, but one should not be fooled that every amplifier will be a good partner. The rule applies here – the better the amplifier you have, the better the sound. In translation, this may mean that the price of an amplifier can very easily exceed the price of the speakers themselves. More on that later.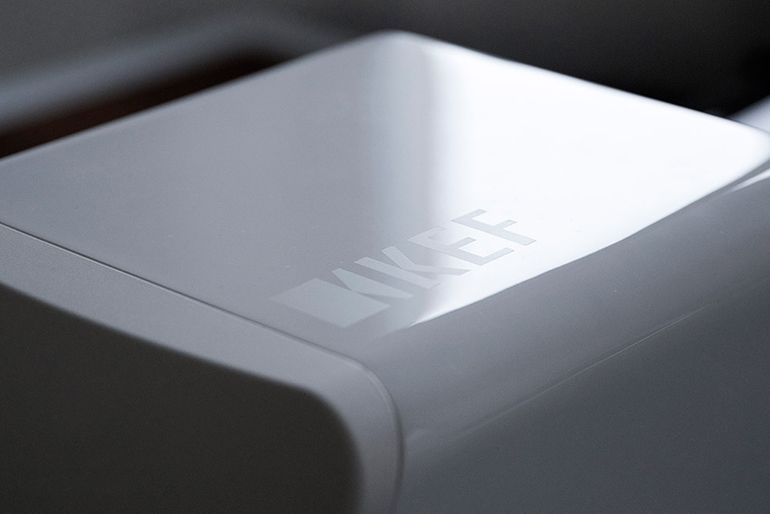 The speakers look great, they are modern in design and we can hardly find fault with them. You won't find any visible screws or any weird joints on the speakers. Originally they were launched in black gloss cabinet finish, while the front panel was in a black matte finish. The company logo in the matt lacquer is printed on the upper side, which in combination with the glossy finish, looks very refined. The spears were breaking (and still breaking) around the bronze-gold speaker unit. Some people do not like this combination, while others are a design step away from the 'boring' gray and black speaker units, which are mostly built into speakers.
However, the LS50 in the finish, along with the white with the blue unit, is still a standard today. A little later, various combinations appeared, some of which were part of limited supply: the red cabinet with a black unit, gray with bronze, black with blue and gray with red. The last special, the so-called. The 'Black Edition' variant, however, offers a matte black cabinet and black unit.
Sound Test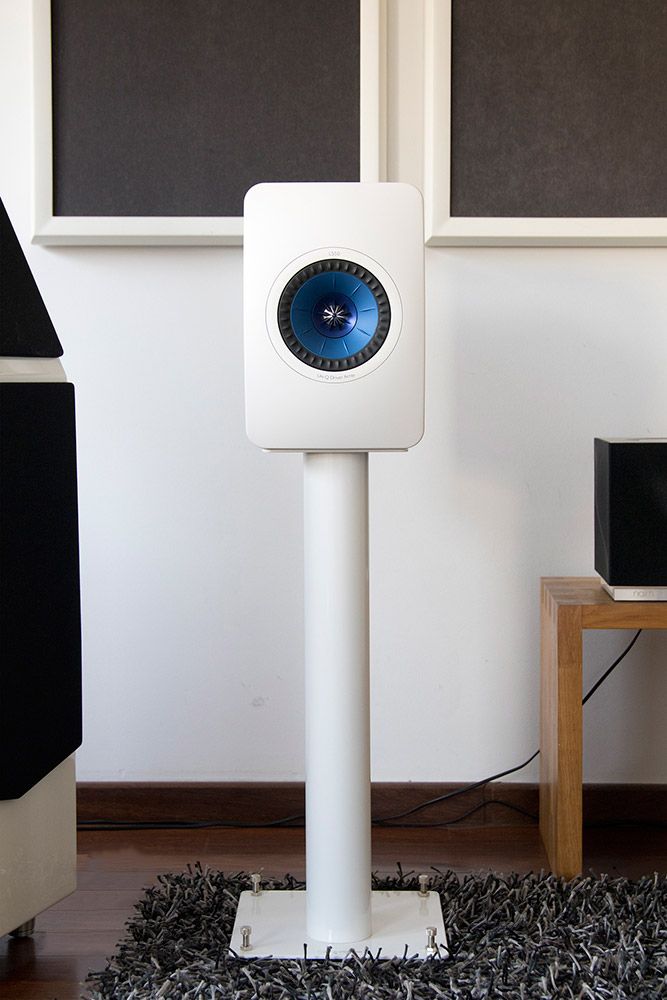 I placed the speakers on the NorStone Stylum 2 stands. The setup itself was not a very demanding job, but it still took several days until I found the optimal position. I've tested the LS50 with the Pass X250.5 Output Amplifier and Pass XP-20 Preamplifier, in recent weeks and with the new McIntosh MA 252 Integrated Amplifier. The audio source was mainly MacBook Air (Early 2015) and Audirvana Plus 2 player. Also, they were connected to a Blusound Powernode 2 integrated amplifier with a built-in D / A converter, while the audio source was also a MacBook Air/Audirvana Plus 2.
The highest LS50 scores are in neutral. The Uni-Q unit truly is a homogeneous entity from which you will find it difficult, or not at all, to dissect the frequency spectrum. In its scope, it is superbly connected from start to finish. I also felt this great connection in the Blade Two speakers that I also tested, which only confirms the manufacturer's claims that the LS50 shares genetics with reference models. In addition, the Blade and Blade Two LS50s are part of the 'Flagship' series of KEF speakers.
The LS50 should not be expected to encroach on some marvelous bass area because the physics is unrelenting, but what these speakers can play in the lower registers sounds extremely articulate and precise. But for no surprise, rest assured that these speakers can certainly create problems in the bass area if you place them incorrectly in the room. This is primarily related to placement in the corners of a room or too close to the front wall. The included sponge rollers, intended to be inserted into bass reflex openings to reduce bass, will bring more harm than good from experience with similar solutions.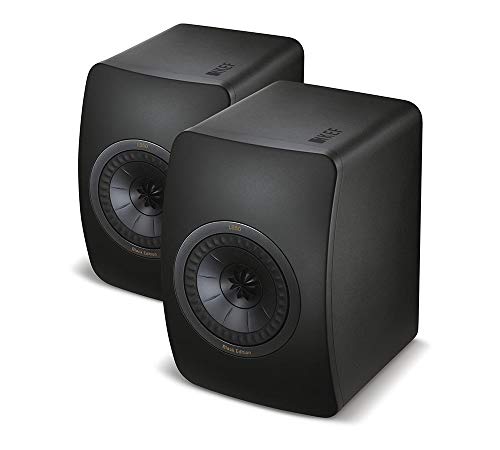 KEF LS50 Mini Monitor - Black Edition (Pair)
The LS50 radiates an extremely large listening sweet spot and delivers a...
The construction of the ls50's cabinets plays a big Part in their sound....
The LS50 comes in four spectacular colors, each with its own corresponding...
The LS50 is one of the most award-winning speaker products ever released by...
Frequency range (-6db)-47hz - 45Khz. crossover frequency-2.2Khz. Maximum...
On the other hand, if you provide them with adequate accommodation in the same room, you will be rewarded not only with surprisingly solid and deep bass but also with a stunningly large sound stage. I remember, among other things, playing the song O sole Mio/Quando el Rey Nimrod, by Faust Mesolela, which was recorded and edited to provide a great stage at the beginning. Believe me, there were wide eyes and jaws lowered, with a standard device like the Bluesound Powernode 2 (about $740). Admittedly, there is no refinement in the tweeter and complete control, but it should be noted that the Powernode 2 is not the first choice of an amplifier for LS50 speakers. They're just not in the same class.
In their own space and with far more serious amplification, the LS50 showed a real face. This is where the famous middle-tone area of ​​the Uni-Q unit comes to the fore. If you have a good source and well-crafted music material, you will listen to the fullness in the vocals, excellent micro and macro dynamic deviations. Generally, the LS50 does not throw the picture forward but rather holds it in realistic dimensions. Typically, non-homogeneous dual-system speakers, whose tweeter is 'detached' from midrange, are able to push vocals or instruments forward so you get the impression that a performer is getting in your face. Of course, such listening, after the initial enthusiasm caused by the attractive presentation, becomes tiring.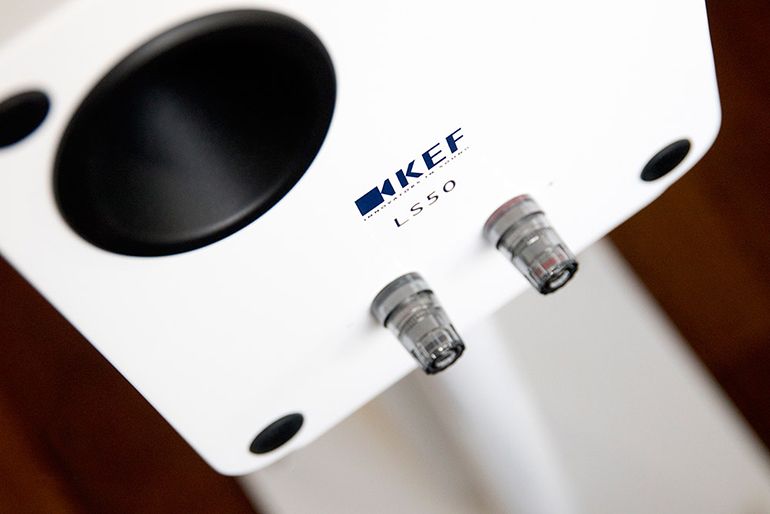 In the 32 m2 area of the room where I listen to music, the LS50 is completely disappeared in space. You can watch as much as you want in the speaker units, but no sound comes from them. To make matters better, that stage is built trapezoidal behind the speakers and finds the orchestra in a logical arrangement.
The sound image is extremely precise which enhances the holographic effect. So-called 'Pinpoint' is noticeable at lower volume levels and can easily make the listener follow the stage with their head and eyes. To someone, this segment, just like the size of the stage, is not so important, but for me, it is one of the key elements for achieving a high-sounding sound show and complete insight into a piece of music.
Another important thing makes LS50 speakers desirable. There are a large number of dual-system speakers on the market that are brilliant in a particular segment and with certain music. Some are made for jazz, some for rock, some for smaller chamber ensembles, etc. As good as such speakers are, or even top-notch, they are not a complete product for me. The LS50 has its limits, but that's why you can listen to all genres of music. In more complex orchestral works, such as, for example, the 5th Symphony, by Jan Sibelius, speakers can present the work very layered. With a rich texture and a high dose of the persuasiveness of the instruments themselves, they do not lose control and do not allow climaxes to turn into an unintelligible mixture of sounds. Okay, you need to be aware that the lowest octaves will be absent and that the timpani will not get full, but in some normal conditions, you will have everything you need to feel the grandiosity and beauty of the Sibelius Symphony.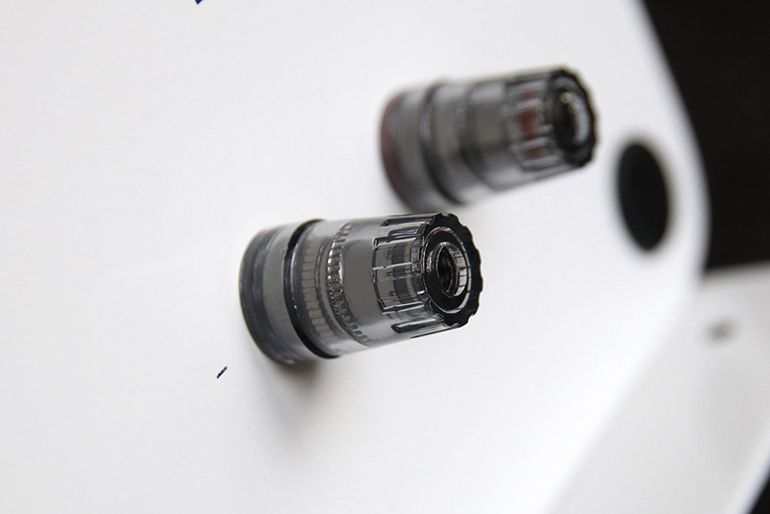 In almost a year, I've been listening to (and still listening to) different genres on these speakers. I wasn't limiting myself and equally live in the sound of whatever I was listening to. When I was listening to the electronics, I fired up without suspicion and wondered how firm and clear the LS50 could sound in the bass. I also enjoyed the small hours of the night listening to it at lower volumes without being misled by the details in the recording. You can listen to the LS50 in the 'near field' lineup, but I would still give them the opportunity to go the full range to show what they can.
Now, the speakers have one potential 'flaw' that may eventually reveal reliability problems. Specifically, at the bottom of the box is a sticker labeled Made in China. With the sheer number of manufacturers in China, you'll have hits and misses depending on the quality control enforced for any particular product's factory. However, these have been out for quite a long time and from my research I haven't seen any common problems being mentioned. Also, don't forget that if speakers of this caliber were made in the US / UK, the price would be much higher. In any case, if there is a well-known name for a high-end speaker manufacturer, these speakers would probably cost even more. Now, maybe someone will say I'm writing nonsense, but if you consider that I had Focal 907 Be, Gamut L5 and Bowers & Wilkins Signature Diamond in my system, and they perform as far more expensive dual system speakers ($2,500, $5,000 and $15,500) tested others and listened to dozens of them, I can safely say that I have a certain basis for such a claim. The LS50 is not a toy, but a serious product. This is evidenced by engineering, appearance, and finally – sound. In this regard, the LS50 should be viewed as the speakers that deserve the best HIFI chain partners you can provide. Don't be fooled that if the speakers cost $1,300, you will achieve a sound nirvana without an amplifier of the same price. You will not. I'm not saying their partner has to be a Pass combination of their own system, but let's say an integrated amplifier like the McIntosh MA 252 (about $4,300) is already the direction you should be looking at. Combined with the LS50, I also gained a very positive experience. McIntosh showed some restraint in the mid-range area opposite the Pass, but he took complete control of the speakers and simply made them sing.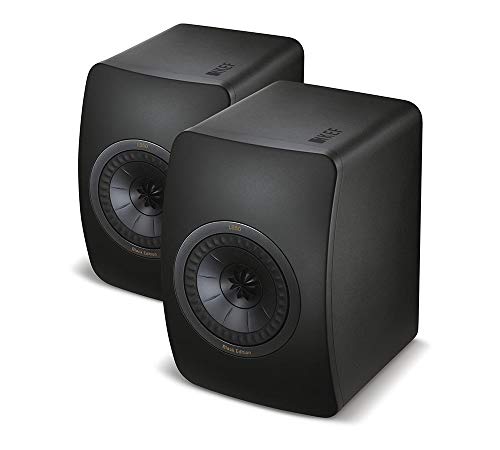 KEF LS50 Mini Monitor - Black Edition (Pair)
The LS50 radiates an extremely large listening sweet spot and delivers a...
The construction of the ls50's cabinets plays a big Part in their sound....
The LS50 comes in four spectacular colors, each with its own corresponding...
The LS50 is one of the most award-winning speaker products ever released by...
Frequency range (-6db)-47hz - 45Khz. crossover frequency-2.2Khz. Maximum...
Whether or not to choose tube amplifiers would leave it up to future users to decide for themselves. I can make a general recommendation that they avoid low power SETs because they have nothing to look for, but if less demanding music is played at lower volumes, I would draw attention to devices such as the Electron RED tube integrated amplifier. This is already something that could work and give you the pleasure of listening. But even then you won't get the maximum. It's worth keeping in mind that the LS50 speaker's sensitivity is less than the nominal one, so if you want to get maximum dynamics, solid bass, speed, and generally good 'drive', potent and stable amplifiers are required. A healthy and good quality 100 Watts transistor amplifier will be enough to dance with LS50 speakers. Unfortunately, this 'healthy and good quality' costs, but again I draw attention to the fact that the LS50 is also a premium speaker.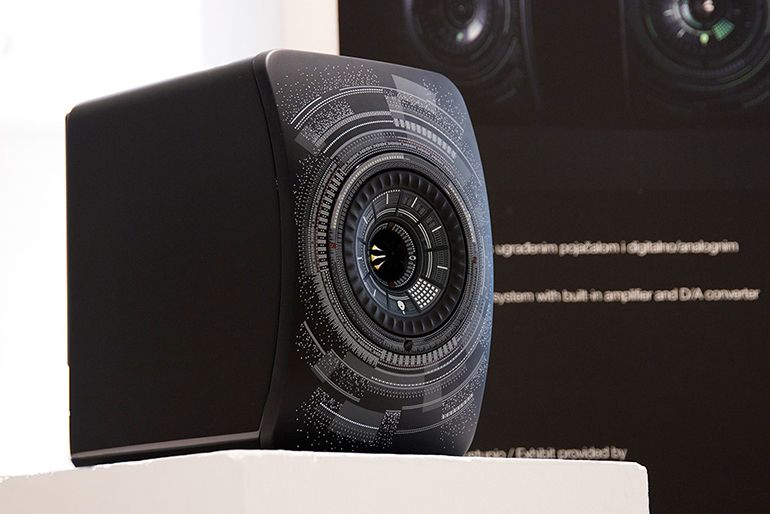 KEF LS50 Wireless 'Nocturno', by Marcel Wanders
The LS50 currently includes LS50 Wireless speakers, a wireless active variant with a built-in amplifier, and a D/A converter. If one is looking or doubting between these two models and thinking which one would be better to buy, I would immediately mention that they are essentially different speakers. They almost have nothing to do with each other. The LS50 described here, 'El Clásico', will give as much as you give them, while the LS50W already offers a near solution. Clearly, the issue of acoustics remains relevant in both models.
Verdict
Almost 6 years ago, KEF slapped the competition on the competition and showed how exceptional speakers can be offered for normal money. In addition, I can rightly say that they have a 'bestseller' product that is already entering the best audio products ever marketed. Sounds pretentious? Drop your ear and judge for yourself. I've done it a long time ago.
You can find a manual here: KEF LS50 User Manual
√ Check The Price and Read Customer Reviews √
Pros
One of the aesthetically pleasing bookshelves I've had on my desk
Build quality is fantastic
Resolution
Cons
KEF LS50 Specifications:
Model: LS50
Design: Two-way bass reflex
Drive Units: Uni-Q driver array: HF: 25mm (I in.) vented aluminum dome LF/MF: 130mm (5.25in.) magnesium/aluminum alloy
Frequency Range: (-6dB) 47Hz – 45kHz
Frequency Response: (±3dB) 79Hz – 28kHz
Crossover Frequency: 2.2kHz
Amplifier Requirements: 25 – 100W
Sensitivity (2.83V/ I m): 85dB
Harmonic Distortion: <0.4% 175Hz-20kHz 2nd & 3rd harmonics (90dB, 1m)
Maximum Output: 106dB
Nominal Impedance: 80 (min. 3.20)
Weight: 7.2kg ( I 5.8Ibs.)
Dimension: (H x W x D) 302 x 200 x 278 mm (with terminal) (11.9 x 7.9 x 10.9 in.)
Finishes: High gloss piano white, High gloss piano black
Testing System:
Speakers: Wilson Audio Sophia 3
Output Amplifier: Pass X250.5
Preamplifier: Pass XP-20
Integrated Amplifier: McIntosh MA 252
D/A Converter: Classé CP-800 Rev. 2
Analog Source: Clearaudio Concept / Clearaudio Verify / Concept V2 MM
Phono Preamplifier: Clearaudio Nano
Digital Source: MacBook Air (Early 2015), Fidelia, Audirvana Plus
Digital Source (CD transport): Marantz CD6000 OSE LE
Digital Cable (USB): Nordost Blue Heaven
Digital Cable (AES / EBU): Z Audio Spider (XLR)
Digital Cable (COAX): Profigold (RCA)
Speaker Cables: Transparent Musicwave Super MM2
Interconnects (XLR): Transparent Musiclink Super MM2, Transparent Musiclink Plus MM2
Interconnects (RCA): Black Rhodium Rhythm, Marohei Cables CT Reference
Power Cables: Revelation Audio Labs Passage CryoSilver Reference, Audioquest NRG-2, Audioquest NRG-3, Wireworld Stratus
Power Strip: Supra MD06-EU MKII
Audio Accessories: Stillpoints Ultra SS, Stillpoints Mini
Audio Shelf: Rondo Custom
Speaker Stands: NorStone Stylum 2
Room: Acoustically treated, 8.5 × 3.8 × 2.8 m
If you liked this article, please rate below.
(Visited 8,479 times, 1 visits today)