Today we have Edifier S2000 Pro in a review. If you are following the world of high-quality audio, we do not need to introduce the Edifier to you. This is a Canadian-Chinese manufacturer who built the name on active speakers with an excellent price-performance ratio. Although these speakers costs ~$400, once you feel them, study them and listen to them, you will wonder how the price is not much higher.
Disclaimer: If you purchase through links on our site, we may earn an affiliate commission. Read More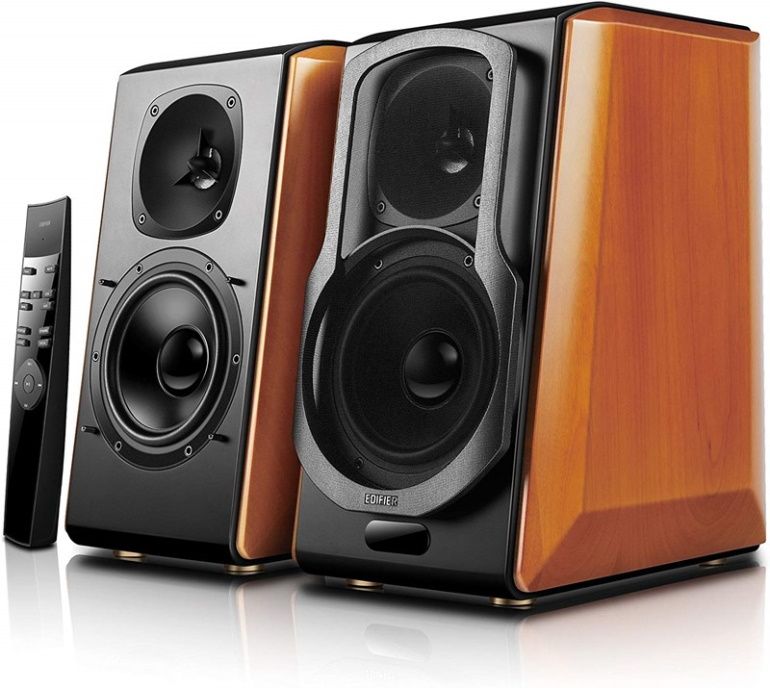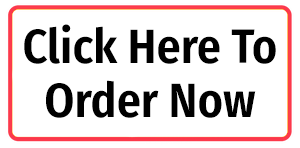 First Impressions & Design
These are bookshelf format speakers and large in size, just that big that they still won't look unnatural when placed next to a monitor and used from a short distance, but not even in the living room, on the dresser or on the racks. The Edifier doesn't define whether they are intended for use in the nearfield or bigger distance, which in a way tells us that both uses are very relevant. Therefore, we tested them equally in combination with a computer (in a home office) and in the living room, where they were connected directly to the TV with optics.
Before making a listener's impression, let's say a few words about the quality of the workmanship, the first aspect in which Edifier's speakers impressed us. When we lifted the package to the table we found that the speakers have a large mass. After we unpacked it, it became clear what was causing it: the sides of the speaker boxes were made of genuine birch, painted with clear lacquer. The front, back, top, and bottom speakers' sides are matte blacks. This combination of colors and materials is extremely pleasing to the eye, especially if you do not insist that your speakers have a completely traditional, boxy shape, because the S2000 Pro breaks down with a slightly sloping front and unobtrusive side edges. They come with eye-catching safety nets, and their removal makes them look a bit more discreet. Nothing makes you use them, because the membranes themselves are very resistant to embossing. The right speaker underneath the bass midrange still has a small screen, in which white letters show the abbreviation of the currently active input. It is readable only from a short distance – from two or more meters you will need to have the sniper's sight to discern what it says.
Unlike the speakers, the included remote control is just awkward: gigantic dimensions, bizarre in shape and sadistic ergonomics; when you hold it in your hand, your thumb will not be able to reach anything other than volume keys and play, pause, and switch songs (the latter only work when we play music via Bluetooth). If the remote was half smaller, and it certainly could be, we could easily get the other available buttons – the ones for input selection, on and off, mute, as well as selecting the four available acoustic profiles. The profiles themselves are the same as those seen with other Edifier speakers: Monitor, Dynamic, Classic, and Vocal. The difference between them is very subtle and in practice, we did not feel the need to move away from the Monitor profile.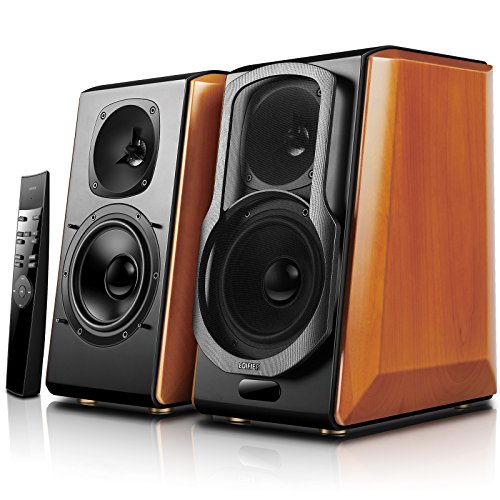 Connectivity
All available controls and connectors are arranged on the back of the right speaker, which also contains DACs, amplifiers, and all electronics. The left speaker is actually passive and is connected to the right speaker by an unusually thick and long (five meters!) cable with a 5-pin DIN connector. It would not be a bad idea if a shorter cable of the same purpose is included in the package, because a 5-meter cable around the computer can (and will) bother.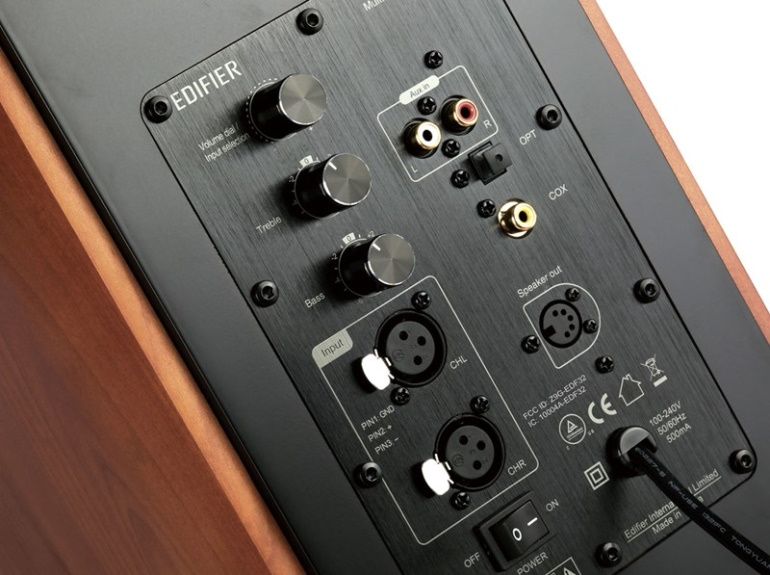 All connectors and volume, bass and treble controls are located on the back of the right speaker. The controls mentioned are actually potentiometers for adjusting the volume of the bass and treble. High and low-frequency control only works when using analog inputs. The volume potentiometer can be pressed, thus switching between active inputs, in case we do not want to use the mentioned remote control for the same purpose.
In terms of connectors, Edifier's speakers have a total of four wired inputs: digital optical and coaxial, analog RCAs and, interestingly, balanced. For the latter, you will need a balanced source audio source and associated cables with XLR connectors. Unfortunately, there is no USB DAC, which would trivialize the process of connecting to laptops and desktops without optical output. With that in mind, to connect the S2000 Pro to your computer, you'll need to make sure your sound card has an optical output. If it doesn't, you can help yourself by buying a cheap USB sound card with an optical output, which can be found in the market for around $100.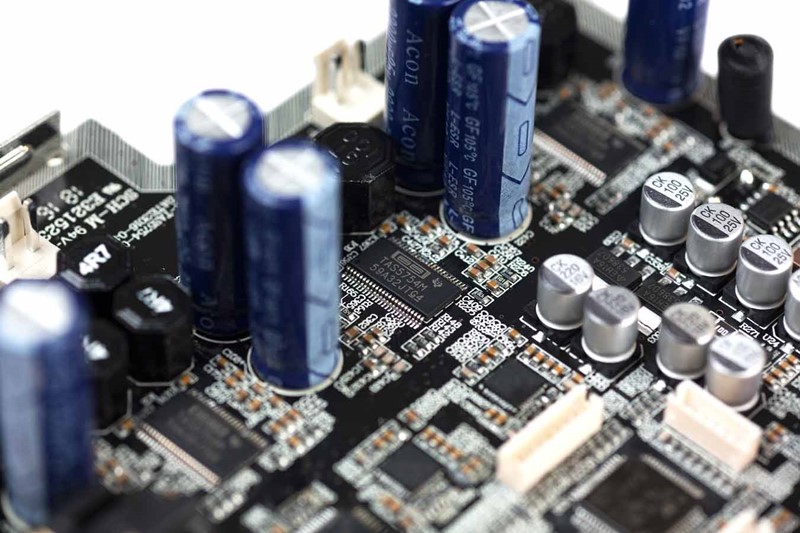 These are powerful speaker units are powered by carefully selected electronics. There is also one wireless port – Bluetooth 4.0, with support for the aptX codec. Of course, if you want a digital-to-analog signal conversion to be performed by DAC in speakers, not in a sound source (computer, cellphone, portable player, CD player, or something), you'll have to stick to digital inputs – optical, coaxial or Bluetooth.
This is something you'll definitely want, as the Edifier has equipped these speakers with the well-known and acclaimed Burr-Brown DAC PCM1802, capable of 24-bit/192 kHz playback. It is joined by D-class amplifiers, with one feeding the bass midrange units at 50 watts per channel and the other catering to the tweeters, which deliver 12 watts of power. The bass mid speakers have aluminum domes and are 5.5 inches in size, and the planar tweeter diaphragm is 1-inch. The bass reflex openings are located at the back so sticking the speakers against the wall is not a good idea. On the other hand, a little distance from the wall, some 20 centimeters away, solves most of the low-frequency impact problems that the speaker boxes drop from behind. Although the speakers are large and capable of delivering a serious amount of bass, the factory-fitted feet provide sufficient separation from the substrate – in practice, we have not encountered an unpleasant bass echo or vibration transfer to the desktop.
Sound Test
The truly great overall impression became complete and complete when we connected Edifier's S2000 Pro speakers to audio sources – a computer with EVGA's Nu Audio sound card, Sony's Bravia KD-55XF9005 TV, and an Android phone that supports aptX Bluetooth codec.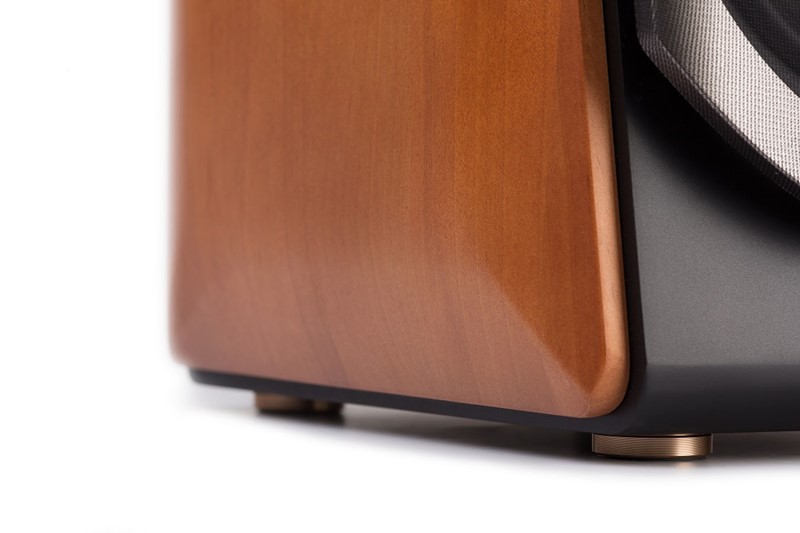 Separation from the base was achieved using factory-fitted pins. Despite the really deep and powerful bass, we had no problem with the desktop vibration when we used the speakers in the nearfield. The sound they produce has pronounced hi-fi characteristics: it is extremely smooth, brilliantly connected across the entire frequency spectrum, utterly unassuming and presented with impressive coherence and authority. These are, without a doubt, the most acoustically active 5.5-inch bass midrange speakers we've had the opportunity to listen to recently.
As mentioned before, the bass goes surprisingly deep and is characterized by a concrete and striking beat and speed sufficient to successfully track very demanding genres of music, such as some subtypes of metal, where double bass pedals and blast beats do not give off any sluggish bass. It does not run out of energy in any segment of the lower frequency spectrum. The blending into the middle frequencies is practically flawless, and this is where the overall enthusiasm continues, as the naturalness and purity of the vocals, both male and female, comes to the fore. A precise and high-quality reproduction of everything, including any details and finesse, continues on the road to high frequencies, which, in turn, are reproduced with an abundance of detail and air, without the brunt of sharpness and superfluous penetration. Adding to this a truly wide sound stage and precise stereo image, it is quite obvious that the acoustic features of the Edifier S2000 Pro are described solely by superlatives.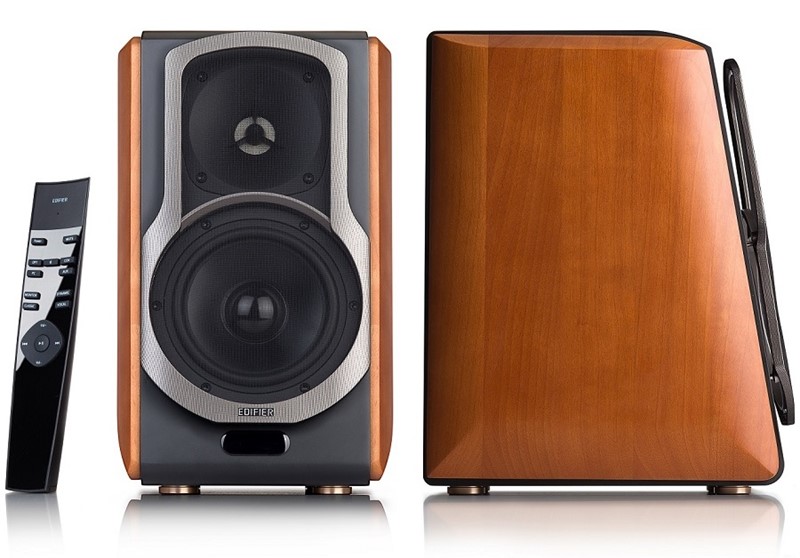 The sides of the speaker boxes are made of birch, which gives them a large mass and a really nice look. It should be noted that all of the above is equally true of near-field and daytime listening. We assumed that at a distance of a few meters the bass would lose some of its energy and depth, but that never happened in practice – the speakers continued to sound refined and powerful.
As far as wireless performance is concerned, they are, as expected, worse than wired ones, because the speakers certainly have the quality required to make the compression of the Bluetooth codec audible. In that sense, they would be well-supported for even more advanced codecs such as aptX HD and LDAC. However, if you do not use Bluetooth as your primary mode of play, which will not be the case for most users anyway, all of this should not touch you too much. For parties and "non-critical" background listening, existing Bluetooth connectivity is sufficient.
√ Check The Price and Read Customer Reviews √
Verdict
You will fall in love with Edifier S2000 Pro active speakers at a glance and then once again when you hear them. It's really hard to come up with better quality and impressive acoustic presentation for that price. For the asking price of ~$400, we don't know any other speakers that will offer higher sound quality, while being active at the same time, thus depriving you of the need to buy amplifiers and speaker cables. A heartfelt recommendation!
The user manual can be found here: Edifier S2000 Pro Manual
Pros
Beautiful design and top-notch build
Clean setup, doesn't require a receiver
Bluetooth support
Fantastically detailed sound
Cons
Not as convenient as TV soundbars
Connection cable egregiously long
Remote control bulky and sharp
No USB input option
Edifier S2000 Pro Specifications:
SIGNAL-TO-NOISE RATIO: ≥94dB(A)
NOISE LEVEL: ≤25dB(A)
FREQUENCY RESPONSE: 48Hz~20KHz
TWEETER UNIT: Planar diaphragm tweeters
MIDRANGE / BASS UNIT: 5.5 inch (148mm)
DIMENSION: 8in x 13.5in x 10.5in (WxHxD)
CONNECTION CABLE: 5M/16.4FT
TOTAL POWER OUTPUT: L/R (treble): 12W+12W RMS | L/R (mid-range and bass): 50W + 50W RMS
INPUT SENSITIVITY: Balanced input: 700±50mV | Auxiliary input: 600±50mV | Bluetooth input: 350±50mFFs | Optical input: 350±50mFFs | Coaxial input: 350±50 mFF
If you liked this article, please rate below.
(Visited 4,874 times, 1 visits today)