KEF LSX – wireless, active speakers designed for users looking for good sound and a wide range of wireless playback capabilities in a small physical format.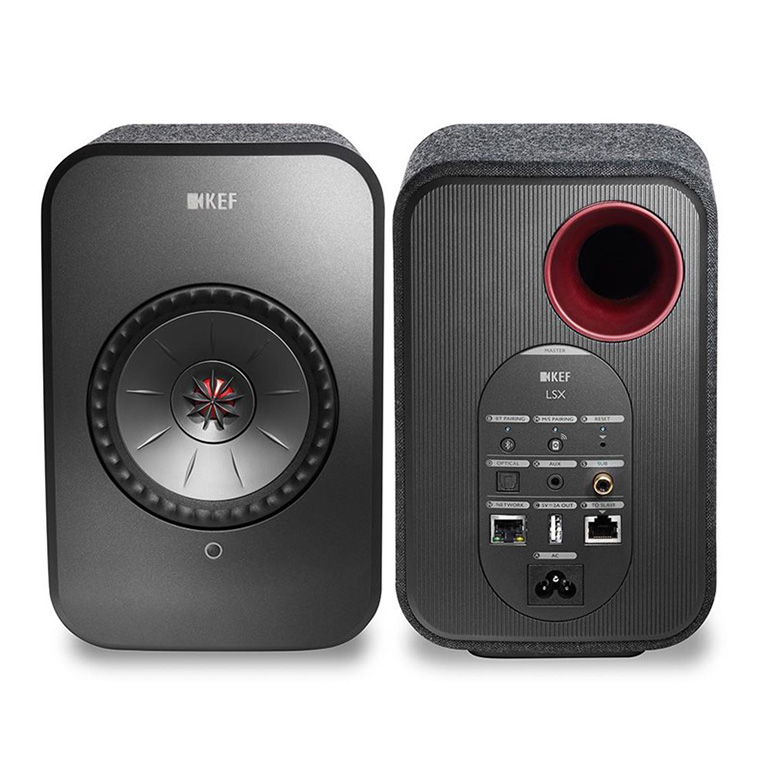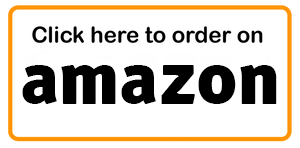 These are KEF's other wireless speakers, which look and act much like the scaled-down version of the LS50 Wireless, a review you read on this site a few months ago. The LS50 Wireless are extremely powerful and undeniably outstanding speakers, but with one annoying disadvantage: the price is high. Although we wouldn't dare call LSX cheap speakers, because it costs about $ 1250, it's exactly half the money and closer to something that anyone could afford.

Being a much newer product, the LSX speakers have some new features compared to the LS50 Wireless. The first and most important will undoubtedly be the possibility of completely wireless operation. Specifically, although we fed the LS50 Wireless music over WiFi or Bluetooth (with the usually wired interfaces, of course), the left and right speakers still had to be connected by a network cable. This is not the case with LSX. Speakers know how to establish a wireless connection, and reproduce sound without the need to be connected to anything other than a power outlet, and without any delay or non-synchronization between the left and right channels. The only downside to this approach is that the maximum sound resolution is limited to 24-bit/48 kHz, and by wired channel linking, which uses a network cable again, it rises to 24-bit/96 kHz. The integrated digital-to-analog converter can also receive 24-bit/192 kHz files but will downsample to a maximum of 24-bit/96 kHz.
KEF LSX Wireless Music System (Black, Pair)
Following the success of KEF LS50 wireless, lox includes a 4" Unit-Q driver...
Connect wirelessly via dual-band Wi-Fi connectivity, Bluetooth 4.2, digital...
LSX is compatible with TIDAL and other popular music streaming services.
If you're after additional bass, the LSX can output to a connected...
Choose from White, Black, Blue, Olive or Red finishes.
To those who are primarily targeted at these speakers, it won't matter much and is not something they should bother with. Anyone who owns a collection of lossless 24-bit/96 kHz or 24-bit/192 kHz music probably belongs to the category of buyers who will be much more inclined to spend $ 1250 on a combination of classic (and larger) hi-fi speakers and a separate amplifier.
Connectivity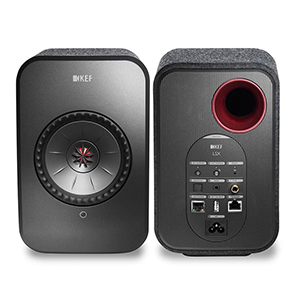 In terms of connectivity, LSXs offer just about anything like the LS50 Wireless – 3.5mm analog and TOSLINK optical input, subwoofer output, network connector, WiFi (for DLNA or UPnP playback) and Bluetooth 4.2, with support for the aptX codec (though not aptX HD or LDAC, which we'd rather see). What the LSX does not have, and LS50 Wireless speakers have, are RCA connectors for connecting other hi-fi components and a USB connector for computers. A USB port exists but is used solely to charge, for example, cell phones (5V/2A). The LSX can still be connected to desktops or laptops, but you'll need to use optics to do so. Most desktops have S/PDIF output, but the laptop with S/PDIF is rare, so you should reach for a USB sound card with S/PDIF, or use wireless music playback capabilities. Good news for Apple device owners: The LSX will soon also support AirPlay 2. All connectors are located on the "main", right speaker. If for some reason you prefer to hold that speaker to the left, no problem – it's easy to swap channel positions in KEF's Control application.
Another novelty of the LS50 Wireless is also practical. Instead of the OLED screen on top of the speaker, which could not be read without getting up from the chair and walking to the speaker, the LSXs inform us of their working conditions using an unobtrusive ring located below the Uni-Q unit on the "main" right speaker. It will be orange when the speakers are idle, pink when optics are used as input, blue if Bluetooth is active, green when music is played through Spotify, and so on. After initially getting used to the KEF nomenclature, one look at the speaker is enough to know which input is currently active. The input selection itself can be done within the KEF Control application (read more in the frame below this description), as well as on the remote control. The difference is that the application allows you to directly select the desired input, and the remote can only switch to the next in a row, without the ability to skip inactive ones. It is difficult to say which of the two approaches is faster – the journey across all inputs using the remote in theory takes longer, but to perform the same task within the application, one must take the cellphone, launch the application, and wait a few seconds for it to display the speakers, which also takes some time.
Accessories, Look & Feel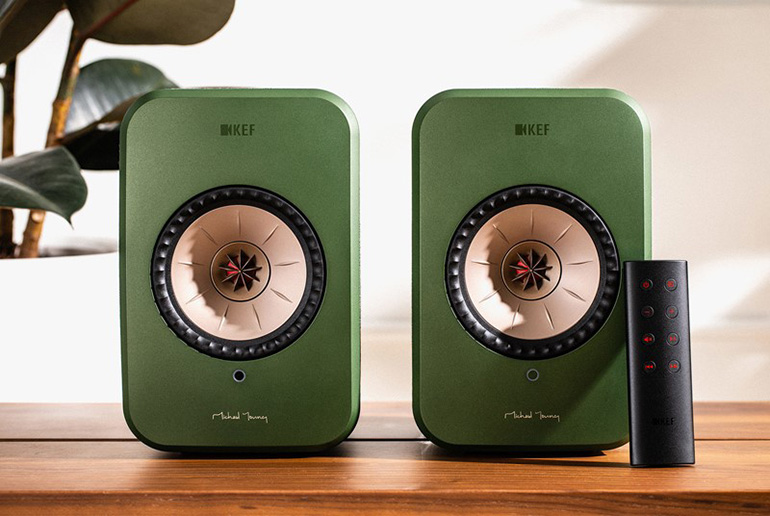 The remote itself is not thrilling. Its ergonomics are good, but the build quality is not good. It is entirely made of plastic and occasionally flicks at the junction of the two body parts, especially when gripped more firmly in the arm.
The remote is the exact opposite of the quality of the speakers themselves. Compact boxes, measuring 24 x 15.5 x 18 centimeters, have extremely robust plastic in the front and covered with rugged fabric at the top and sides, giving the LSXs an interesting, extraordinary look. By the way, the speakers are available in a total of five colors – white, red, olive green, blue, and black. Only the red and blue versions have Uni-Q drivers in the color of the case. In the olive green version, the driver is copper and in the black and white models, the drivers are gray.
KEF LSX Wireless Music System (Black, Pair)
Following the success of KEF LS50 wireless, lox includes a 4" Unit-Q driver...
Connect wirelessly via dual-band Wi-Fi connectivity, Bluetooth 4.2, digital...
LSX is compatible with TIDAL and other popular music streaming services.
If you're after additional bass, the LSX can output to a connected...
Choose from White, Black, Blue, Olive or Red finishes.
KEF LSX Details
If it wasn't clear by now, these are the active speakers with a total of four Class D integrated amplifiers – two in each speaker. The tweeters are powered by 30-watt amplifiers and the bass midrange speakers are powered with 70-watt amplifiers. That amount of power is enough to fill a room of tens of square meters with loud and rich sound, which is quite a success for such a compact pair of speakers.
As with all its speakers, the KEF uses a Uni-Q unit in LSXs, which places the tweeter in the middle of the bass midrange. The tweeter driver has an aluminum dome and is 19 millimeters (0.75 ") in size, and the magnesium-aluminum bass midrange is 115 millimeters (4.5"). The speaker front uses the same curved design as we saw with the LS50 Wireless, which aims to improve sound dispersion so that it is not reflected on the front of the speakers themselves, reducing the impact of the speaker box on overall acoustic performance.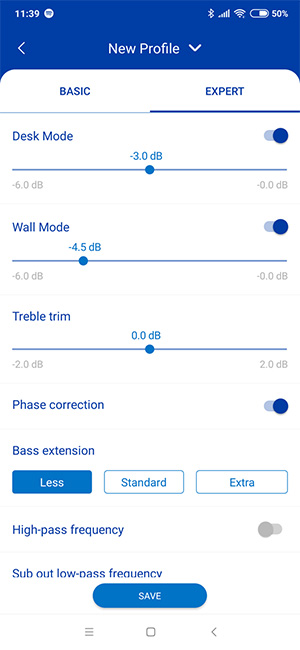 KEF points out that LSXs uses a DSP algorithm called the Music Integrity Engine, which is responsible for the timing and phase matching of the resulting sound. They also have an equalizer for fine-tuning the bass and treble, which is done within the KEF Control application. It should be noted that these controls are not available when the signal is delivered to the speakers using optics – then they operate in native, factory default mode.
Considering the physical dimensions, the LSXs deliver unexpectedly detailed and lavish sound. Already after a few beats of songs from the test playlist, it became clear how much two physically separate channels work better than any "integrated" solution, where the speakers are housed in a single housing. The stereo image generated by LSXs is unusually wide and spacious, whether we are listening to them from the couch in the living room or when sitting at a computer in a nearfield. Vocals are positioned in the space between the speakers, even if you have not spent two days finding the optimum speaker rotation and ideal seating position. The midrange and treble are extremely clean and beautifully connected, and the precise bass fills them satisfactorily. Yet we cannot say that the bass is bursting with energy and depth; if you like it in larger quantities, you will definitely need to pair the LSXs with a subwoofer. Without the addition of subwoofers, these speakers can best handle vocals, acoustic guitars, and music genres where no bass is synthesized, or where the entertainment of what we listen to is not directly dependent on the depth and raw power of the bass, especially those below 50 Hz. In other words, Adele, GoGo Penguin, and Michael Kiwanuka will sound better than deadmau5, Trentemøller, or Post Malone. Of course, all this does not mean that the LSXs have thin or no bass, just that it may be too thin for some listeners (or music tracks).
Application management

As was the case with KEF's LS50 Wireless speakers, two applications – KEF Control and KEF Stream – are still used to control the LSXs. The first is to configure all settings related to their operation. For example, you will determine whether they are placed on a table or racks, how far they are from the edge of the table and the wall, how big you are, and the acoustic "vibrancy" of the space and the like. According to these parameters, the digital DSP will then adjust the sound characteristics, that is, increase or decrease the bass and treble representation. The app also allows you to rotate the left and right channels, which is very useful in the case that the right speaker, the one with all connectors and controls, is more convenient to keep left.

Within the KEF Stream application, we play the music that is shared over UPnP on a local network (via Plex Server, for example) and run supported streaming services such as Spotify and Tidal. Selecting Spotify actually only launches Spotify's official application, if installed on the device, and Spotify automatically recognizes the speakers in the list of devices from which it can play audio.

Both applications (why can't all of the above be integrated into one?) are still tricky. Occasionally, there was an interruption of music from Tidal in the KEF Stream, and KEF Control knew how to get stuck when changing its acoustic profile – it would get stuck on loading and refuse to cooperate until it was manually closed from the Android Active List. KEF boasts that speaker firmware upgrades can now be done without computer-intervention, which is true, but with one click – the left and right speakers must be connected by a network cable for the duration of the procedure.
Conclusion
If you like the concept and the described functionality of these speakers, they will definitely be worth your attention. If you are unsure about whether they will have enough bass to fulfill your requirements, you can easily ask for a refund.
You can find a manual here: KEF LSX User Manual
√ Check The Price and Read Customer Reviews √
KEF LSX
The sound quality goes beyond the dimensions
Fully wireless capability
Speaker build quality
Design and colors available
Weird KEF Stream and Control apps

Inability to directly select the active input on the remote control (only available through the app)

Connecting to computers only possible using optics (no USB port)

Plastic and unconvincing remote control
KEF LSX Specifications
Speaker System
System Components: 2 speakers
Amplification Type: Active
Crossover Channel Qty: 2-way
Output Level (SPL): 102 dB
Audio Amplifier: Integrated
Connectivity Technology: Wired, Wireless
Recommended Placing: Bookshelf
Built-in Decoders: aptX
Audio System
Audio Formats: apt-X
Type: Speakers
Power Device
Nominal Voltage: AC 100 – 240 V
Frequency Required: 50/60 Hz
Power Source: Integrated Power Supply
Options: USB Charging (Power Bank Function)
Network & Internet Multimedia
Connectivity Interfaces: Bluetooth 4.2, IEEE 802.11a/b/g/n, IEEE 802.3 (Ethernet)
AirPlay: Yes
DLNA: Yes
Network Protocols: UPnP
Internet Streaming Services: Spotify, TIDAL
Speaker System Details
Speaker Type: Wireless
Speaker Qty: 2
Nominal (RMS) Output Power: 100 Watt
Connectivity Technology: Wireless
Crossover Channel Qty: 2-way
Driver Details (1st speaker)
Driver Type: Mid/Woofer Driver, Tweeter Driver
Driver Qty: 1
Driver Diameter (Metric): 115 mm, 19 mm
Driver Material: Aluminum, Magnesium-Aluminum Alloy
Driver Technology / Design: UNI-Q
Wireless Link
Transmission Range: 33 ft
Connections
Type: DC power output, LAN, audio line-in, digital audio input (optical), speakers output, subwoofer output
Connector Type: 4 pin USB Type A, RCA, RJ-45, TOSLINK, mini-phone stereo 3.5 mm
Dimensions & Weight
Width: 6.1 in
Depth: 7.1 in
Height: 9.4 in
Weight: 7.94 lbs
If you liked this article, please rate below.
(Visited 170 times, 1 visits today)