Pro-Ject Tube Box S2 Review
A few months ago I got to test my first ever tube phono preamp to use with my turntables: The Pro-Ject Tube Box S2. And I thought it was time to give it an honest review.
Disclaimer: If you purchase through links on our site, we may earn an affiliate commission. Read More
It is unnecessary to re-analyze vinyl returns to audiophile systems, but this trend, if it can be viewed in this way, has its reasons. Rare are the ones who started listening to vinyl records on the wave of their return, because most younger physical media consumers do not even have discotheques.
Most turntable users today are recruited from a bunch of music lovers who already own some records and want to rebuild their collection or listen to older valuable records. In such an environment, turntables and equipment manufacturers swim like fish in the water. On the one hand, they have no need to invest in new technologies, they just need to refresh old knowledge, and on the other, the trends of sales of records and turntables smell like the dynamics that few expected. One of the more agile analog promoters is certainly the company Pro-Ject, which in its program also offers a large number of turntables and suitable preamps. Looking at the overall catalog of the company we come across a number of interesting products, but the small phono tube preamplifier – the Tube Box S2 is in many ways one of the more prominent lately.
As I am, somewhat and with pleasure, rebuilding that part of the vinyl reproduction system, I have made the effort to listen privately to several turntable preamps that would fit the turntable, which has the primary role of playing a somewhat temporary collection of records. Therefore, I did not intend to grab towards the top of the turntable offer but decided to stick with the middle of the offer where there is a lot to choose from. The turntable I opted for was the Teac TN-550, which by its quality and craftsmanship far exceeded expectations, and as the device without any additional preamplifier, I was perfectly suited to start with the Rega Fono Mini A2D, which has almost no competition for its price. Of course, after a few weeks of listening, I was curious to see how much one could get out of a slightly more expensive phono amplifier. I tried a few DIY builds as well as solutions from iFi and Audio Analogue. The devices impressed me with the quality and it was at that moment that a small tube of Pro-Ject Tube Box S2 came to the test. Full of impressions of tried and tested amplification, I started the review immediately.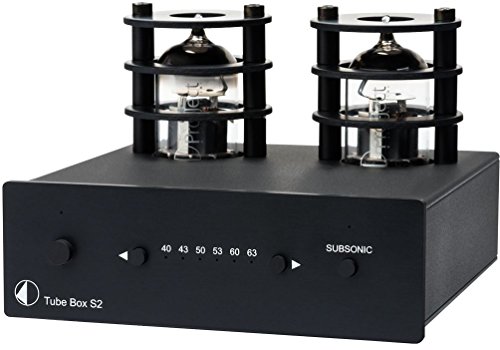 Pro-Ject Tube Box S2 Phono Preamplifier - Black
Suitable for MM and MC cartridges
Precise RIAA equalisation in two parts passive/active
Fully discreet circuit design without OpAmps
2x ECC83 tubes (replaceable)
Front-sided Subsonic filter button
Pro-Ject Tube Box S2 Test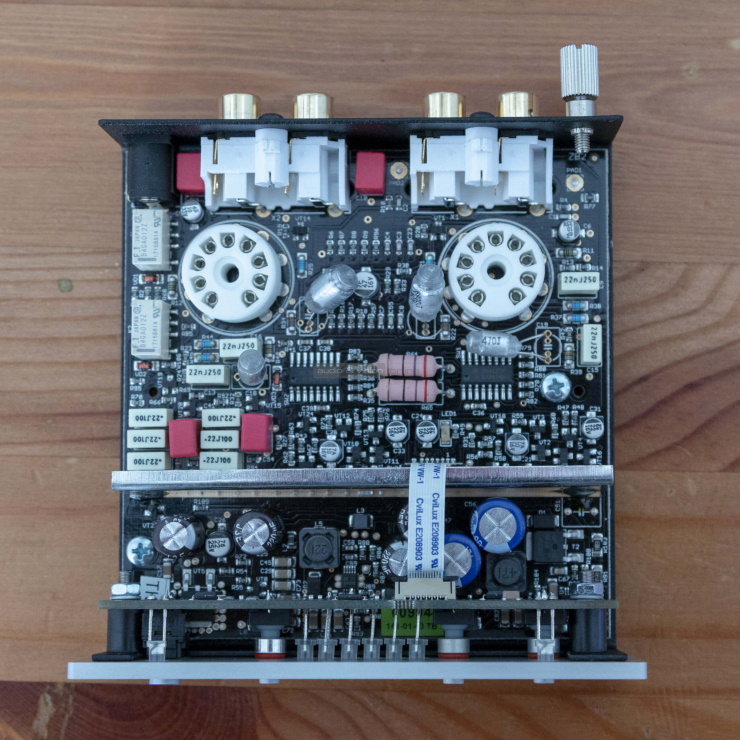 There is not much to be said about the technical structure of the device. It is a completely discrete design in which operational amplifiers are completely avoided. The input is thus based on FET transistors, and two ECC83 interchangeable tubes are aged for amplification. The built-in tubes are of very solid quality, but what an audiophile you don't care would be a little better. In my grandmother's closet, she saw miracles waiting as ordered paired Brimar tubes. About the difference in sound a little lower. The rest of the circuit is made in Dual-mono configuration, which is important in such a device considering the nature and sensitivity of the signal that needs to be amplified, and of course, the separation of channels is one of the most important determinants of the work that the Tube Box S2 does. It is also nice to see polystyrene capacitors, high-quality resistors, and filtered power supply with special attention to anode stabilization. There are also solid standard design tubes, an extremely sturdy and compact housing combined with aluminum and iron, and the ubiquitous gold-plated RCA connectors.
The switcher power supply is of solid quality, but it would be preferable to use a linear power supply for this device. I had to go to my grandmother's closet again, but I did a good deal of the hearing test with the power out of the box, and the differences will be shown in the auditory text. The Tube Box S2 can demonstrate its quality with both MM and MC speakers thanks to fine-tuning impedance and capacitance. A gain panel or subsonic filter can be specified on the front panel, while RIAA compensation is precisely specified in the passive or active segment. Of course, it is necessary to own all the parameters of the used speaker for optimum results, so I would not go into detail here. However, the collaboration between the speaker and the device is almost crucial to the results we achieve and it is the only segment of the device that the user has to pay closer attention to.
The preamplifier has been tried with three turntables – Pro-Ject Essential III, Thorens TD 160 and TEAC TN-550 and speakers, Shure 95ED MM, AT 120 MM, Grado Gold, Ortofon OM 10 MM, and Denon 103R MC. The cable used up to the preamplifier was the extraordinary Oehlbach Silver Express Plus for this purpose. Impressions will be summarized, but a number of turntables and speakers of different structures have provided a wider scope for determining the basic sound features that will be presented. Before more serious listening, the Tube Box S2 was used for more than five days. Therefore….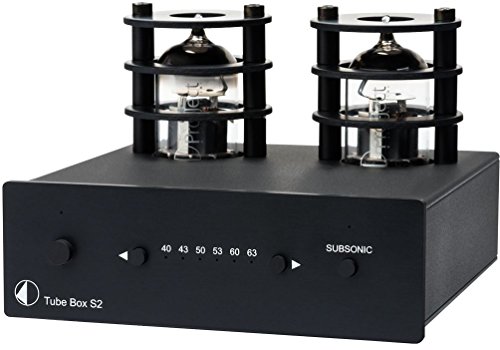 Pro-Ject Tube Box S2 Phono Preamplifier - Black
Suitable for MM and MC cartridges
Precise RIAA equalisation in two parts passive/active
Fully discreet circuit design without OpAmps
2x ECC83 tubes (replaceable)
Front-sided Subsonic filter button
Pro-Ject Tube Box S2 – The Sound
As I stated the Rega Fono Mini A2D I really liked it and for months I enjoyed its full, slightly fuscous sound that really suited the system and there seemed to be no need to look for something better considering the price with which rarely any device of this kind can carry. Of course, the audiophile occasionally tries with another device, but the huge price difference and other factors did not motivate me specifically or bring me the desire to change. But as great things happen when we least expect them, so the Tube Box S2 came to the test completely by accident. Thorough, precise, and accurate as I already am, I carried that little box to the shelf and it was used to connect it to the system. Good to be. At that moment, with a device that had not yet been played, it seemed to me that I had accidentally moved a switch or connected another cable. I did not pay attention and left the device to do the tune-in and only then began to fine-tune and listen.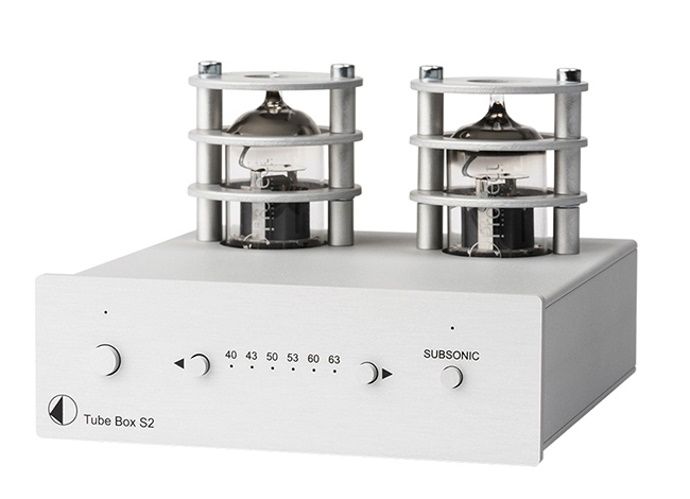 One of the first records I bought in the 1970s was Queen's "Live Killers". The guitar on the "39" was a bit bulkier but dynamic and completely faithful. The space the system described was a surprise and something new after almost 4 decades of listening to the same composition from identical vinyl. Several layers of music opened at the same moment, and I have to admit that for the first time, I really enjoyed the sound of this ancient release. Consequently, I also listened to "Brighton Rock" and experienced a lively, powerful, precise gig placed in a wide expanse of slightly fuzzy edges, but alluring and during the recording a near incredible purity.
The recordings of the orchestral classics provided extraordinary dynamics, but also clearly indicated the quality of the preamplifiers, which in the silent passages is almost unobtrusive and free of noise and pipe noise. By using better pipes and linear power, the quality of the bass area came to the fore, but new details came to the surface, mainly in the mid-ton area. Plates, speakers and turntables were changing, but precision, great space, vertical coherence, and, most importantly, listening pleasure was constant.
In the end, I left the record I was forced to wash for the occasion, but I didn't mind. Jethro Tull's "Heavy Horses" is an album that perfectly belongs to the hedonistic enjoyment of Ian Anderson's flute vocals and mouthpiece. Otherwise, it can hardly be called. Beautifully defined vocals, a flute in constant motion and composition that seemed to be waiting for one of their highlights. Listening to smaller jazz bands also deserves praise, but the really quiet solo sections tend to pull the picture away from the listener. Electronic music has freshness, momentum, dynamics, but at higher volumes, the bass area sometimes loses its last atom of power and definition.
You can find a manual here: Pro-Ject Tube Box S2 User Manual
√ Check The Price and Read Customer Reviews √
Conclusion
The Pro-Ject Tube Box S2 is a pleasant surprise. I have to admit that I was a bit detoured by the sheer volume of devices they have to offer. The huge production and the slight discomfort in the overall gamut of the company somewhat discouraged me from the occasional device I wanted to try. But after this test of a physically small preamplifier to the sound of which, within the given price range, I did not find on a more relevant note, I will definitely try with some other device from home. The Tube Box S2 certainly offers reserved ratings and an absolute recommendation for MM users, but MC speakers.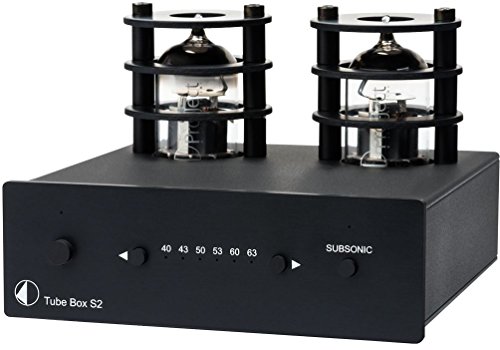 Pro-Ject Tube Box S2 Phono Preamplifier - Black
Suitable for MM and MC cartridges
Precise RIAA equalisation in two parts passive/active
Fully discreet circuit design without OpAmps
2x ECC83 tubes (replaceable)
Front-sided Subsonic filter button
If you liked this article, please rate below.
(Visited 16,093 times, 6 visits today)