From the first P1 to the latest X1, Pro-Ject has been constantly improving its turntables, learning from the rich experience with its customers.
Disclaimer: If you purchase through links on our site, we may earn an affiliate commission. Read More
In 1991, Pro-Ject showed the world its first P1 turntable. The "low-budget and high-end turntable", as described, tended to provide a rounded solution for listening to records at a time when the CD had already taken the upper hand over vinyl. It was a fully reduced, manual device equipped with a Sumiko Oyster speaker, with manual gear shifting and English instruction with rather linguistic errors. This turntable has been designated by Pro-Ject from the beginning as an eclectic company, which throughout its history will navigate the well-known and established tracks of the turntable.
The Desire to Upgrade
Almost every element of P1 needed to be improved, replaced with better quality, or made more practical and comfortable to use. Pro-Ject has done so over three decades, on dozens of its turntables, and in arguably the largest and sometimes difficult to read line and model choice, in which it is not always easy to manage. The X1 appeared last summer alongside the T1, X2, and Classic Evo models, in an apparent attempt by the manufacturer to simplify its offerings by eliminating the Xpression and Xperience lines, which now reduces the portfolio to a further 12 families.
Pro-Ject - X1 Turntable (Black)
Speed: 33, 45, 78 (electronic speed change)
Principle: belt drive
Platter: 20mm thick, 1.5 kg heavy acryl
Tonearm: 8.6" carbon/aluminum sandwich
Dimensions (WHD): 16.3" x 4.9" x 13.2"
A very balanced and tight sound is the first thing to notice as the absence of any major flaws or flaws inherent in this class.
The X1 is the direct successor to the P1 model and its improvement in every segment. The base without suspension and sub-chassis is of more massive and less resonant MDF in three finishes: black or white lacquer of eight coats, or matte waxed walnut veneer. Inside the chassis is a mechanically insulated motor with a DC/AC converter, electronic control, and speed shifting and an additional 78 speed which drives a sub-plate with a steel shaft in a brass bolt via the belt. This chassis comes with a matt acrylic plate, 20 millimeters thick and 1.5 kilograms in weight. The lever construction is based on an aluminum base with adjustable VTA and azimuth, which comes with an 8.6-inch (216-millimeter effective) lever made of aluminum-carbon sandwich and integrated headshell, which should eliminate the cartridge-tonearm resonance. The weight was dumped with a thermoplastic elastomer. The X1 is shipped without a cartridge or with Sumiko Rainier MM phono cartridge.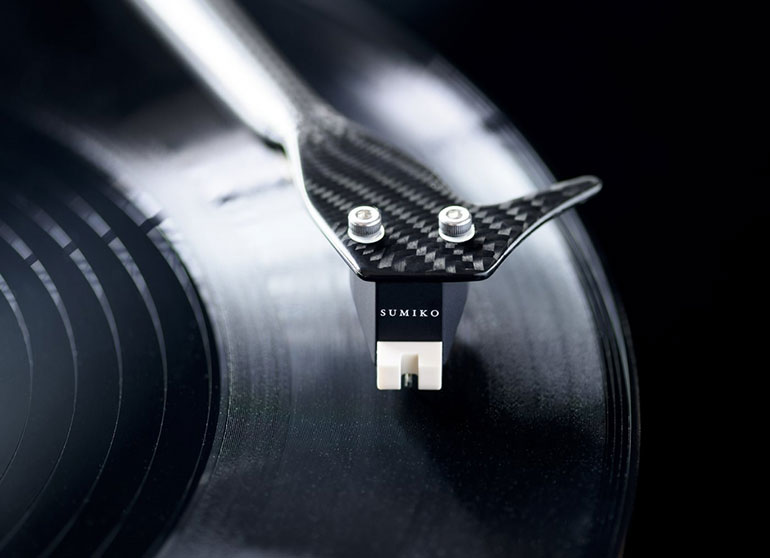 The entire system relies on four adjustable feet, also made of TPE polymer. The turntable also comes with a special interconnect, which plugs into the RCA terminals on the back. The Connect-It E is a 1.23-meter half-balanced interconnect that consists of two twisted HP-OFC copper conductors in a foil shield, polyethylene sheath and gilded RCA termination (DIN-RCA version also available). The problem with such structures is that it has a high capacitance, which in the case of Connect-It E is not very small 130 pF, which can affect the attenuation of the high range.
Pro-Ject X1 Sound Test
We tested the Pro-Ject X1 with the shipped Sumiko Rainier MM phono cartridge, which is no doubt fine-tuned to the tonearm, but also to the entire system. On Chryste Bell's album "This Train", made by this young American singer with the production assistance of David Lynch (Rose Noire, 2011, 45RPM), the X1 sounds like a very solid turntable, tuned by someone experienced. The very balanced and weighted sound is the first thing to notice as the absence of any major flaws or flaws inherent in this class or in finished turntable systems. The dark lynch sonic spaces, which are built here by the low range and the positioning of the satin vocals across it, with beautiful echoes, are perfectly separated and yet fluidly integrated into a rather large stage dominated by the center plane. The well-damped platter and base, as well as the rigid tonearm-cartridge system, provide detailed insight into microdynamics, preventing foreground events from masking what is happening in the background or sinking into background noise. If there is a rule in music that all musicians can play fast, but not everyone can play slowly, then such a slow and ethereal genre of music can be comprehensively considered a very competent ability to play. Of course, speed and rhythm are not missing on the X1, so on the track "The Truth Is" our X1 has a very fast and choppy bass, excellent timing, and well-controlled foregrounded vocals, the range of which overflows with the entire recording. The fine, completely natural resolution of the high range and palatalization of the vocals should also be emphasized.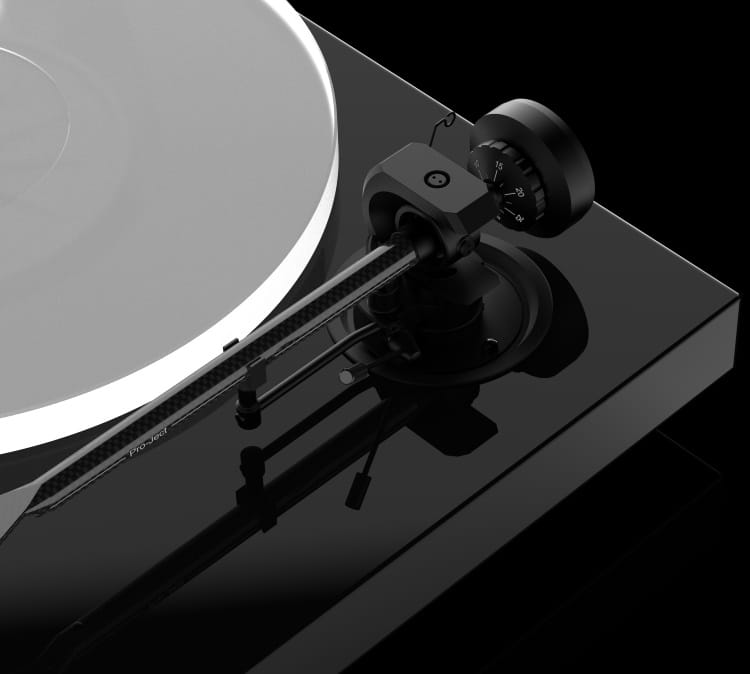 The X1 gives the impression of solidity, or rather, of firmness and weight, both in structure and sound. The stable construction, more massive and damper, is felt when laying the record, lowering the tonearm and sound when the needle lays on the record. Tonally, this turntable is devoid of the effect of construction, vibration, and background on the color of the sound and is therefore largely neutral, virtually free of background artifacts, and stable.
Pro-Ject X1 Features
Speed control with electronic speed switch for ultimate speed stability
Carefully isolated motor for less vibration and noise
Sub-platter with extremely low 0.001mm bearing tolerances
Stainless steel platter-bearing with soft brass bushing and Teflon mirrors for lowest rumble and noise, and a stable, accurate speed transmission
Resonance free, 1.5 kg heavy acryl platter
8,6" carbon/alum sandwich tonearm with best internal damping and TPE damped counterweight
Kardan ultra-low friction 4 pinpoint precision tonearm bearing
Sumiko Rainier MM phono cartridge
Massive and heavy, precision CNC'd MDF chassis
Luxury 8 layers of painting and hand-polished finish or real-wood, satin-waxed veneer
Super shielded, semi-symmetrical, low-capacitance Pro-Ject phono cables
Height adjustable, aluminum feet for massively reduced risk of acoustical feedback
Handmade in Europe
Pro-Ject - X1 Turntable (Black)
Speed: 33, 45, 78 (electronic speed change)
Principle: belt drive
Platter: 20mm thick, 1.5 kg heavy acryl
Tonearm: 8.6" carbon/aluminum sandwich
Dimensions (WHD): 16.3" x 4.9" x 13.2"
Conclusion
The Pro-Ject P1 is now a complete turntable and bears the X1 mark. Everything that was technically and tonally lacking at first was now complete. This is definitely one of the best turntables in this price range, which doesn't need to be upgraded as soon as you unpack it. Heinz Lichtenegger personally "tunes" each model, but, of course, your ears can sense the sound differently.
The vinyl market is slowing down. To this should be added the startup manufacturers who would hop into the turntable train that was hit by Pro-Ject and others for the second time. The difference here is experience and quality. As the Pro-Ject itself repeatedly points out, this turntable is made up of parts, solutions, and workmanship, which doesn't cost little as part of its price, which makes the X1 very good and, for some, the ultimate investment.
The user manual can be found here: Pro-Ject X1 User Manual
√ Check The Price and Read Customer Reviews √
Pros
Enjoyable and engaging sound
Fitted cartridge
Cons
Lacks the precision and dynamics of some rivals
Pro-Ject X1 Specifications
Speed: 33, 45, 78 (electronic speed change)
Principle: belt drive
Speed variance: 33: 0.30% 45: 0.25%
Wow & flutter: 33: 0.15% 45: 0.13%
Platter: 20mm thick, 1.5 kg heavy acryl
Main bearing: stainless steel/brass
Tonearm: 8,6" carbon/aluminium sandwich
Effective arm length: 218,5 mm
Overhang: 18 mm
Effective tonearm mass: 10,0g
Tracking force range: 0 – 30mN
Included accessories: 15volts DC/0,8A power supply, Dust cover, Connect it E Phono cable, felt mat
Power consumption: 5,0 watts max< 0.3 watt standby
Dimensions: 415 x 125 x 335 mm (WxHxD)
Weight: 7 kg net/9.5 kg gross weight
If you liked this article, please rate below.
(Visited 5,023 times, 1 visits today)