The Best Bluetooth Record Players in 2020
What Does a Bluetooth Record Player Do?
Bluetooth technology represents a mode of wireless data exchange between two or more devices. Although it has been present a long time, it became a standard just recently.
Today's modern computers, cell phones, digital cameras, and audio devices have a great deal of ability to transfer data with Bluetooth. The connection is established via radio waves in the frequency range of 2.4 to 2.48 GHz. Due to the use of radio links the connecting devices don't have to be optically sighted nor interconnected and the connection can be made in a diameter of approximately 10 meters around the device.
Even though this technology has been in the market since 2000, it has only recently become standard in almost all audio devices. From the very beginning, Bluetooth was practical and useful but has become very widespread over the last few years. Bluetooth can be found in almost all mini and micro lines, audio components, headsets, small portable devices, and in turntables.
As simple as it may be, the fact is that only a few years ago, quality audio devices did not support wireless transmission because protocols and built-in amplifiers did not provide clean and quality HiFi sound.
Via Bluetooth today you can connect different devices with an audio device regardless of the Internet connection and the type of platform your device is powered. Moreover, some devices support the APTX protocol which contains a special audio codec that offers even higher sound quality than plain Bluetooth and is very close to CD sound quality.
Although the APTX algorithm was developed in the eighties, initially it was not noticed at all. With the appearance of so-called and increasingly popular "Lossless" audio formats in various resolutions, APTX progress was inevitable. The most sophisticated devices in the world today support the APTX HD algorithm that provides the highest possible quality of music playback.
The basic difference between aptX and aptX HD Bluetooth is that the aptX Bluetooth codec can transfer 16 bits of 44.1khz audio with 4: 1 compression at 352 kbps, while aptX HD is capable of far higher resolution of 24 bits – 18 kHz audio with compression of 4: 1 at 576 kbps.
Disclaimer: If you purchase through links on our site, we may earn an affiliate commission. Read More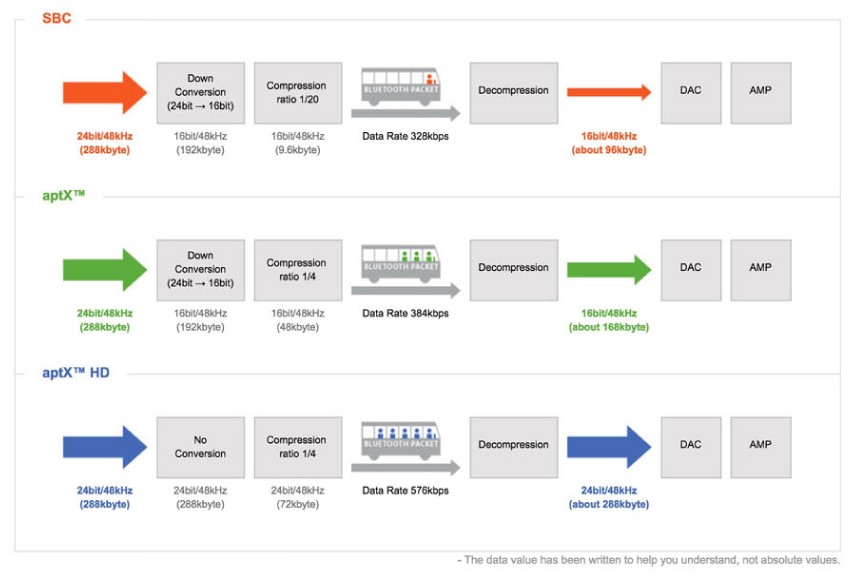 This segment became so popular that the companies that produce turntables started to produce Bluetooth turntables with the APTX and APTX HD algorithms in the last couple of years.
More about Bluetooth on Wikipedia: Bluetooth
In the next part of the text, we offer you the best Bluetooth turntables that exist today.
Sony PS-LX310BT [Best Quality for the Price]
The Sony PS-LX310BT – With this Bluetooth record player you can enjoy your vinyl collection with all the convenience of wireless technology. Bluetooth connectivity allows you to listen to your favorite records on your wireless speakers, soundbar, or headphones.
Main Features
Easy Setup:Setup the belt to drive the platter, remove the cover from the stylus and you are ready to go
One-step auto playback:Just press the start button, and the player will automatically lower the tonearm, find the grove, and start bathing your ears with the rich sound that comes from vinyl. When the record ends, the tonearm will automatically return to home
Easy gain control:

Want to get the most from your vinyl? With three settings (low, mid, high) the gain select switch allows you to switch the gain to match the level of your record, so you can hear your music at its best, distortion-free.

Aluminum tonearm for superior sound:

Featuring a new straight design and sturdy aluminum construction, the tonearm boosts traceability for stable playback, rich, clear sound and powerful bass.

Aluminum platter for stability in motion:The turntable features a belt drive mechanism with an aluminum die-cast platter. Robust yet lightweight, the platter stays stable as it rotates for clearer playback of your music.
USB Ripping:The USB ripping feature makes it possible to rip your favorite vinyl records to digital files, so you can take your favorite albums with you on the go.
Thick dust cover for pitch-perfect playback:A thicker dust cover muffles acoustic pressure from your speakers for better stability and less distortion. This can also be removed, so you can choose to listen to your music your way.
Sale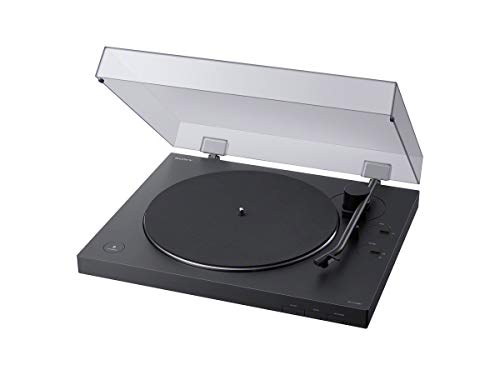 Specifications
EASY OPERATION: Effortlessly enjoy your favorite records with one-step auto start, stop and return
TWO SPEEDS: 33 1/3 rpm and 45 rpm, with the 45 rpm adaptor stowed neatly in a slot beneath the deck
HIGH-QUALITY AUDIO: Built-in switchable phono output/line out phono preamp and 3 gain settings
USB RIPPING: Rip vinyl records to digital MP3 files on your computer to take a favorite LP on the go
BLUETOOTH CONNECTIVITY: Connect to wireless speakers, headphones or other Bluetooth enabled devices
WIRED CONNECTION: PSLX310BT turntables include RCA cables for plugging directly into a stereo system
STABLE PLATTER: An aluminum die-cast platter reduces vibration for increased clarity and hi-fi sound
STRAIGHT TONEARM: A newly designed aluminum pipe tonearm gives the record players improved tracking
IN THE BOX: Turntable, removable dust cover, vibration dampening slip mat, 45 adaptor, USB B cable
ION Audio Air LP [Best for Sophisticated Style and universal compatibility
The ION Air LP Bluetooth record player converts your old turntable records into digital format. Unleash yourself from the restriction of cumbersome hookup cables. The Air LP turntable connects to any Bluetooth speaker. Let's say you've been collecting turntable records all your life. Even though you like a turntable record it is not practical for you to play music in digital format. ION Air LP is a bridge that connects hits from the past with today's digital age. It simply connects to the PC or MAC via USB connection. Includes EZ Vinyl conversion software.
Main Features:
Bluetooth Enabled
With Air LP, you can send the sound from your records to any Bluetooth speaker in the room. It's simple to use and can connect with any Bluetooth-enabled speaker you own.
Autostop Feature
In case you think you might fall asleep while listening to some relaxing tunes, you can turn the auto-stop on. This will make the platter stop spinning when it reaches the end of the record.
Convenient Connections
Use the 1/8-inch aux input for other music players like your tape deck or smartphone. RCA outputs connect with your home stereo system for optimum sound quality.
Headphone Output
Plug your headphones to the easily accessible jack on the top of the Air LP. Now you can privately groove to '50s jazz late at night.
Stylus Included
The conical, diamond-tipped ceramic stylus plays 33 1/3 and 45 RPM records. This maintains the best audio quality for clear playback.
Universal Compatibility
Use the USB connection to digitize your vinyl with a Mac or PC. The EZ Vinyl/Tape software is included with the purchase.
Sale
Specifications
Dimensions(length x width x depth): 16 " x 14 " x 4.5 "
Weight: 6.7 lbs
Power: 12V DC, 0.2A, center pin-positive, tip-negative
Air LP Turntable Bluetooth Function: Transmitter
Bluetooth Version: 3.0
Bluetooth Range: Up to 30 feet
Cartridge Type: Ceramic
Cartridge and Stylus: CZ-800-10 (sapphire-tipped)
Audio Technica AT LP-60 BT
At first glance, many people may perceive this device to only plays LP records. However, the device has other features that meet the expectations of music lovers. It is advisable to purchase this 6.5-pound belt machine if the users need to digitalize their LP records.
This Bluetooth record player is compatible with PC and Mac and therefore it makes it easy to connect to the computer and change your preferred tunes into MP3 files. The connection to your computer does not need any special drivers like most other turntables that come with this feature.
Audio Technica AT-LP60 USB also performs well when used as a simple record player. This turntable can be used with different stereo systems by conveniently switching a built-in pre-amplifier from phono to line level. A majority of the vinyl lovers and casual listeners prefer to use this automatic machine, but this record player may not have the capacity to please the most trained ears.
Also, there is a possibility of a Bluetooth sound stream to any Bluetooth speaker. Up to eight different pairs of speakers, headphones, or other devices that utilize Bluetooth wireless technology can be stored in the AT-LP60-BT's memory. Once stored, a simple push of the turntables Function button is all that is required to connect the turntable to your chosen wireless device.
Main Features:
Connects to speakers and other devices equipped with Bluetooth wireless technology or to wired audio systems and powered speakers via included dual RCA output cable
Fully automatic operation with two speeds: 33-1/3 and 45 RPM
Anti-resonance, die-cast aluminum platter
Integral Dual Moving Magnet phono cartridge with replaceable stylus
Switchable built-in pre-amplifier enables wired connection to components with or without a dedicated turntable input
Includes 3.5 mm (1/8″) stereo mini-plug (male) to dual RCA (male) output cable, 45 RPM adapter, and removable hinged dust cover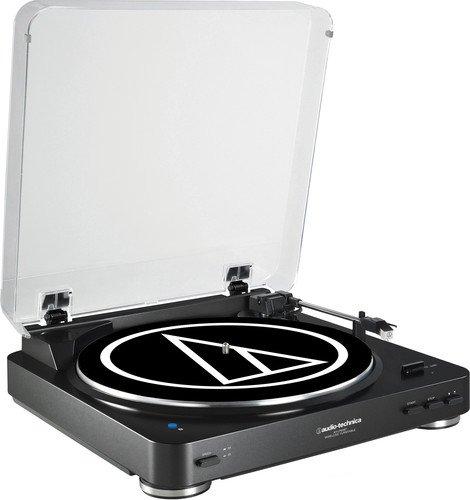 Maybe you will be interested to read much more details about this turntable here: Audio Technica AT-LP60 complete review
Trntbl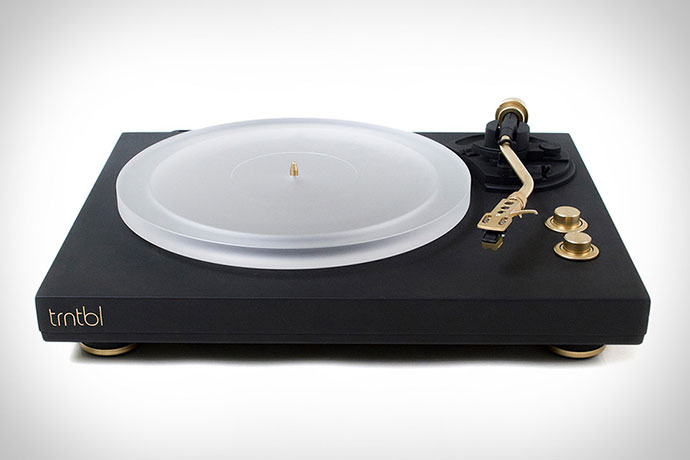 This is a new concept of a modern turntable. The turntable has had its big return in recent years, and its makers have been delighted with it, incorporating several modern technologies and options.
We know for some time now – the vinyl records and turntables are coming back, and now the producers have been playing and even upgrading them to keep up to date with the latest technology. In order not to have everything left on a quote: "you have a turntable and you play a record", the company has added WiFi options to the modern versions of the turntable. One such thing, which stands out first with its elegant aesthetics, is the Trntbl behind which stands the Vnyl company and describes it as "a new device for listening to records". It is interesting that with this Bluetooth record player through its Bluetooth and of course WiFi you can stream music through various music services.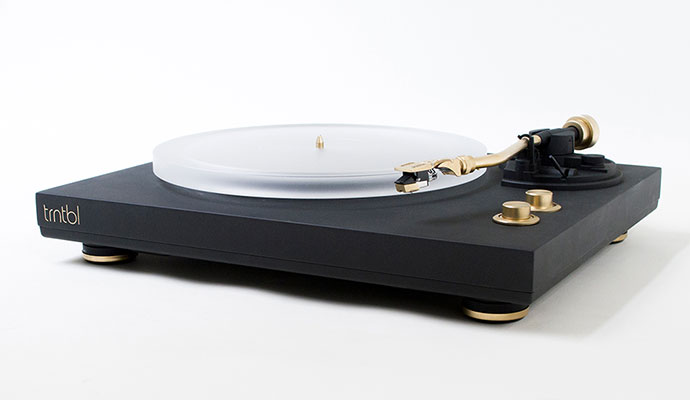 To start, the Trntbl appears as a Music Service to Sonos devices, allowing listeners to stream uncompressed audio throughout their homes. The turntable can also stream via AirPlay or to Bluetooth devices like speakers and headphones. These wireless connections are the only way the Trntbl connects – there are no analog or wired digital outputs on the unit at all.
Where the Trntbl starts to differentiate itself from other wireless turntables is its built-in social features. Vnyl says that the Trntbl can identify music while it's playing straight from the record and share what you're listening to with your friends or followers. The turntable will also let your friends tune in to what you're listening to via Spotify, something the company says is a first for consumers.
Trntbl comes in a black-gold and a white-gold version. Its price is about $ 400. It is one of the best Bluetooth turntables on the market today.
Crosley CR8005D-TU Cruiser Deluxe Portable Turntable [Best cheap bluetooth turntable for Beginners]
This is another Bluetooth record player from Crosley. Crosley Cruiser Portable Turntable allows you to take your turntable whenever you hit the road. The deep and warm sound of the device is among the things that make this device stand out from other products. Also, it is considered to be one of the most portable format devices that you can buy. There is no need to waste your hard-earned income when you can save some amount of money by purchasing this product. You can put the device down on your iPod and then mobilize your music with ease.
This Bluetooth record player is made from hardwood that has been bound in vinyl to make it attractive as well as unique. Also, the manufacturer has included built-in stereo speakers, which implies that you can enjoy your favorite music without necessarily having to connect to any external speakers. It has a spin that can play three speeds namely 33 1/3, 45, and 78 RPM. If you are looking for a record player that boasts of portability, durability, style as well as high-quality sound, do not look beyond this product because it is one of a kind. As one of the best turntables under 100$, this product has everything that you need when it comes to high-quality music and performance. It is reported that more than 1000 online buyers have tried the turntable and posted positive comments about the same. This is a clear indicator of the high quality you should look forward to once you purchase Crosley Record Player when you are done with reading this review.
Sale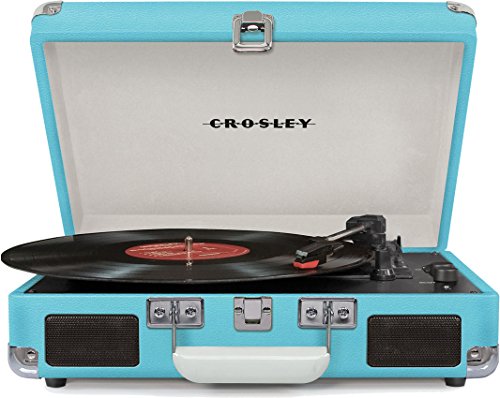 Recently updated with Bluetooth and pitch control, the Cruiser Deluxe allows you to stream your favorite music from your Bluetooth-enabled device wirelessly to the turntables dynamic full-range speakers and customize your listening experience. Constructed of wood and bound in a leatherette material, the briefcase-styled record player is lightweight and easily transported from place to place. Built-in stereo speakers let you listen to your music without having to connect it to a speaker system, so you can cruise over to a friend's house and experience vinyl's superior sound together.
Main Features
Briefcase-Style Case: The Cruiser Deluxe's hard and portable vinyl-wrapped case with handle latches closed, completely containing the lightweight turntable to take anywhere.
Bluetooth and Dynamic Full Range Speakers: Two built-in stereo speakers eliminate the need to carry additional speakers. And you can stream music directly from your smartphone to the Cruiser's built-in speakers with the integrated Bluetooth.
Portable Audio Ready: Listen to mobile apps or digital audio by plugging in any portable audio device or MP3 player into the auxiliary port on the rear of the Cruiser Deluxe.
Plays Three Speeds: The Crosley Cruiser Deluxe plays any 33 1/3, 45, and 78 RPM records, and includes a built-in 45 adapter.
RCA Audio Out: For an additional punch, RCA outputs on the rear of the device next to the power adapter plug allow the Cruiser to hook up to any external speaker system.
Updated Features: Located near the built-in headphone jack, the pitch control and Bluetooth functions add a new layer of listening options.
Available in a Variety of Colors: The Crosley Cruiser Deluxe is available in a wide variety of colors and styles to suit any taste or decor.
Conclusion
Trntbl is an ideal Bluetooth record player, but any of the turntables above can be an answer to your Bluetooth needs. As always, it all comes down to functionality, cost, and aesthetics.
Bluetooth is Bluetooth. From Crosley to Trntbl, you'll run into the same advantages and disadvantages of wireless listening technology. Find a price and style that work for you and go for it. When you're sitting on the porch on a rainy night with your old jazz records spinning in from the living room, you'll be happy you did.
If you liked this article, please rate below.
(Visited 35,352 times, 1 visits today)