Audio Technica AT-LP1240 USB Review
There is a company making new waves in the vinyl turntable market, that is Audio-Technica, and we like what we are seeing! Today we will do Audio-Technica AT-LP1240 USB review. This turntable is a nice rendition compared to the all-time classic Technics 1200. It looks good and performs well for this price range.
Disclaimer: If you purchase through links on our site, we may earn an affiliate commission. Read More
This turntable falls into turntable under $500 category and it hangs with the best when it comes to nightclubs and for listening to your old time favorite records for a good reason.
Moving towards the very serious audiophile turntables is the Audio Technica AT LP-1240, a direct-drive dual-personality turntable that is technically a replica of the legendary Technics SL-1200, while the Audio Technica LP-120 USB is its visual replica. Audio Technica ATLP-1240 is a turntable of a thoughtful concept that has been validated for several decades. It has a tonearm with high precision bearings, good wiring, and the ability to fine-tune the tracking force, anti-skating and tonearm height (VTA). It can accept a very wide range of cartridges, from the simplest MM models, special models integrated into the Concorde, and some quality MC models. We can recommend a cartridge for this turntable in this article here: Turntable Cartridge & Phono Cartridge Reviews, so you can choose which one is the best phono cartridge for you.
The drive consists of a powerful motor whose component is a precision machined massive aluminum platter, rubberized on the underside to better suspend the ringing of the plate. The resistance of the turntable to acoustic feedback is similarly arranged. The upper part is metallic, and the lower one, the supporting one, is made of a very inert and massive polymer that is something like a very hard rubber. It is a turntable that can satisfy many audiophiles in sound, but its concept and build quality give it robustness that can be used by DJ professionals. That's why some DJ functions are present, such as changing the speed and direction of rotation, adjustable brake power, additional lighting …
Audio Technica AT-LP1240 USB Features
The AT-LP1240 is a premier vinyl turntable and known as the Super-OEM and one of the best in its range when it comes to the DJ world. It has a strong motor and most turntablist will love this turntable. It's designed in a black color scheme with a plastic dust cover to keep the vinyl turntable in great shape when not used.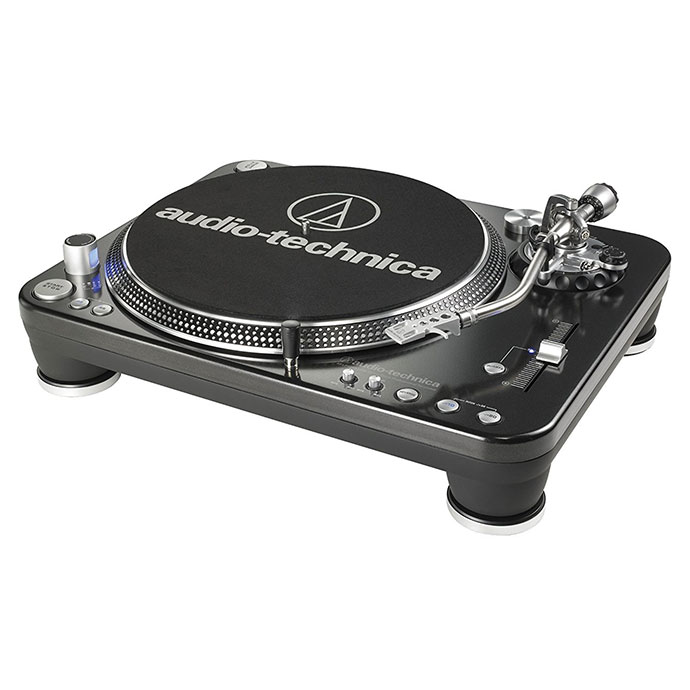 The upper part of the unit is made of steel, while the lower portions are made of a heavy rubber material to help dampen and isolate sound. A heavyweight unit weighing 42lbs with some high-quality components built to last. It comes with some great extra features as it plays records in three different speeds, it has a separate start/stop speed adjustment knob, has a reverse play button, adjustable pitch range button, rubber feet, a pop-up light that is replaceable, 2 starts/stop aligned buttons and internal power grounding.
The top section has a greatly felt slipmat with a headshell to get you started and used with a Shure M44-7 cartridge you receive excellent results. Once set up the tracking of the tonearms height and weight, one hears no skip during scratching and juggling sessions. You can use this solid device manually with a USB port for transferring vinyl records to digital format via your PC.
The motor is a brushless DC motor and has a direct drive method with the electronic brake system. With this turntable, Audacity software is also included to help you transfer your precious vinyl collection to your PC.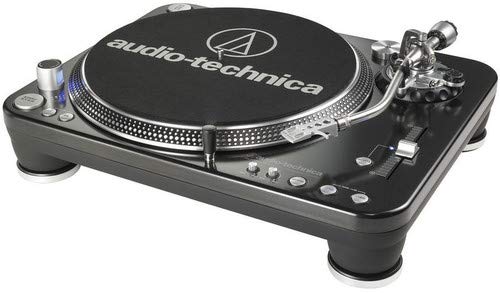 √ Check The Price and Read Customer Reviews √
Conclusion
When it comes to DJs and turntablists who are serious about their expertise and in need of a stern machine to perfect their skills, we recommend the Audio-Technica AT-LP1240-USB. It is one of the best turntables out there and has a solid construction, great additional features, and a super-strong motor. While the USB port and provided cable make transferring of vinyl music to digital a dream and one cannot find fault with this record player.
If you are not satisfied with this turntable, you can read something about another best turntable under $500 here: Pro-Ject Debut Carbon Review.
Manual is here: Audio Technica AT-LP1240 USB Manual
Pros
It has a steel heavy-duty
construction, making it
very durable
It has a strong high-torque
direct-drive motor
that is great for DJ's
It comes with a headshell,
felt slip mat and dust cover
keeping it free from dust and harm
It is a standard turntable
made for scratching and
categorized as a Super-OEM
Turntable
Cons
Does not have a cartridge included
Audio Technica AT-LP1240 USB Specifications
Type: 3-speed, fully manual operation
Motor: 16-pole, 3-phase, brushless DC motor
Drive Method: Direct drive
Speeds: 33-1/3 RPM, 45 RPM, 78 RPM
Turntable Platter: 332 mm dia. die-cast aluminum
Starting Torque: >4.5 kgf.cm
Braking System: Electronic brake
Wow and Flutter: < 0.1% WRMS (JIS WTD) with 33 RPM
Signal-to-Noise Ratio: > 55 dB (DIN-B)
Output Level:Pre-amp "PHONO": 2.5 mV nominal at 1 kHz, 5 cm/sec (HP-4005)
Pre-amp "LINE": 150 mV nominal at 1 kHz, 5 cm/sec (HP-4005)
USB Function: A/D, D/A – 16 bit 44.1 kHz or 48 kHz USB selectable;
Computer interface  – USB 1.1 Compliant Windows XP or above or MAC OSX or above
Power Supply Requirements: 120V AC, 60 Hz
Power Consumption: 13W
Dimensions: 450.0 mm (17.72″) W x 353.0 mm (13.90″) D x 166.5 mm (6.56″) H
Weight: 12.5 kg (27.6 lbs.)
Accessories Included: Slipmat; dust cover; platter; 45 RPM adapter; counterweight; headshell; power cord; USB cable; dual RCA (female) to 1/8″ (3.5 mm) mini-plug (male) stereo adapter cable; dual RCA (female) to 1/8″ (3.5 mm) mini-plug (female) stereo adapter cable; dual RCA (male) cable with integrated ground wire; stylus target light; Audacity software (CD)
RIAA: 20-20kHz, +1/-3dB (In: 1.5mV 1kHz)
Tonearm type: Static balanced S-shaped tonearm with detachable headshell
Effective arm length: 230 mm
Overhang: 15 mm
Height of tonearm adjustment range: 0-6 mm
Tracking error angle: Less than 3 degrees
Applicable cartridge weight:
Without headshell 3.5 – 8.5 g
With headshell 13 – 18 g
Anti-skating range: 0-3 g
If you liked this article, please rate below.
(Visited 9,955 times, 1 visits today)