Numark TTUSB Turntable Review
Revitalizing your vinyl records has never been easier than with the Numark TTUSB Turntable. This plug and play turntable makes creating digital versions of your vinyl records simple.
Numark TTUSB Turntable Review
Disclaimer: If you purchase through links on our site, we may earn an affiliate commission. Read More
All of the necessary cables to connect the USB turntable to your computer, whether PC or MAC or stereo are included. Software that helps remove those clicks and pops is also included.
The Numark TTUSB Turntable plays 33-1/3 and 45 RPM recordings. It has an adjustable skate control, line-level RCA outputs with built-in pre-amp, pitch control that's adjustable +/- 10%. Connect to your computer via the USB for effortless recording.
An additional benefit found on this USB turntable is that it has a 1/8 inch stereo line input jack. You can transfer an. You can transfer your cassettes or other devices with a line-level source to your computer as well, no matter what the original format is.
The Audacity software(included with this turntable) has many simple to use features and will make converting your files to digital files such as WAV or MP3 a breeze.
We found the best prices on USB turntables including the Numark TTUSB turntable at Amazon.
Numark TTUSB Turntable Features:
Adjustable Anti-Skate control for increased stereo balancing
USB computer connectivity for PC and Mac
1/8″ stereo line input
RCA line outputs
Adjustable pitch control ±10%
Packaged with all necessary cables to connect with computer or stereo playback system
This turntable is surely one of the best turntables under $300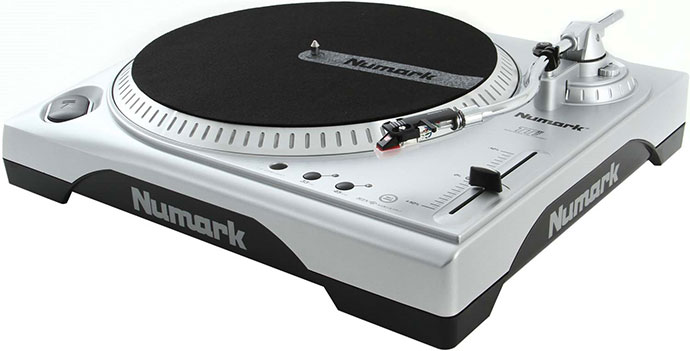 √ Check The Price and Read Customer Reviews √
Conclusion
Reviewers of the Numark TTUSB Turntable are generally pleased with it. It is easy enough to set up and sounds good. A few had technical difficulty getting it going but said to make sure to follow the manual when setting it up. Many users commented on how easy it is to convert their vinyl to digital format. One reviewer stated that he had his first recording within 30 minutes of using this USB turntable. A few users mentioned the platter is made from die-cast aluminum which they preferred over the lightweight plastic found on USB turntable. There are a few minor negatives reviewers did make note of. One is that the USB turntable has no cue lever for the tonearm. Being that this is not an automatic turntable that would be nice to have. The turntable does not come with a dust cover. Some also suggested upgrading the cartridge and stylus for even better sound. Most reviewers were looking for a USB turntable that they could simply transfer their vinyl records into digital format and the Numark TTUSB Turntable exceeds their expectations.
Here is a manual for Numark TT USB turntable: Numark TT USB Turntable User Manual
In a case you don't like this turntable and its features, you can always read about (and maybe buy, of course) some other record players under $200 here: Audio Technica AT-LP60 Review, Sony PSLX300 USB Stereo Turntable Review or maybe Pioneer PL-990 Automatic Stereo Turntable Review.
Pros
Has pitch adjustment
and anti-skating features
Supports different playback speeds
Extremely affordable
for the features and functionality
Ideal for listening to
vinyl records at home
One-year warranty
Cons
Not all LP conversions
would come out great
No dustcover for the turntable
The stylus and cartridge need
upgrading for much better sound
Will not remove imperfections
off your old records
Numark TTUSB Specifications
Minimum System Requirements (PC): Windows 2000/XP/Vista
USB 1.1 port
Audio Recording program (to capture the audio from your vinyl)
Minimum System Requirements (MAC):
Mac OS X 10.4.x (This product includes EZ Converter software that requires Mac OS 10.4 or higher)
USB 1.1 port
Additional Product Specs:
Product Weight (with packaging): 12 lbs
Turntable Weight: 7.7 lbs
Master CTN dimensions: 20.27" x 17.16" x 6.85"
Motor: Belt Drive
Pitch: +/- 10%, 33 1/3 RPM or 45 RPM operation
Inputs: 1/8" stereo line level
Outputs: RCA (LINE/PHONO), USB Audio
If you liked this article, please rate below.
(Visited 10,120 times, 1 visits today)