Audio Technica ATH-M50X Review
What we find out about Audio-Technica M50X? Read in our Audio Technica ATH-M50X review below.
It's a real pleasure to use them at home with your iPod or another music player. You might want a different brand, but believe it, it's worth trying out the Audio-Technica M50X. More below in a detailed review.
Disclaimer: If you purchase through links on our site, we may earn an affiliate commission. Read More
Design & Comfort
Part of the shells on which the earpads are installed is oval and large, the shells are narrow to the backward, which is the right housing for the drivers and has a round shape. However, the comfortable joint just next to the shell mounts was only installed in ,Audio-Technica ATH-M50x. This model has one more feature that definitely explains its "superiority" – these are completely different drivers, with a diameter of 45 mm compared with 40-mm in the cheaper ATH-M40x.
The signal cable is connected to the small(2.5-mm) socket in the left earpad. This time, however, three cables for various occasions are included: one for portable equipment (1.2 m) and two for home and studio use; straight 3 m long and twisted (1.2–3 m) with 3.5-mm ends and a stand-by adapter to the 6.3 mm standard.
Air cushions quite tightly cover the ears, after all, Audio-Technica ATH-M50x can be called over-ear. The headphones appeared in two colors, black and white, but for the test, I received the limited version with a light brown finish of the headband, cushions, and minor details; the rest of the housing and signal cables shine in deep, dark blue.
What Is The Sound Quality?
The frequency range of the headphones ranges from 15 to 28,000 Hz, which is why they are reasonably classified as a monitoring category, unlike fashion accessories like Dr.Dre headphones. Competitive headphones like the Allen & Heath Xone XD-53 offer an even wider frequency range that goes from 5 to 33,000 Hertz, but that didn't make much difference when using M50x headphones that have much better noise insulation.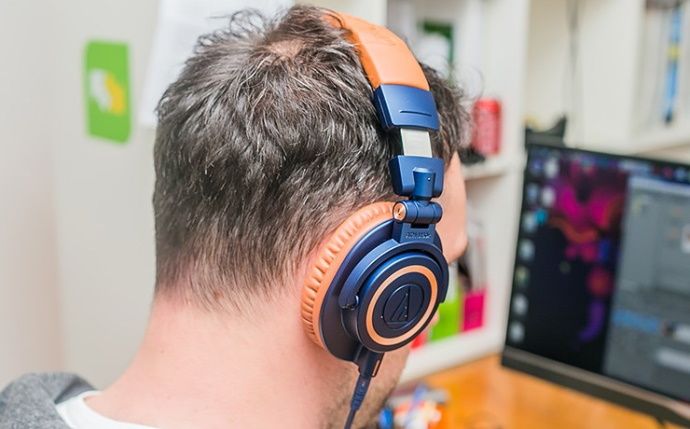 The drivers, or built-in speakers, are 45mm in diameter and reproduce solid, clear, deep tones without distortion. The treble is flawless and the only thing that can affect the bad sound is the source of the audio you are connecting to or the technically poor sound. If you connect these headphones to a device with a preamplifier (mixer, receiver, amplifiers), you get a full 99dB of power, which was quite loud to our ears, but at these values, the sound was clean and crystal clear.
What About Comfort And Isolation?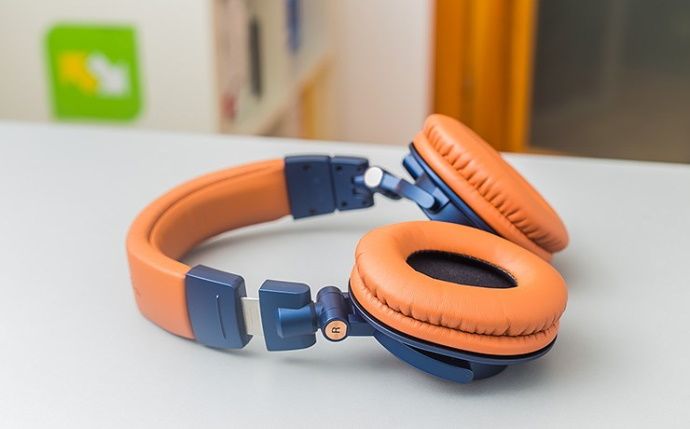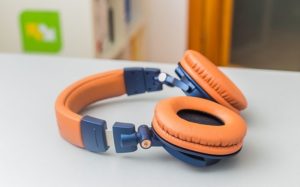 The headphones themselves are one of the more comfortable we've tried. The shells are designed to follow the shape of everyone's ear and will fit all users. The ear cushions are great for the head and are very soft, and the headband is a little tighter, so they won't just fall off your head. For all of this, sound insulation is perfect, almost close to what Sennheiser's HD-25 II has. Any exterior noise is excellently eliminated.
The headphones, on the other hand, are slightly heavier than competing models in that range, which would be the only complaint. Nonetheless, you will be able to use them for a long time without feeling almost any discomfort.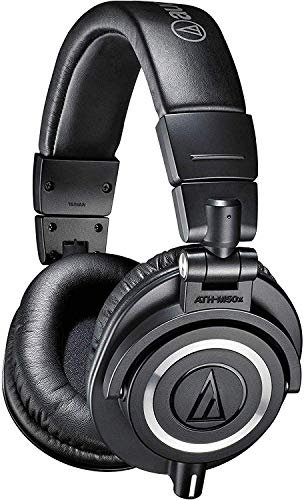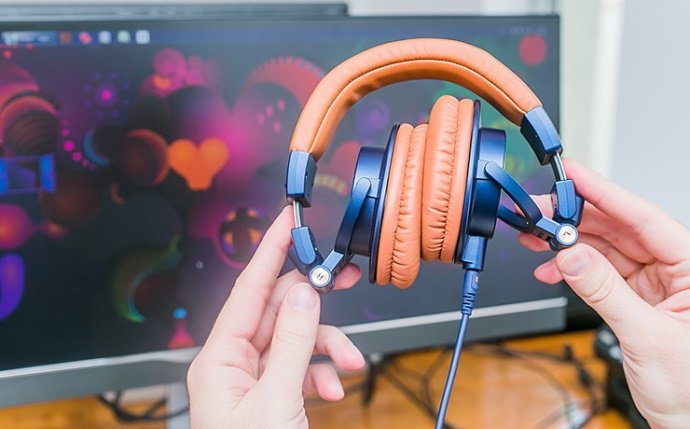 What  Is The Design and Build Quality?
As soon as you open the box, you will be surprised with 3 sets of cables, one of which is a spiral cable for more flexible use when on the go. The big plus of these headphones is that all the cables are attached to the left earpiece so they are easy to detach and replace. The two cables are designed for the studio (have an adapter for the 6.3mm adapter included) and are up to 3 meters long. The third cable is for easier portability and use, so it's slightly shorter – 1.2 meters.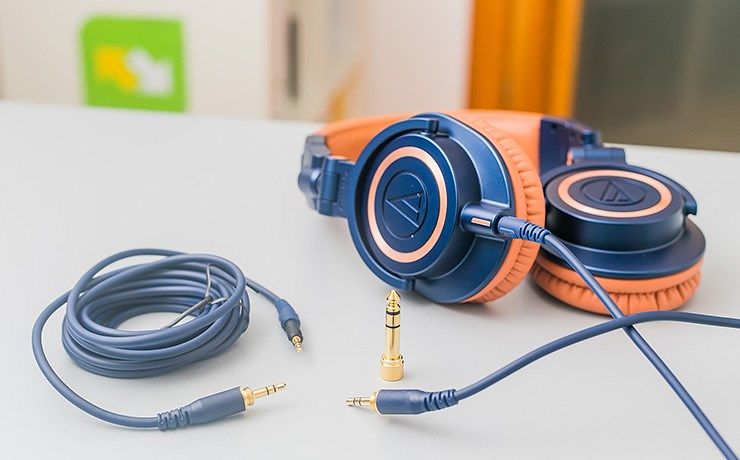 Also, the package comes with a carrying case that is the same color as the headphone shells and looks great in the brown combination.
What About Durability?
Considering that the previous model ATH-M50 has proven to be quite durable with user tests and comments on the internet, we do not doubt that it is the same with the successor – that is, the redesigned model. The shells rotate 90 °, while its pads are comfortable. More specifically, there is no sweating after prolonged use as the sponges are coated with high-quality plastic. Unfortunately, sponges are not interchangeable in case they are worn out. The interchangeable cables and excellent connectors further support the durability of the connectors.
What Is Audio Technica ATH-M50X Frequency Response?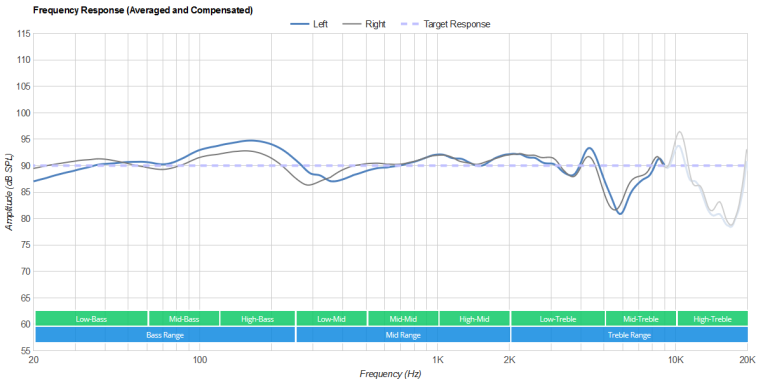 Conclusion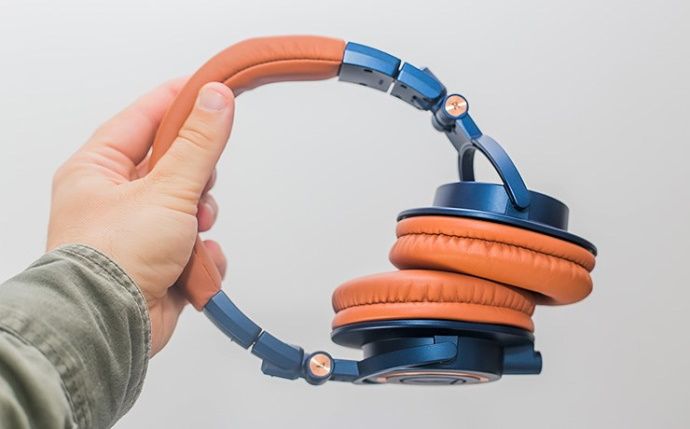 To be honest, we don't test headphones regularly and seriously, so the impression of using this model is based on comparison to just a couple of similar models. We hope to try some more models and fill out this category of headphones so you can choose the right ones for yourself, and until then, without too many comparisons, we can say that we really liked this model. The design is attractive, the equipment in the sales package is rich, we like that the cable can be removed and changed (which the previous model did not offer), while the sound insulation and clear sound will leave few unsatisfied. Great price/quality ratio!
The user manual is available here: Audio Technica ATH-M50X User Manual
√ Check The Price and Read Customer Reviews √
Pros
Powerful bass
Neutral audio experience
Good stereo imaging and separation
Great value among peers
Cons
Bass is somewhat over-emphasized
Largely plastic construction
Isolation could be better
Audio Technica ATH-M50X Specifications
Driver Diameter: 45 mm
Magnet: Neodymium
Voice Coil: CCAW (Copper-clad aluminum wire)
Frequency Response: 15 – 28,000 Hz
Maximum Input Power: 1,600 mW at 1 kHz
Sensitivity: 99 dB
Impedance: 38 ohms
Weight: 285 g (10 oz), without cable and connector
Cable: Interchangeable cables: detachable 1.2 m – 3.0 m (3.9′ – 9.8′) coiled cable, detachable 3.0 m (9.8′) straight cable and detachable 1.2 m (3.9′) straight cable
Accessories: Protective carrying pouch, 6.3 mm (1/4″) screw-on adapter
If you liked this article, please rate below.
(Visited 1,445 times, 1 visits today)