Bose Solo 5 Review: An Ultra-Compact Soundbar
For a long time, we have not tested one of the products of the US company Bose, which is one of the largest speaker manufacturers and, for home use, is very popular with the products of small and very effective speaker packages for AV systems. We got a Bose Solo 5 Soundbar for the test, which basically has the purpose of offering higher quality sound than the speaker units built into today's modern TVs. In this segment, Bose has created his own vision for the Solo 5 soundbar.
Disclaimer: If you purchase through links on our site, we may earn an affiliate commission. Read More
Its small size (70 x 548 x 86 mm) by no means gives the impression of some noticeable quality in delivering good sound, but you would be completely wrong.
The Bose Solo 5 will fit perfectly in combination with an 82cm TV, but no larger screen size will be a major design problem. The Soundbar can also be installed on a wall, but the wall mounts do not come with the speaker, so this will be an additional expense for the user.
The Bose Solo 5 soundbar has the usual oval shape with rounded edges and a Bose inscription in the middle. It has no function buttons or switches on it and has a black metal hole in the front. Behind the grille are two speaker units that are slightly oriented to the right and left of the speakers, to give the widest possible sound image. In addition to the speakers, there are also two LEDs, which light up and change color to let the user know what the current Solo 5 sound mode is, and will also blink when confirming the change in audio output volume. The rear of the Solo 5 also has a minimalist approach.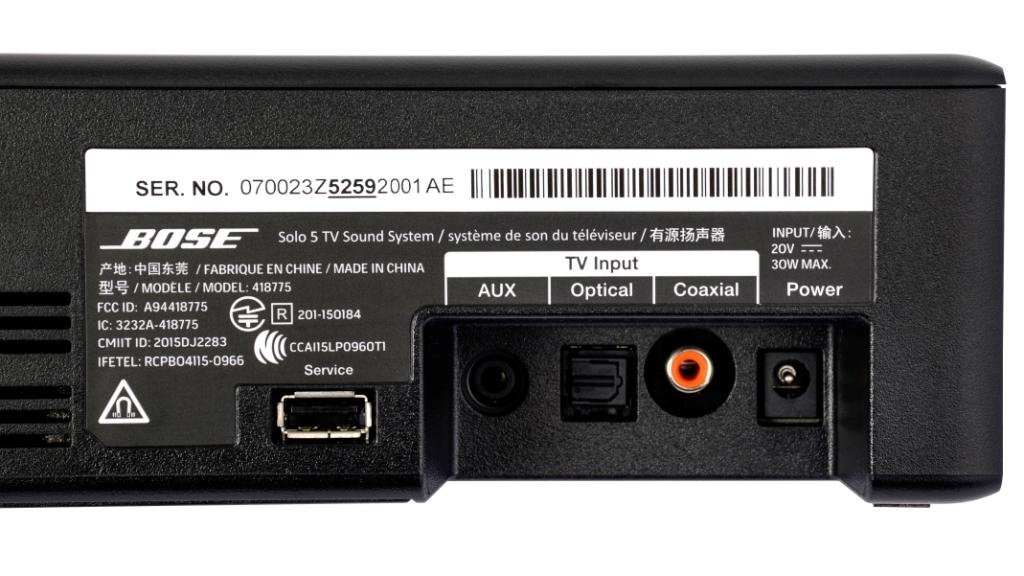 On the left side is a bass-reflex opening for better reproduction of the deep frequencies, and on the right are 1x optical digital input, 1x coaxial digital input and 3.5 mm analog input. Solo 5 comes with all cables, 1x coaxial, and 1x digital, so the user does not have to buy these cables to connect an external AV device. Unfortunately, the Bose Solo 5 does not have a single HDMI port.
There is also a USB port, but this is for service updates only, so we cannot play songs from some external USB, HDD/SDD, or memory. That's why there is Bluetooth wireless connectivity so that music from your cellphone or tablet can be easily transmitted. AptX codec and NFC (Near Field Communication) support for fast device pairing are not supported, unfortunately.
Operation of the Bose Solo 5 soundbar is only possible with the included remote control. With it, Bose has made one major leap against all other soundbar makers. Specifically, the support of over 1,800 different third-party codes from all AV devices (TV, DVD, Blu-ray, etc.) makes it possible to control almost any AV device. As many as 54 different function keys, six of which have backlighting, are a feature that should be commended.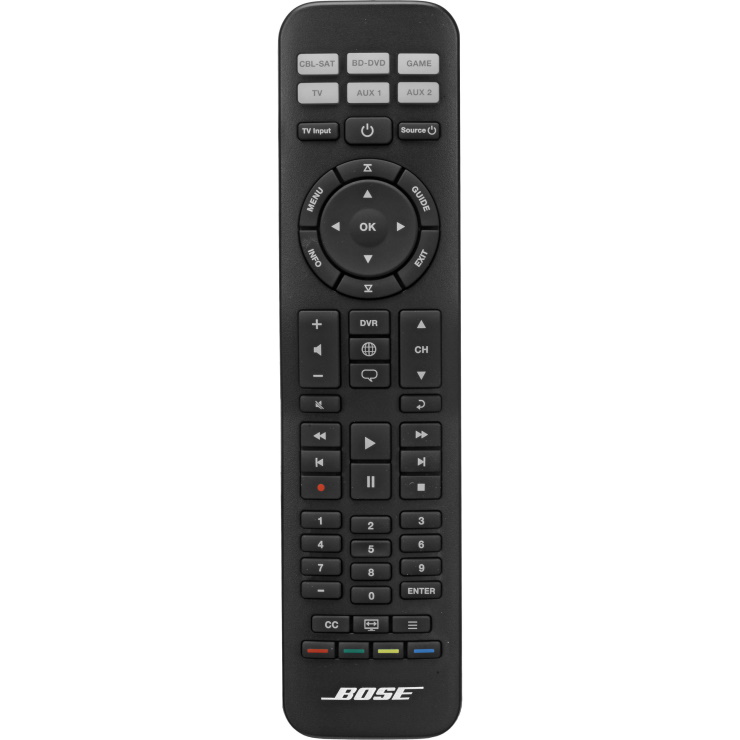 With this remote control, everything is at their fingertips for the users and can operate a total of 5 external AV devices + Solo 5. The Solo 5 remote control itself is about output audio control, selecting Bluetooth search/connect function, mode dialog, and set the output level bass. Many people will say: "Very little", but pretty enough for what the Bose Solo 5 is intended for.
Sale

Bose Solo 5 TV Soundbar Sound System with Universal Remote Control, Black
Single sound bar provides better sound quality compared to your TV.The Solo...
Dialogue mode to make every word and detail stand out
Bluetooth connectivity to wirelessly stream music from any of your devices
One connection to your TV. Optical audio input (digital); Coaxial audio...
Universal remote controls TV, bass, Bluetooth connections and more
Bose Solo 5 Sound Quality
Regardless of the small size of the box, the Bose Solo 5 has enough output power and can easily fill rooms larger than 20 square meters with the sound. Good mid-range reproduction is the most important segment in such small soundbar speakers. The tweeter, though audible, still seemed a bit hidden behind the rest of the spectrum. The bass is what made us especially happy, big, and strong, and we didn't expect much bass to come out of such dimensions. Even at higher output levels, the bass does not lose any control at all. The left/right ratio in stereo sound is quite narrow, but with a stage that is very compact in its dimensions. As such, users should not expect a big surround scene either, since the Solo 5 does not have any virtual surround mode, so the whole sound experience is shifted to the center of the front speaker itself. In fact, the Bose Solo 5 perfectly "plays" its role as a further enhancement to the sound that would otherwise come from the speaker of the television itself that was tested (Samsung F8000 series). The dialogues are much cleaner and more intelligent, and the overall sound presentation has more "firmness", avoiding the thin and hard sound commonly delivered by today's LCD TVs. We should also mention the much better dynamics and vocal sound quality, which certainly contributes to a smoother and more natural experience of overall sound quality.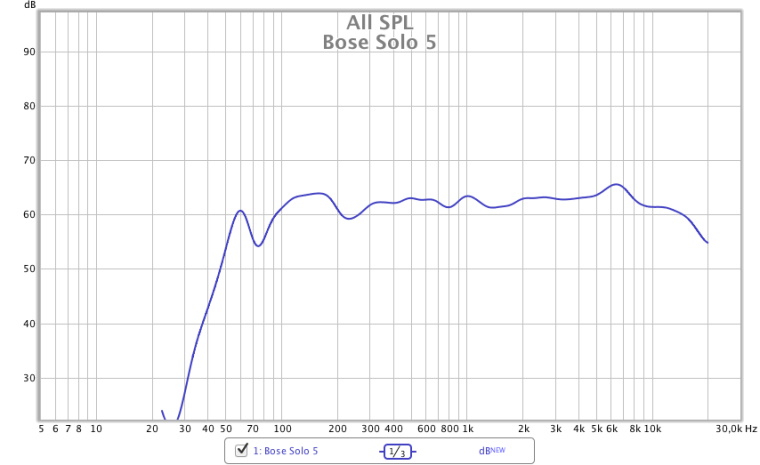 Finally, it should not be forgotten that in this price range voices are usually adjusted beyond recognition and the traditional timbres of instruments look artificial like skin tones on an old Polaroid photo. The Bose does that brilliantly. Speech passages are easy to understand, but the voices sound a bit artificially brightened. Doesn't matter – still good. And if you want to give these speakers even more kick, you can even activate a dialogue mode for highlighting voices using the remote control. Of course, bass storms at deafening levels from such a small bar are simply not possible. When it gets really loud and deep, a limiter shifts down several levels quickly but audibly. It's a little bit of a brake on fun, but ok.
Can You Add Subwoofer to Bose Solo 5?
Unfortunately no. It doesn't have a connection for a sub and no wireless transmitters for a wireless sub-option. It's called a Solo because it's made to work as a single unit with no option for expansion.
Is The Bose Solo 5 Any Good?
The Bose Solo 5 is designed to be as much of a plug and play soundbar as possible, and in that sense, it almost completely succeeds. Its small size will not prevent it from being placed even under the larger diagonals of the TV screen, because it's sound definitely gives better sound than any built-in speaker system on the TV. Also, the ease of operation and the ability to operate its remote control on almost any other device in the AV system is an added plus to this soundbar. Considering the price range, the sound quality, the ease of operation, and the excellent universal remote control, the Bose Solo 5 soundbar should by no means be exempted when buying a soundbar if you want to enhance the sound of today's modern and ultra-thin TVs.
One curiosity, Bose never gives an RMS wattage output for this Bose Solo 5 Soundbar, so the sound power remains unknown here.
You can find the user manual here: Bose Solo 5 Manual
√ Check The Price and Read Customer Reviews √
Pros
Well-built design
Decent sounding on stereo content, especially for its size
Pretty good bass for the size
Great universal remote
Cons
Lack of DTS support; poor connectivity options
Small soundstage
Bose Solo 5 Specifications
Speaker System
Amplification Type: active
Audio Amplifier: integrated
Connectivity Technology: wired, wireless
Recommended Placing: wall-mountable / table-top
Controls: bass, volume
Audio System
Designed for: for TV
Type: soundbar
Power Device
Power Consumption Operational: 30 Watt
Power Source: AC power adapter
Network & Internet Multimedia
Connectivity Interfaces: Bluetooth
Miscellaneous
Color: black
Color Category: black
Speaker Details
Speaker Type: soundbar
Speaker Channel Type: stereo
Speaker Channel Qty: 2
Amplification Type: active
Connections
Type: SPDIF input, audio line-in
Connector Type: RCA, TOSLINK, mini-phone stereo 3.5 mm
Dimensions & Weight
Width: 21.6 in
Depth: 3.4 in
Height: 2.8 in
Weight: 14 lbs
If you liked this article, please rate below.
(Visited 7,140 times, 1 visits today)