Bose Frames Review: Audio Sunglasses With Very Good Sound
Bose Frames music glasses will save your eyes from the harsh rays of the sun while giving your everyday life a soundtrack – without blocking your ears.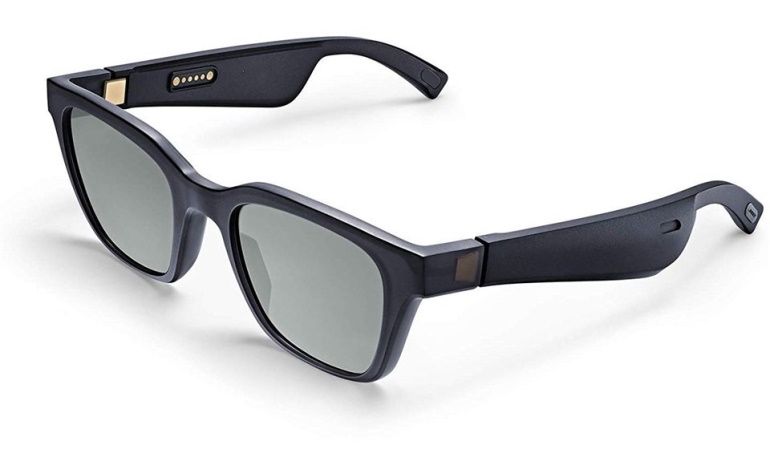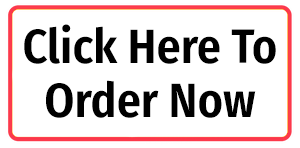 The most famous smart glasses that have seen the light of day so far are Google Glasses. It was a futuristic gadget with great ambitions, but also a noise of technical and conceptual deficiencies, which ultimately ruled it and turned it into an object of mockery.
Bose Frames can also be called smart glasses, but they have absolutely no touch with the Google product because their "smartness" manifests itself in a completely different way. Since Bose has focused primarily on sound in his half-century of history, it will not surprise you that Bose has focused its glasses in this direction.
How Do Bose Frames Work?
These are, to put it simply, musical sunglasses. In doing so, they do not transmit the sound to the wearer's brain through the bones of the head (a technology known as bone conduction), but instead use two precisely focused speakers, located in the left and right handles. The speakers are designed so that only the wearer of the glasses can hear the music, which is the case in practice, at least when used outdoors and at a moderate volume.
In fact, discretion is one of the most prominent and best features of Bose Frames. Unlike many other smart gadgets, which by their unusual appearance attract unwanted attention and cause astonishment, Bose Frames are almost impossible to distinguish from "ordinary" sunglasses. They are available in two variants, called Alto and Rondo, and both are based on familiar, timeless designs. While the larger Alto is obviously inspired by Ray Ban's legendary Wayfarer model, the smaller Rondo is reminiscent of Oakley's Latch, Ray Ban's Erika, and similar, round models. Only by the thickened handles, which hide the speakers, the battery, the sensors, and all the other electronics, can one conclude that this is not an average sunglasses, but something much more advanced.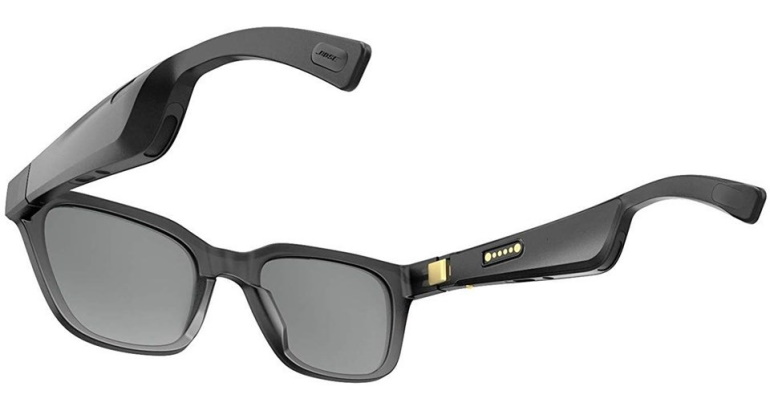 The construction of the Bose Frames is plastic and very convincing, the gold, steel hinges of the handles are solid and provide smooth folding and folding, and the black plastic lenses provide 99% protection against ultraviolet rays (UVA and UVB). Bose in foreign markets also offers polarized and colored lenses, and there is currently no official support for prescription lenses. The weight of the glasses is 46 grams, which we think is reasonable. To ensure that you are comfortable, you will need to be careful about what size you choose (S/M or M/L) as it changes the width and distance between the lenses and the length of the handles. If you have an above-average head, we suggest that you try them out before buying – you will only be sure that they will not put too much pressure on your nose or ears.
Along with the glasses themselves, the package comes with an excellent, hard carrying case and a battery charging cable (the charging process takes about two hours and the battery itself is sufficient for about three hours of louder listening).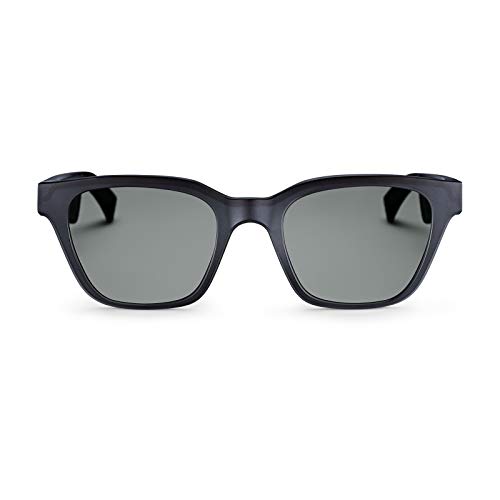 One Button Controls Everything
On the underside of the right handle is the only button that Bose's Frames glasses have. It has been assigned a range of features – from turning on the glasses, pausing songs (one push), moving to the next song (double pressing) and returning to the previous one (triple pressing), to activating a voice assistant such as Google Assistant and Apple Siri ( holding the key). This key is also used to answer phone calls, which can be done without taking a cellphone out of pocket because the microphones in the glasses neatly capture the voice of whoever is wearing them.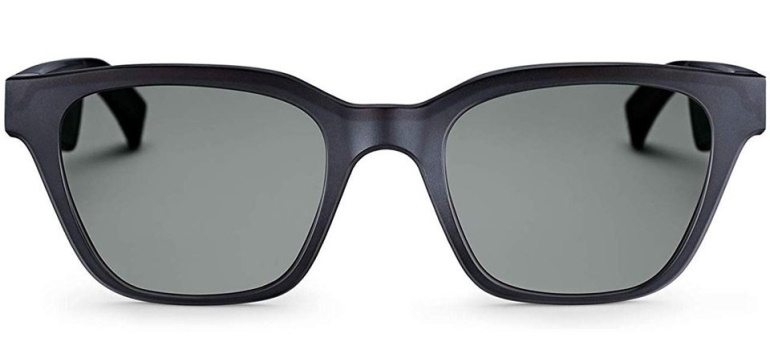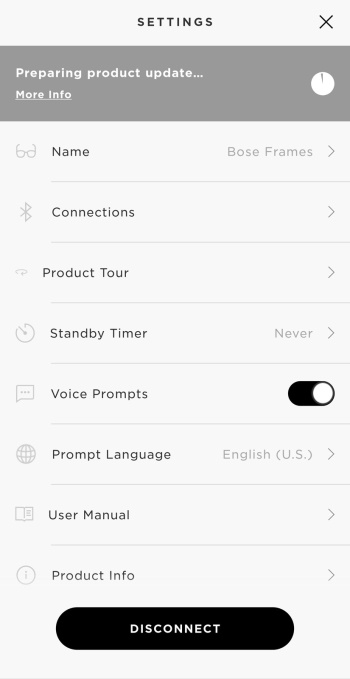 Bose Connect Mobile App
Bose's Connect mobile app looks and acts great. Here we can check the battery status of the glasses (the percentage of battery is also neatly displayed within the Bluetooth settings of the cell phone), the current song and the list of devices that the glasses can connect to. They can be connected to one device at a time, so they must be turned off and then on again before connecting to another device. In addition, the application also selects the language of voice notifications (notifies us of battery status, readiness to establish a Bluetooth connection, etc.), activate the automatic shutdown of glasses in case of not using and upgrade their firmware. As it is a new product, the latter is essential – Bose neatly fixes bugs and constantly improves the functionality of Frames.
In addition to the speakers and microphones, the glasses come with motion sensors, due to which Bose's presence in the Frames context occasionally mentions augmented reality. However, until they find a more useful function, these sensors are, in practice, most useful for automatically switching off the glasses when folded, or folding them upside down (on the top edge of the frame). If they sit upright on the table so that they rest on the underside of the frame, they will remain engaged. It's a nice and well-thought-out combination of features that lets us choose what happens to glasses when we take them off our heads without having to fiddle around with the Bluetooth settings of a cell phone or touch their key.
Motion sensors are also used for some applications, such as Golfshot and Sonic Samurai. The former is a virtual guide to golf courses, and the latter is a game in which we listen to the invisible ninjas on each side, turn in their direction, bend down to avoid being hit, and roam our cell phones to cut them. Bose's Connect app still lists Audiojack and Otocast apps, but it's labeled "Coming Soon", so we can't say at the moment whether they will use Frames sensors in any interesting way.
The Bose Frames sound quality is not comparable to the headphones, because it is a conceptually different approach, where our ears are left completely free, which also means that we can easily hear everything around us – someone's calling, an oncoming cyclist, the sound of a car engine or something fourth. The sound is very wide and airy, and at the same time, because of this "openness", is practically completely devoid of deep frequencies. It manages to stay clear in almost the entire volume range; only the loudest listening to certain music genres results in audible distortion of tiny membranes.
√Check The Price and Read Customer Reviews √
Conclusion
Bose Frames are not here to impress you with an audiophile acoustic presentation, but to provide you with a musical background for everyday activities without blocking the outside world. As the emphasis is on the mid and higher frequencies, it also handles podcast playback, which will be very interesting to a non-neglected target audience. The noisier city streets will be overpowered by the sound coming from Bose's glasses, but then the fact is that music is not the only thing they are capable of – it is also a very good sunglasses, which will protect your eyes regardless of external noise, battery condition and everything other.
The user manual can be found here: Bose Frames Manual
Bose Frames
Pros
Surprisingly good
Users stay engaged and safe,
with their ears and eyes open
Using the sunglasses
to make calls works well
Basic IPX2 water resistance
Brilliant for biking and outdoor use
Ingenius private audio
Sweet audio quality
Cons
Only 3.5 hours of battery life,
and recharging requires
a proprietary cable
No prescription lens option
available from Bose
Very weak bass response
Bose AR not here yet
Bose Frames Specifications
Dimensions of Frames Alto – Larger fit: 52 mm lens width
18 mm distance between lenses
162 mm temple length
Bluetooth range: 9m (30ft)
Battery charging time: Up to 2 hours
Battery life: Up to 3.5 hours of streaming music playback
If you liked this article, please rate below.
(Visited 770 times, 1 visits today)