Bose Quietcomfort 35 II Review – The Best Is Even Better
Bose Quietcomfort 35 II Review – Standard For Wireless Noise-Cancelling Headphones
The main novelty in Series 2 of these headphones is that it has support for virtual personal assistants: Google Assistant, Amazon Alexa, and unofficial support for Apple Siri.
Disclaimer: If you purchase through links on our site, we may earn an affiliate commission. Read More
After the software upgrade was released, which, with the Google Assistant already available, made it possible to use Amazon Alexa for testing, we got the Bose QuietComfort 35 II wireless (Bluetooth) headphones or shortened the Bose QC35 II. Compared to the first series of QC35 headphones from 2016, the main novelty in the Series 2 is that it has improved noise-canceling function, which is possible to set up with the Bose Connect app, and has support for virtual personal assistants: Google Assistant, Amazon Alexa and unofficial support for Apple Siri.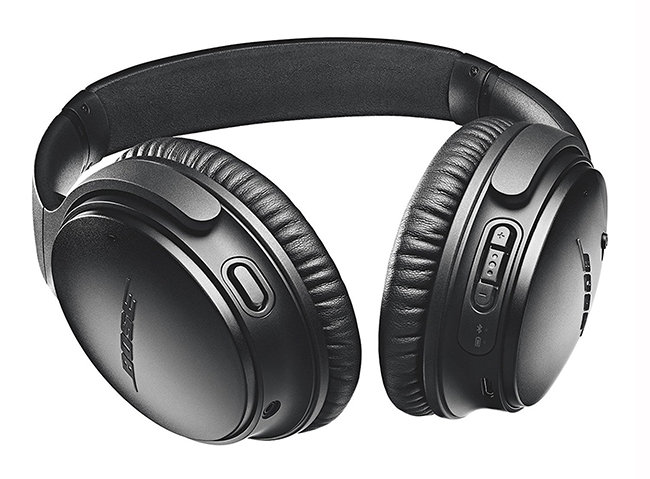 The headphones come with a carrying case, audio cable (3.5mm by 2.5mm) and a micro USB charging cable. Bose has given a very large selection of colors and possible combinations, so if you do not want a standard black or silver headphones, you can choose from 26 colors on five interchangeable headphone parts and in two finishes. In the middle of the right side of the headphones is the Bluetooth key, and on the bottom side are the boost, mute, and multifunction buttons, as well as the battery and Bluetooth indicators and a micro USB battery charging slot. On the left side are the action button and the 2.5mm audio cable slot.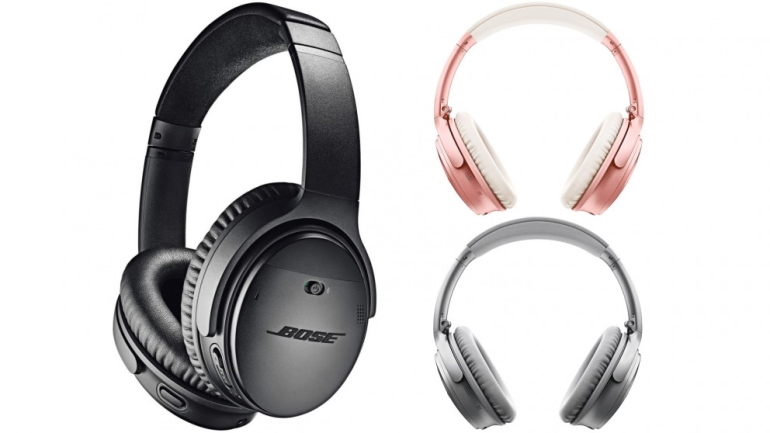 The Bose QC35 II can be paired with a smartphone or tablet as standard via Bluetooth or audio cable, but NFC is built-in for faster connection to Android devices.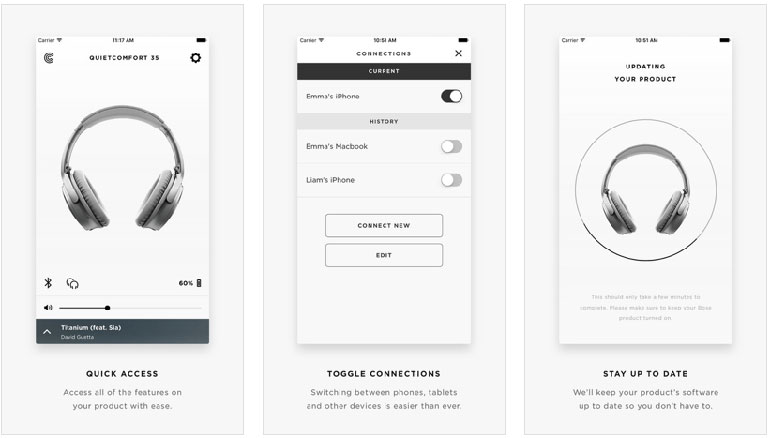 It is recommended that you connect via the Bose Connect application, which is very important for using the QC35 II headphones because, in addition to connecting one, it allows you to connect other Bose headphones and play simultaneously on both, but also the overall setting of the background noise cancel function and virtual personal assistants. Once connected, it is necessary to specify the function of the action key within the application, ie whether it will call Amazon Alexa, Google Assistant, or activate/deactivate the background noise canceling function. If the action key is used for noise-canceling, then Google Assistant on Android and Siri on the iPhone can be called by pressing (2-3 seconds) the multifunction key.
Also, the Bose QC35 II supports the connection of two devices at the same time, so that the multifunction key serves as the start of music reproduction (Play) and pauses the music, as well as answering and ending a phone call. This means that when you listen to music through your computer or tablet, an incoming call to your cellphone takes priority, pauses music on your computer, and establishes telephone communication.
Sale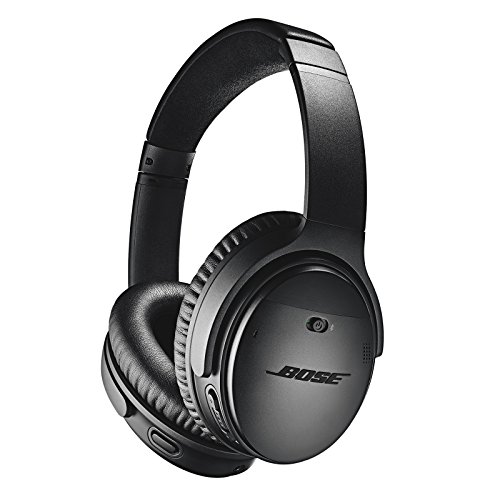 Sound
The first impression when you hear your favorite music through these headphones is very good and exciting. They are characterized by music playback with very clear treble and very detailed mid-tones, and not overstated but deep and the powerful bass area which in some other headphone models can overcome and degrade the overall quality of playback. Everything is very well balanced, so the sound quality practically does not change depending on the type of music, no matter if it is classical, rock or metal. Although this is the closed-type headphones the music stage outline is wide and spacious with a clear outline of the musicians. A big plus when listening to music is the ability to block noise (cancellation), which allows for unobstructed listening in a noisy environment in a public place or office. This maintains the quality of playback and details that get lost with much more expensive headphones in the same environment, but without the noise-canceling function.
√ Check The Price and Read Customer Reviews √
Conclusion
At the end of the test, we can determine that it is difficult to find any objection to these headphones. With support for virtual personal assistants (Amazon Alexa, Google Assistant), best regulation of noise-canceling, low mass (only 235 grams), long-wearing comfort, up to 20 hours (or even 40 hours of battery life if headphones are wired), user-friendly, and, of course, sound quality make the Bose QuietComfort 35 II currently the most complete product in the market for wireless (Bluetooth) headphones and deserve our Best Buy rating without reservation.
You can find a user manual here: Bose Quietcomfort 35 II User Manual
Pros
Adds a dedicated button
for Google Assistant
Works in wired mode
with an included cord
Class-leading noise cancellation
Highly immersive experience
Cons
The battery isn't replaceable
No autoplay/pause
Google Assistant doesn't work well
with iOS devices
Bose Quietcomfort 35 II Specifications
Type: Over ear, closed, Noise Cancelling, Bluetooth
Usage: Home, portable
Driver type: dynamic
Pads: replaceable, pleather, fast memory foam
Internal pad dimensions: height: 60mm, width: 40mm, depth: 16mm front, 28mm back
Collapsible: yes and can fold flat.
Headphone connector: 2.5mm TRS
Cable entry: single-sided (left side)
Cable: replaceable, 1.2m with gold plated 3.5 mm TRS plug
Driver size: 40mm Ø
Nom. power rating: 20mW
Max. voltage: 1V
Max. current: 25mA
Max. S.P.L.: 118dB
Impedance: driver itself = 32Ω
Impedance (passive mode): 40Ω + 47μF in series (wired mode only).
Impedance (active mode): 480Ω + 47μF in series (wired mode only)
Efficiency: (passive mode) 99dB/1mW (118dB/1V)
Efficiency: (active mode) 115dB/1V
Bluetooth profiles: A2DP, HFP, HSP, AVRCP, BTLE
BT version: 4.1
Codecs: AAC, SBC
Weight: 234 gram
Colour: black
Clamping force: low
Accessories: airplane adapter, Hardcase, manual, 3.5mm cable, micro USB cable.
If you liked this article, please rate below.
(Visited 1,729 times, 1 visits today)