Denon is one of the most present manufacturers in the world of audio equipment and is one of the few that still produces all categories of audio products. From professional turntables, mixers to audiophile amplifiers, and network music players. This very wide offer also includes a whole range of headphones. Today we will present you Denon AH-GC30 in our review article.
Disclaimer: If you purchase through links on our site, we may earn an affiliate commission. Read More
A few months ago, we had the opportunity to test classic high-end over-ear headphones that left us with a very good impression. For this article, we are testing the slightly cheaper AH-GC30 headphones (MSRP $399.00) made with many built-in modern technologies. The headphones connect to the signal source via Bluetooth and have a built-in active noise canceling system. AptX/AptX HD and AAC standards are supported for signal transmission. It should also be noted that it is possible to use the headphones wired with the included cables. The design of the headphones themselves is beautiful and they are made of enough quality materials. The headphones come in two variants white-gold and black-gray.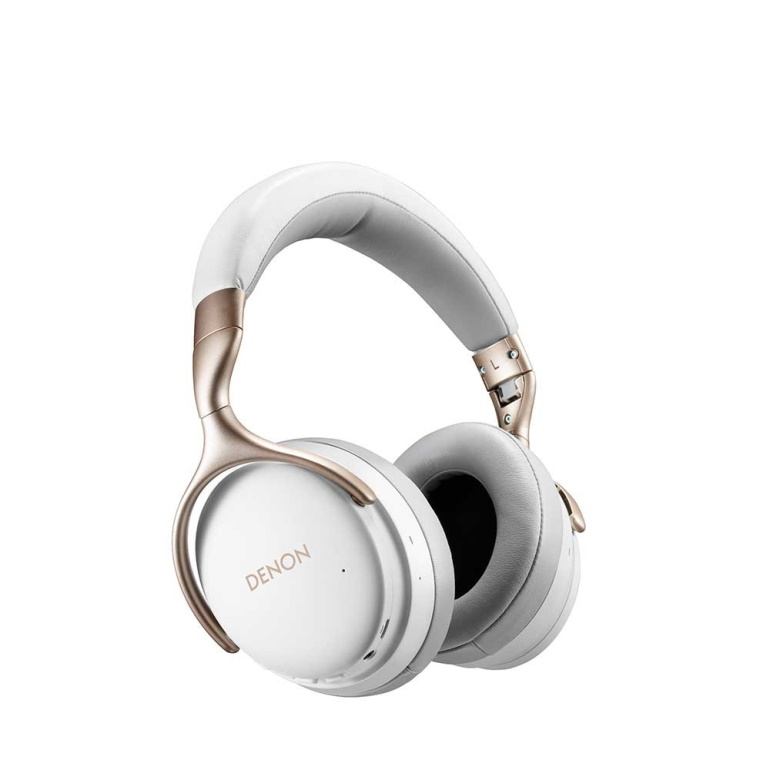 According to the manufacturer, the built-in batteries are enough for 20 hours of use, we did not record exactly how long they can last, but we can say that they lasted two working days with one charge. The headphones are very comfortable to wear all day long due to the very wide pads. One of the main features of these headphones is active noise reduction. The AH-GC30 has several levels of noise reduction level and this has proven to be a very good solution as they can be adapted to different conditions of use. For example, on the first level of noise reduction, the sound of the air conditioner will completely disappear but you will hear very clearly colleagues talking directly to you. People talking in the background are heard but quieter. While at the highest level of noise reduction, all the surrounding noise that resembles noise almost disappears, and so does the conversation of people in the background. People talking to you directly are heard but again much quieter. Using the headphones is very simple and intuitive.
Sale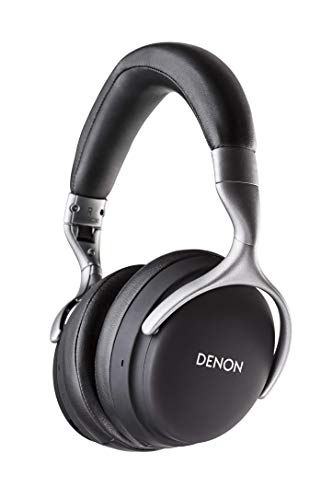 Denon AH-GC30 Sound Test
The sound image that these headphones play of course depends on the level of the active noise reduction system. The sound reaching the ears is very fast, open, and with good definition across the spectrum. There are many details in the high and middle part of the spectrum. The bass area goes deep and firm but is slightly smaller in volume than is the case with wired headphones from the same manufacturer. The female rock band Black Bells sounded great. The rough shot is well reproduced with all the smallest details. Röyksopp's beat, on the other hand, lacked a bit of volume. When using these headphones in traffic or on the street, their qualities are best seen. Active noise reduction works great and it is possible to listen to music at pleasant volume levels without interference. The Denon AH-GC30 handles all forms of music equally well and there is no genre that suits them particularly well. Of course, the sound is generally a bit more open and the stage is wider when active noise reduction is off, and when you need that noise reduction you won't hear the width of the stage without activating this function.
Denon AH-GC30 Customer Review
Here is a review from Reddit user Jonathan_x64:
I've been looking to purchase decent flagship headphones to use with phone when moving around the city, I've bought Denon AH-GC30, and it seems that I made a bad choice. Definitely can't recommend, please avoid them, or at least purchase with caution & at a significantly reduced price.
What's good:
They're comfortable
Passive isolation is great
Design is very nice, especially in white color, one of the best I've seen
Microphones are great when they work, Qualcomm cVc is some real stuff
Sound quality is likely above average?
Some nice quirks and features:
When these headphones are put on the head, they dim their indicators
When you put them on the table, they automatically turn off in 10 minutes
Now onto what's not good…
Ergonomics of these headphones are such a huge con, it deserves a separate paragraph.
They always turn on with noise-canceling off, thus you have to press three buttons (takes ~5 seconds) to start listening to music in a way that's likely going to be main for most of the people. Hold play/pause for two seconds to turn on, hold NC button for two seconds to turn it on, then press it again to switch it from "airplane mode" to "city mode". Much worse than mid-tier Sony headphones from 2015.
Buttons are lame. AH-GC30 doesn't have a separate switch for turning on/off, so it's done by holding play/pause. That's fine. What's not fine is EarPods-like audio control — press play/pause twice for next song, three times for the previous song. They also have separate buttons (on another earcup from the rest) to answer and end calls… why on Earth anybody would do that.
Way worse than any recent Sony or Bose headphones.
The voice from these headphones (when turning on, pairing, changing mode, etc.) is even more annoying than voices in my head, but thankfully this one can be turned off by instruction in the manual.
When you move headphones down (onto your neck), cans tend to turn inward, which is not comfortable. My English knowledge is not enough to explain, but basically you can fold AH-GC30 cans and you can rotate them 90 degrees, and this rotation is what happens, so cans touch your neck with their sides, not in their intended position.
Battery life is only at 20 hours, which is worse than other flagship cans in the $400 range and noticeable (they don't last a full week of my usage). Charging is done via micro-USB, not good for a device that was released in 2019.
Sometimes AH-GC30 drops audio stream when used with Pixel/Android 10/aptX HD/Apple Music, they start to loudly hiss instead of playing music. Weirdly enough, when you press pause, hissing pauses but then resumes again after pressing play. Launching music from Spotify seems to help, so it's likely a bug with aptX HD implementation in either headphones or Android.
Voice communications sometimes drop out, too. You take a phone call, sometimes recipient hears you, sometimes they don't. It does not occur every time, but it happens frequently enough to be noticed.
No app where you could adjust settings, like EQ or something. No firmware updates, so they definitely won't get better with time, and broken things will remain broken forever. Won't get worse, though!
No Google Assistant, Alexa, or something else. I personally don't care, but this might be a dealbreaker for some people.
ANC is below average, definitely not as good as other flagship headphones.
Sound is too neutral? Too muddy on average volume, hard to distinguish things happening in the song, have to turn volume up? I believe that Denon's "FreeEdge driver" is a good thing, but it feels like they're badly configured, at least in my unit.
So this was my experience. I had an idea like "everybody has WH-1000XM3 so I have to pick something different", my expectations were low but Denon somehow managed to not meet them. Thank you for reading, hopefully, this post will be useful for people who are looking to buy similar headphones.
The original text can be found here: Small review of Denon AH GC-30
Conclusion
Denon has made very versatile headphones that offer a great blend of comfort, convenience, and sound quality. Of course for the same price, wired headphones will sound better but it won't be nearly as practical and versatile. The AH-GC30 are headphones that you can carry with you on the street, in the office, or on a plane and they will work just as well. Also listening to music, playing computer games or making teleconference calls is just as good with these headphones and that is why if you need headphones with ANC these are definitely the Best Buy.
The user manual is here: Denon AH-GC30 User Manual
√ Check The Price and Read Customer Reviews √
Pros
Wired/wireless design
Versatile audio performance
Many different sound-modes
High-quality traveling pouch
Comfort is pretty excellent
ANC exceeds basic expectations
Cons
Calling features
Battery lifespan is average
Denon AH-GC30 Specifications
Headphone section
Type: Dy­namic type
Drive units: φ40 mm
Im­ped­ance: 16 Ω/ohms
Sound pres­sure sen­si­tiv­ity: 98 dB/mW
Max­i­mum input: 1,000 mW
Play­back fre­quency: 5 – 50,000 Hz
Bluetooth section
Com­pat­i­ble stan­dards: Blue­tooth Ver. 5.0
Trans­mis­sion power class: Max. trans­mis­sion power 10 mW (Class 1)
Com­pat­i­ble pro­files: A2DP/AVRCP/HSP/HFP
A2DP codec sup­port: aptX HD/aptX/AAC/SBC
Con­tin­u­ous play­back time with Blue­tooth func­tion ON + noise can­cel­la­tion func­tion ON: Ap­prox. 20 hours
USB audio component
Sup­ported for­mat: PCM 16-bit / Sam­pling fre­quen­cies: 48, 44.1, 32 kHz
Sup­ported de­vice class: Audio de­vice class ver.1.0, HID class ver.1.11
General
Op­er­at­ing tem­per­a­ture range: 5 ℃ – 40 ℃
Power sup­ply: DC 3.7 V (in­ter­nal lithium poly­mer recharge­able bat­tery)
Weight: 287 g
If you liked this article, please rate below.
(Visited 7,298 times, 3 visits today)