A powerful desktop DAC with a headphone amplifier is always a pleasure to see in our test lab such as this iFi Audio ZEN DAC in the review. Even when it comes with a reasonable price like this iFi Audio Zen DAC.
Compact, desktop DAC with a built-in headphone amplifier is very popular today. We decide on it after purchasing a higher quality pair of headphones, aware that integrated sound cards are probably not able to get the best out of them, and motivated by the fact that such DACs pull all of the electronics in charge of sound processing from the computer case and yet have much more specific acoustic hardware. It is not a science to find a great table DAC; it is a skill to find an example with an excellent ratio of capabilities and performance. For many years, we have been happy to recommend the now legendary, highly capable FiiO E10K Olympus 2. It seems, however, that the moment has come to deliver the flag – into the hands of Zen DAC, which is signed by British iFi Audio.
Disclaimer: If you purchase through links on our site, we may earn an affiliate commission. Read More
Zen DACs will not be compared to the aforementioned FiiO, as their only touch is that they are very affordable, in terms of performance. In every other respect, the iFi Zen DAC is far more serious and advanced. Let's start with design and construction, the first two aspects from which we realized that this was something out of the ordinary. All electronics are enclosed in a two-tone metal case, irregular and rounded in shape and solidity that would not be ashamed of many times the more expensive pieces of audio equipment. It is supported by four silicone feet, which are factory-fitted by iFi. Although the Zen DAC certainly has a satisfactory mass, it is still not that we can connect and disconnect the headset without holding the device with the other hand.
The front of the device is dominated by metal volume knob for analog volume control, with a very refined rotation range, which will allow you to make small volume adjustments with ease. It can control the volume of the headphones connected to one of the two front connectors, as well as the active speakers connected in the back, in case we do not use the headphones (Zen DAC then functions as a preamplifier). The area behind the wheels in operation is illuminated by LED light, which changes color according to the type and resolution of the audio input: green for PCM 44/48/88/96 kHz signal, yellow for PCM 176/192/353/384 kHz, cyan for DSD64/DSD128, blue for DSD256 and magenta for MQA signal.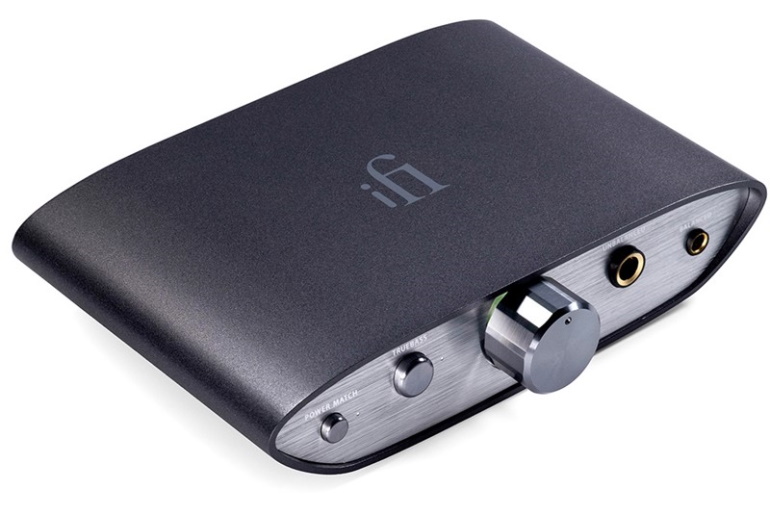 The two-tone metal case is thick and extremely robust – the construction quality is great
To the right of the volume knob are two headphone outputs: 6.3mm unbalanced and 4.4mm balanced. They are designed for headphones with impedances of 12 to 600 Ω, which cover virtually any model you might own. It is very interesting that iFi uses a balanced design throughout the analog stage of its DAC, which is quite a rarity in this price category.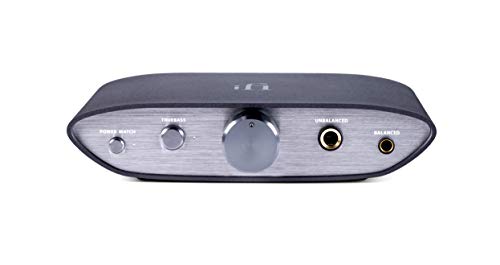 To the left of the volume are the PowerMatch activation buttons (this is actually variable gain – if you activate it, which is recommended for non-sensitive in-ear monitors, Zen DAC will deliver more power) and TrueBass. TrueBass does not need to be specifically described, but it should be noted that the bass amplification is superb: instead of violently inflating the entire lower frequency range, potentially disrupting midrange reproduction, iFi controlled and precise aims to the part of the bass area where it develops most a sense of energy and fullness of sound. Bass amplification is done in an analog domain, without the presence of a DSP whose programming could potentially be done by someone.

The output is such that the Zen DAC easily connects to active speakers and studio monitors, but also to integrated amplifiers and AV receivers as needed
On the back of the device are a line 4.4mm balanced output (can be used to connect to active speakers or an amplifier), a Variable/Fixed switch (determines whether the Zen DAC performs analog volume control in conjunction with an active speaker or amplifier, or the volume controls will be left to these devices), analog RCA output, USB 3.0 digital input, and a 5V power connector. Although the manual states that the adapter is included in the package, it does not exist – you will need to buy it separately if you want to use external power. Fortunately, this is not necessary, since the device receives all the energy it needs to work from a computer it is connected to via USB, so for most users, a USB cable will be the only thing that disrupts their desktop harmony.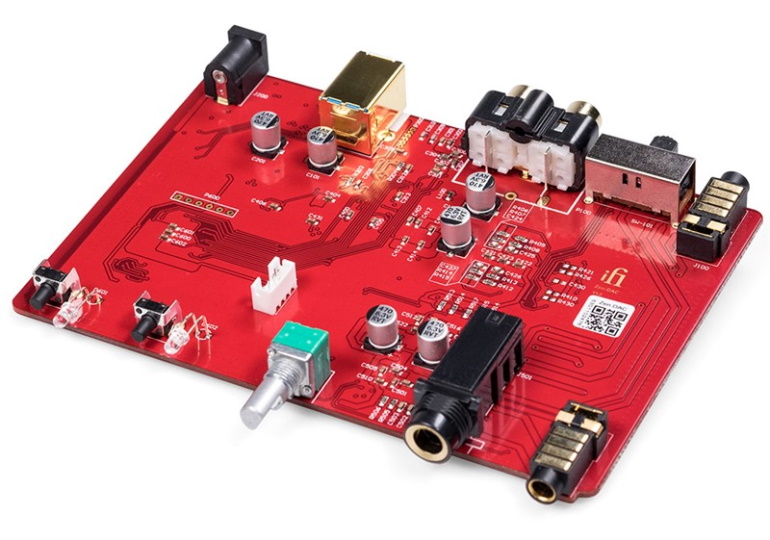 The entire analog part is based on a completely balanced design, which is not typically seen in this price category
Inside the Zen DAC is Burr Brown's capable digital-to-analog converter, suitable for working with 32-bit / 192 kHz PCM files, but also bit-perfect DSD (up to 12.4 MHz) and DXD (up to 384 kHz) playback. As mentioned earlier, MQA playback is also supported, which will delight Tidal users, as Zen DAC will cheerfully chew streaming audio of the highest quality currently available.
Verdict
The Zen DAC's acoustic performance brilliantly rounds out the extremely positive overall impression of this device. All the headphones we used in the test sounded really great – musical and energetic, with a striking feeling that Zen DAC powered them effortlessly. The device left us with a large stock of volume; with no headphones, we came anywhere near the maximum available. He also co-operated with coupled active speakers (Eltax Monitor III BT) and a proven integrated amplifier (NAD C 326BEE). The main drawback could be called limited to only one port – USB – although it is declaratively USB DAC, so it doesn't make much sense to complain.
If you own headphones of $200 or more, and especially if you use good speakers for your computer, iFi Audio Zen DAC will not only be extremely interesting but also really worth the money.
The user manual can be found here: iFi Audio Zen DAC User Manual
√ Check The Price and Read Customer Reviews √
Pros
Great design
Good looks
Clean and punchy sound
Fair price.
Cons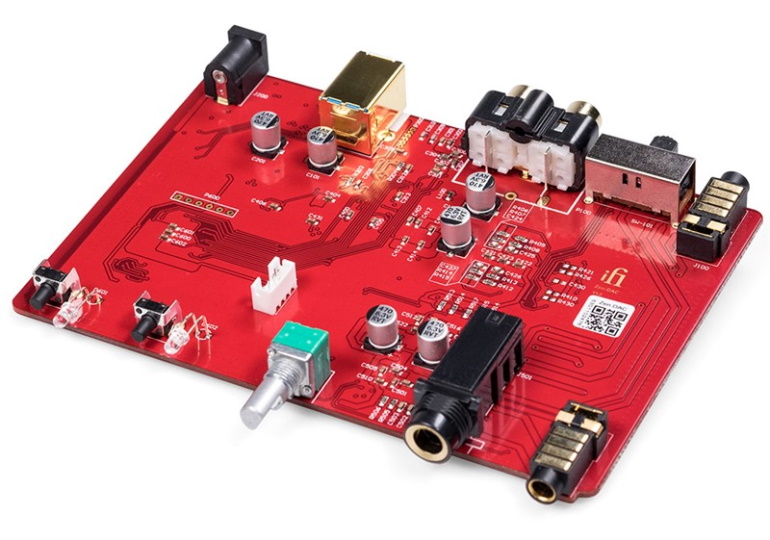 iFi Audio Zen Dac Specifications
General
Input: USB3.0 B Socket (USB2.0 compatible)
Formats: 44.1/48/88.2/96/176.4/192/384kHz PCM 2.8/3.1/5.6/6.2/11.2/12.4MHz DSD 353/384KHz DXD
DAC: Bit-Perfect DSD & DXD DAC by Burr-Brown
Line Section
Output: Audio RCA (UnBAL) — 2.1V fixed, 1V/3.3V max. (variable), 4.4mm Pentaconn (BAL) — 4.2V fixed, 2V/6.2V max. (variable)
Z-out: <= 100 Ohm (UnBAL), <= 200 Ohm (BAL)
SNR: < -116dB(A) @ 0dBFS (UnBAL/BAL)
DNR: > 116dB(A) @ -60dBFS (UnBAL/BAL)
THD+N: < 0.0015% @ 0dBFS (UnBAL/BAL)
Headphone Section
Output Power (@1% THD): 4.4mm Pentaconn (BAL), 330mW@32 Ohm; 6.6V@600 Ohm, 16 Ohm – 600 Ohm Headphone
Output Power (@1% THD): 6.3mm S-BAL (SE), 230mW@32 Ohm; 3.3V@600 Ohm, 16 Ohm – 600 Ohm Headphone
Note: Using 5V power. If powered from USB, the power output may vary.
Output Impedance: < 1 Ω (UnBAL/BAL)
THD & N: < 0.005% (125mW @ 32R)
SNR > 113dBA: (3.3V UnBAL / 6.2V BAL)
Power consumption: < 1.5W via USB power OR 5v DC (power supply not included)
Dimensions: 117(l) x 100(w) x 30(h)mm
Weight: 1.8 lbs
Warranty Period: 12 months
iFi Audio Zen Blue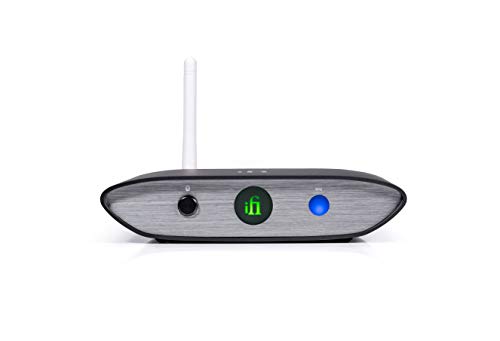 For the same money as Zen DAC costs, iFi Audio also offers Zen Blue. This is a Bluetooth DAC, which receives audio wirelessly and then processes it and sends it to other parts of the system for playback. It comes with Qualcomm's QCC 5100 Bluetooth chip, which knows how to work with all available Bluetooth audio codecs: SBC, AAC, aptX, aptX HD, LDAC, and HWA. This covers all forms of Bluetooth music transfer, including the most advanced. The quality of Bluetooth connectivity is impeccable, largely due to the fact that iFi did not hesitate to mount an antenna at the back, making Zen Blue a bit like a futuristic AP. Interestingly, Burr Brown's DAC was not used here, but it came with the ESS Saber DAC, which also has a great but slightly different sound, with a bit more analytics than the "singing" of Burr Brown's electronics. Considering outputs, Zen Blue offers 4.4mm balanced linear, RCA, coaxial and optical, so it easily connects to anything that may come to mind, such as active speakers and studio monitors, integrated amplifiers, and the like. This is another great device, with a highly coherent implementation of Bluetooth music playback.
If you liked this article, please rate below.
(Visited 4,462 times, 1 visits today)