Electrohome Wellington Record Player Review
The Electrohome Wellington Record Player is one of the most recognizable brands when it comes to listening to your collection of vinyl that has collected dust over the years. Designed for professional DJs and for home entertainment it provides you with a vintage look and loaded with some of the latest technology features with a traditional look and the best for a good reason.
Electrohome Wellington Record Player Review:
Pros
The wooden audio cabinet presents one with an improved tone sound wave, providing you with the warm crackling sound that made vinyl records unique
One can connect the record player to different external devices like your tablet or Smartphone
You can listen to vinyl records, AM/FM radio, CD's, and MP3
Makes a great addition to any home that fits in with your home décor from modern to old
You can convert your vinyl to digital to retain the natural tone of the music via USB feature
It has a diamond-tipped ceramic needle to provide you with a great listening experience
It even comes with a headphone port for enjoying your music in private
Cons
The only concern with this record player is that it is very heavy and not a traveling companion when in need of moving the party to another's home.
With the Electrohome Wellington Record Player, standing in your family entertainment room one cannot miss it. It has a great vintage look with fine handwork details. It provides all with a breathing nostalgia with great sound quality. However, do not let this instrument misleads you as it is packed with both vintage and modern functionality making it one of the best vintage turntable.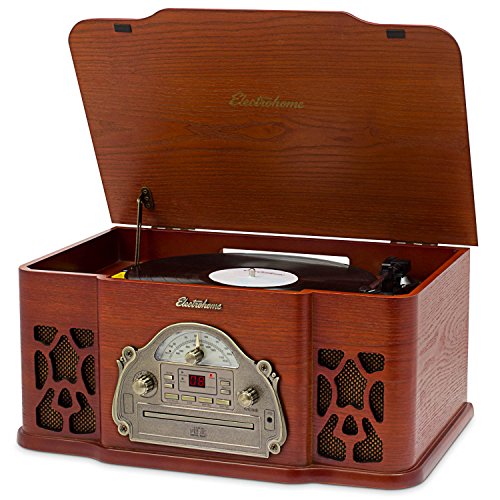 Electrohome Winston Vinyl Record Player 3-in-1 Classic Turntable Natural Wood Stereo System, AM/FM Radio, CD, and AUX Input for Smartphones, Tablets, and MP3 Players (EANOS501)
Listen to your favorite vinyl with this authentic retro design 3-in-1...
Plays vinyl records, CDs, AM/FM radio with illuminated tuning dial, and a...
Built-in stereo speakers with room filling hi-fi sound, housed in an all...
Conical-shaped sapphire tipped ceramic needle provides increased audio...
Fully automatic belt-driven turntable spins 7, 10 or 12-inch records at...
Retro lives on in the Electrohome Wellington Record Player
The Wellington record player is perfect for music lovers with a big collection of vinyl records. Whether you have 7-inch, 10-inch, or 12-inch, you can enjoy your vinyl on this vintage device. It looks great no matter where you place it in your home, pub, or restaurant, providing it with the vintage look it deserves.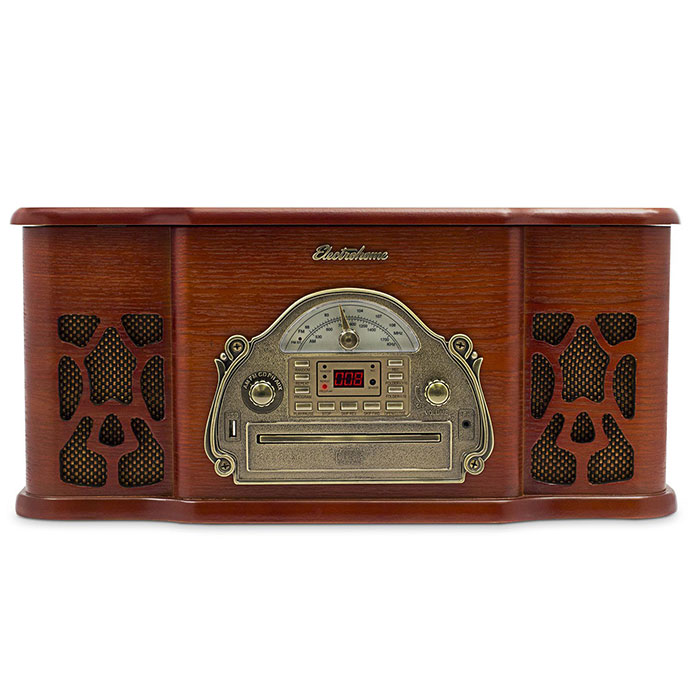 Made with mahogany, it enhances the sound quality with the built-in dual-range speakers, and if you want to listen to your vinyl, wherever you go transfer the music to USB. Play your vinyl, enjoy the AM/FM radio, CD, and handles all types of music carriers from your tablet to a Smartphone.
The speakers provide you with an above-average sound without disturbance even when increasing the volume or listening to music with loads of bass. Converting your records is easy as it is equipped with USB for transferring music to a PC while storing your old tunes to enjoy.
The retro system makes for great home entertainment with fine details with amber lighting found on the analog tuning dial and rotary control knob with an antiqued patina faceplate to complement and décor found in your home.
√ Check The Price and Read Customer Reviews √
Have an electrifying experience with the Electrohome Record Player
The Electrohome Wellington Record Player sound features and looks impressive and will leave you with an electrifying experience. A vintage look that meets modern technology and worth the money spent on it. It is a durable electronic turntable to listen to your collection of vinyl records and versatile to enjoy any type of music device. Order your record player now!
Here is a manual for Electrohome Wellington Record Player: Electrohome Wellington Record Player User Manual Download
In a case you don't like Electrohome Wellington Record Player, which is one of the best vintage turntables on a market today, you can always read something about some other vintage record players: Pyle PTCDCS32BT Retro Vintage Turntable Review or maybe Electrohome Signature Vinyl Record Player.
If you liked this article, please rate below.
(Visited 1,566 times, 1 visits today)