Jensen JTA-460 3-Speed Stereo Turntable with MP3 Encoding System and AM/FM Stereo Radio
This Jensen record player as one of the best turntables with MP3 encoder and FM/AM encoder sits in the middle of the stylish revolution. The user just needs to attach a flash drive or an SD card and start recording the best tracks of your choice without the need of connecting the computer to the turntable. Jensen JTA-460 is a 3-speed stereo turntable with built-in speakers that can be used anywhere.
Jensen JTA-460 Features
Disclaimer: If you purchase through links on our site, we may earn an affiliate commission. Read More
Jensen JTA-460 converts all your records to MP3 directly with a belt-driven 3-speed stereo turntable of around 33/45/78 RPM that provides excellent sound. This turntable under $100 has multiple functions that allow the user to repeat any folder that is randomly chosen because it has the specifications of skip, search, forward, back, intro and random play. All the music is delivered using the programmable memory that also has a bass boost. Jensen JTA-460 is compatible with SD, USB, and MMC slots. It has a multifunction blue backlit LCD that is very easy to use. Users who use Jensen JTA-460 can easily and quickly back up a complete record collection into an MP3 player for convenience and easy transportation.
The inbuilt FM/AM radio tuner for the Jensen JTA-460 has a digital frequency selector. It is also equipped with a remote control that helps the user operate the system from a distance making it convenient. The whole box of the package has the user guide, battery, remote control, Jensen JTA-460, warranty, dust cover, RCA line out jacks, power indicator.
Jensen JTA-460 Review
This Jensen 3 speed stereo turntable works like a standalone music system, and it is one of the recommended turntable found in the Amazon.com. The product is delivered through internal shipping, and a client gets it in less than 18 hours.
Sale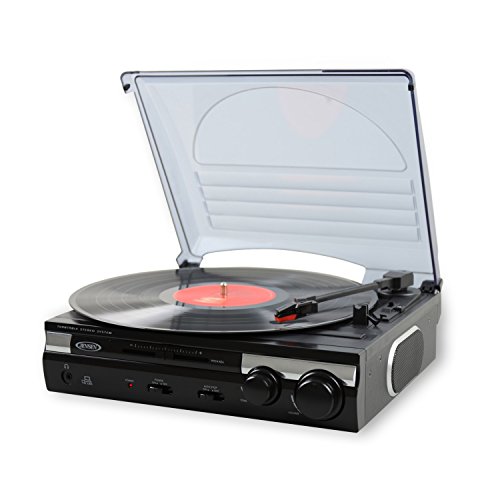 The speakers are loud and clear, and they can fit any small available space. The advantage of the Jensen JTA-460 that impress many clients is the fact that it uses SD memory, USB, or flashcard and not a software program like other systems. The price of the Jensen JTA-460 is reasonable since it is less than $100. Its power to convert old LP records to MP3 without any trouble is an excellent feature to buyers. The Jensen JTA-460 review shows that the product is very attractive just like a record player. The red and white outputs at the back with AUX port for the headphones or speakers make it decent compared to other systems. Jensen JTA-460 is more updated and does not skip any record of any age.
Some of the negative reviews from clients about Jensen JTA-460 are because it takes some time to play after the record button is pressed. The encoder of the system does not automatically split the tracks, but the manual guides advise recording a song manually by starting and stopping where required. Another issue that some clients identified were the speakers make a loud whirring noise when the motor starts and remains until the record player is turned off. Sometimes in between songs, the loud sound can still be heard which is very distracting. Some of the ordered Jensen JTA-460 were not very good and they skipped recorded songs making the clients return the product.
Jensen JTA-460 test and precautions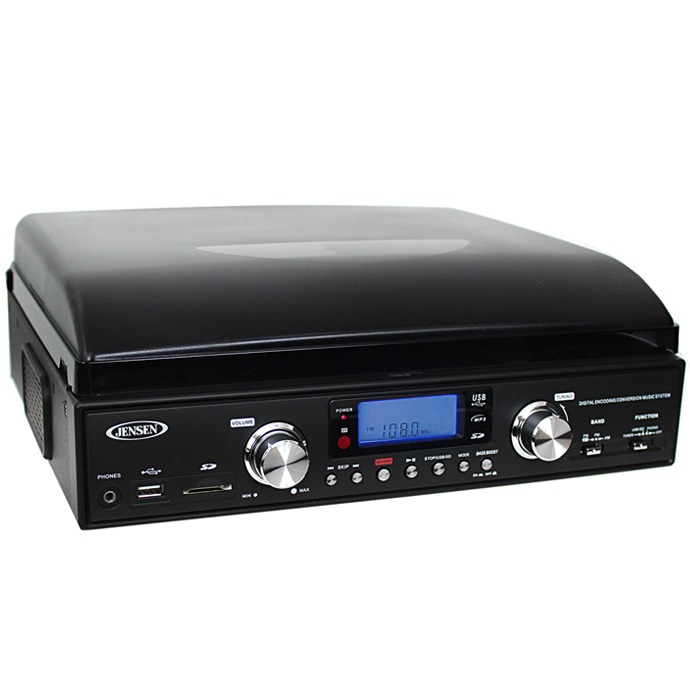 Jensen JTA-460 test shows that the product has been tested and found to comply with the required limits of class B digital devices that are designed to ensure that there is reasonable protection during residential installation and potential harmful interference. The users need to aware that Jensen JTA-460 test shows that the equipment can radiate radio frequency energy, and if it is not installed correctly by the provided instructions it can cause harmful interference to radio communications. Jensen JTA-460 has nonskid rubber feet that protect the equipment from movement when operating. The materials used for making the nonmigratory rubber is formulated in a way that it avoids leaving stains or marks on your furniture at home. For the Jensen JTA-460 system to work efficiently, the users should not install the equipment in humid, dusty, or moist places, close to radiating substances such as electric heaters or radiating substances, or places with the constant vibration.
√ Check The Price and Read Customer Reviews √
Conclusion
Jensen JTA-460 is probably the best record player under $100 that you can purchase for this amount of money and get the best quality of music. The Jensen JTA-460 unique specifications that attract the eyes of many customers are the ability of JTA-460 to convert vinyl to MP3 without a computer. As well as the use of USB, SD or MMC slot, FM and AM receiver with digital frequency, built-in stereo speakers, remote control, and belt-driven 3 speed stereo of 33/45/78 RPM. The client that requires replacement of any part of the Jensen JTA-460 just fills a replacement order form that enables them to get high-quality components of the speaker system. Most of the reviews from clients were impressive because the product delivers the quality that the customers are expecting. The features of converting old vinyl LP records were the most liked and recommended feature of the system while those who had cons about the product were disappointed by some of the Jensen JTA-460 inabilities of split the tracks automatically. As well as records taking some significant time to play after pressing the record button, and some speakers produced an irritating loud whirring noise as soon as the motor was engaged. The distracting sound was present in between the songs. The good news is any product with any defect can be returned to Amazon.com who returns to the manufacturer. Despite some setbacks, Jensen JTA-460 is still a decent product that you should test and you will never regret the quality of its sound.
Here is a link to Jensen JTA 460 manual: Jensen JTA 460 User Manual Download
If you are interested in some other turntables under $100, be sure to read Crosley CR8005A-TU Cruiser review.
We also have another one Jensen record player review on our website on this link: Jensen JTA 230 Review.
Pros
Looks quite impressive
Plays MP3 music through a USB
Record the vinyl or FM/AM
radio directly on the USB
in the MP3 format
AUX port
Built-in speakers
Good price
Cons
The tonearm sometime skips
The dust cover has a small back
opening, this allows the dust
to flow in and your records
can get really dusty
Jensen JTA-460 specifications:
DEVICE POWER
Nominal Voltage – AC 120 V

Frequency Required – 60 Hz
AUDIO SYSTEM
Type – audio system

Subcategory – audio systems, radios, karaoke

Functions – digital player, digital recorder, radio, turntable

Media Content Source – USB-host, flash memory card

Audio Formats – MP3

Sound Output Mode – stereo

Sound Effects – Bass Boost
MANUFACTURER
Brand – Jensen

Product Line – Jensen

Model – JTA-460

Packaged Quantity – 1
BUILT-IN DISPLAY
MISCELLANEOUS
TURNTABLE
Speeds Supported – 33.3 rpm, 45 rpm, 78 rpm

Drive Type – belt drive
RADIO
Tuner Type – analog

Tuner Bands – AM/FM

Additional Features – analog tuning with digital frequency readout
SPEAKER SYSTEM DETAILS
Speaker Type – main channel speaker

Speaker Qty – 2

Speaker Form Factor – built-in
FLASH MEMORY
Supported Flash Memory Cards – MultiMediaCard, SD Memory Card
CONNECTIONS
Type – USB, audio line-out, headphones

Connector Type – 4 pin USB Type A, RCA x 2, mini-phone stereo 3.5 mm

Connector Location – front, rear
DIMENSIONS&WEIGHT
Width – 13.7 in

Depth – 11.9 in

Height – 4.7 in
GENERAL
Manufacturer – Spectra Merchandising International
If you liked this article, please rate below.
(Visited 4,485 times, 1 visits today)