If you've always wondered how you can step into the world of high-end audio at the lowest cost, HiFiMan offers the answer in the form of the excellent HE4XX headphones. If you are heading towards buying these headphones maybe you first want to read our HiFiMan HE4XX review. HiFiMan 4XX are planar-magnetic, open-ended headphones based on its HE-400i HiFiMan, but it does bring a few modifications to its build quality and acoustic performance, making it an overall better, yet significantly cheaper. This is one of the cheapest entrances to the world of planar-magnetic headphones, but also high-quality sound.
Disclaimer: If you purchase through links on our site, we may earn an affiliate commission. Read More
The HiFiMan HE4XX are open-planar-magnetic headphones, built on the company's own HE-400i model, available for sale on Amazon. It should be noted that the main attraction of these headphones is that it is one of the cheapest entrances to the world of planar-magnetic loudspeaker drivers, and therefore to the world of high-quality sound reproduction.
As we know, most headphones have dynamic loudspeaker drivers, in which sound is generated by the movement of the membrane due to the action of a magnetic field. For planar-magnetic drivers, the sound is produced by linear vibration of a thin diaphragm, located between two magnets, whose magnetic field acts in a plane (planar) with the diaphragm. Because such a thin diaphragm can move much faster than a classic membrane, this kind of reproduction, in theory, results in a less distorted, more precise, and more natural sound. HiFiMan is not the only one making planar-magnetic headphones; they are also offered by Audeze, Fostex, Monoprice, Monolith, and (today retired) Oppo. None of their models, however, are cheaper than this HiFiMan model.
The Successor to the HE400i Model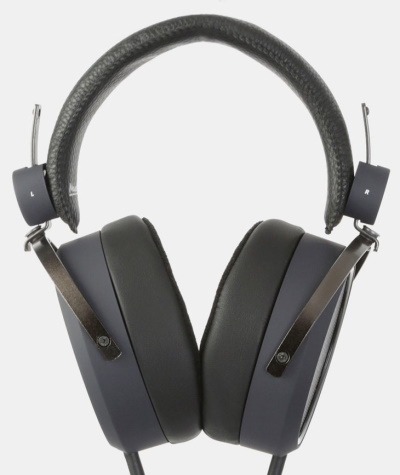 Although these headphones are based on the HE-400i, it is mostly a spiritual legacy, as the HE4XX is modified in appearance, construction quality, but also acoustic. Comfort is king for the HE4XX, which features HIFIMAN's Focus-A hybrid earpads: the best-feeling, best-sounding pads the company has to offer. The foam has extra cushioning and is specially angled for acoustics, and the part of the pad touching the ear is made of soft, luxurious velour. A revival of the original HIFIMAN style with some structural improvements, the headband is made of spring steel—so it can bend without losing its shape—and hand-stitched with breathable protein leather. Done in an exclusive midnight-blue colorway, the matte finish is soft to the touch and resistant to fingerprints. The attention to detail is evident throughout, down to the robust steel gimbals with a black oxide finish and matching Allen screws. The HE4XX can stand for many hours apiece, without starting to be uncomfortable or overheat.
The exterior of the ear shells is perforated and fully open, which means that the headphones transmit sound in both directions. Because of this, they are definitely not suitable for outdoor use or in a room where you may be disturbed by others (or others by you).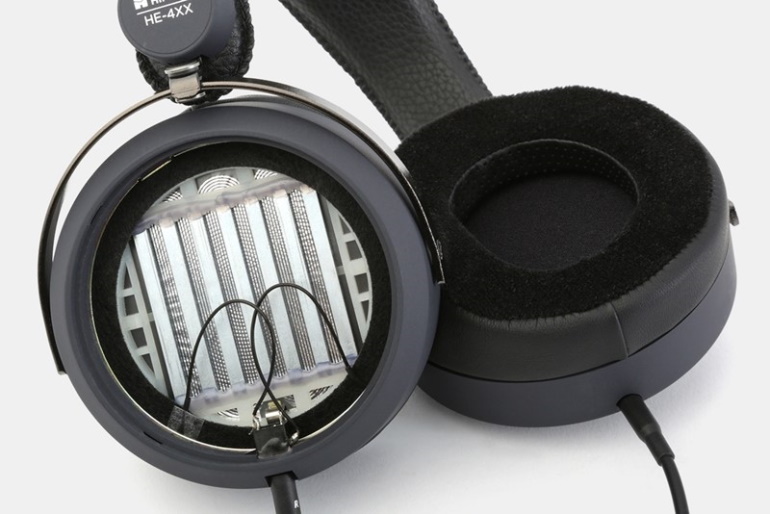 These are one of the cheapest headphones with planar-magnetic drivers, instead of the usual, dynamic ones
The cable is detachable, and it fits into both ears. It is fully rubberized and well protected. The place where two wires become one looks like highly shielded. It is terminated with a 3.5mm connector, which simply turns into a 6.35mm using the included adapter. It may be too short for some users because it is 1.5 meters long.
Before addressing acoustic performance, let's say that the HE4XX is relatively demanding in terms of the electronics that drive them. Planar-magnetic drivers generally require a bit more power to get enough volume, but let the declared impedance of 35 Ω not lead you down the wrong path – miniature amplifiers will not be sufficient. For example, the popular FiiO E10K is completely incapable to drive them at a satisfactory volume and with sufficient energy. You can also forget about cell phones.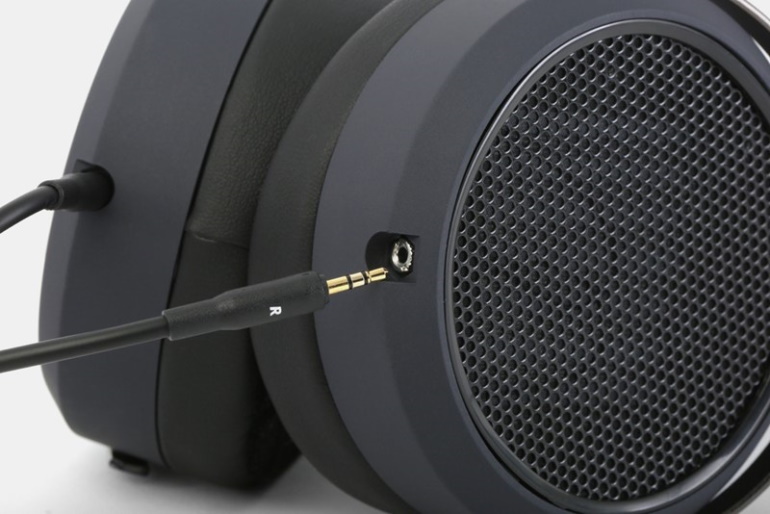 Both ear shells have a 2.5mm connector
But when they connect to an amplifier that can pair them – for the test, we used the NAD C326BEE, NAD D3020 V2, and Onkyo A-9010 – HiFiMan 4XX headphones immediately begin to show why they are so valuable and worth the money. They are characterized by a very clear, detailed, and airy sound. Playing vocals is great, whether it is male or female – both due to their naturalness and the fact that they never drown in the musical background, but regularly retain their distinctiveness. You could say that they were pushed forward a bit, but not so much as to lose the sound width and overall atmosphere in songs where the vocals were out of focus. Instruments – guitars, string instruments, drums, synthesizers, and more – sound equally good. The bass is fast and precise, but it has to be said that it lacks a particular depth and high presence in the lowest part of the frequency range, which may disturb some listeners. Fortunately, salvation comes in the form of excellent planar-magnetic unit behavior during equalization. If the amplifier has the ability to control the bass volume, use it to give the headphones some more depth – assuming you'll miss it at all.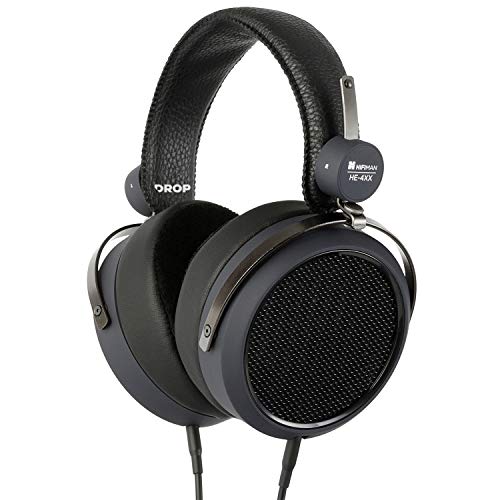 Drop + HIFIMAN HE4XX Planar Magnetic Over-ear Open-back Headphones,midnight-blue
Planar Magnetics like you've never seen before: many headphone companies...
Extremely versatile: a pair of high-efficiency, open-back Planar Magnetics...
Audio profile: the sound is smooth, engaging, and even across the frequency...
Premium aesthetic, Comfortable feel: Comfort is king for the HE4XX, which...
A Revival of the original: old school Hifiman style with some structural...
Changing The Pads
Another way to increase the bass perception of HiFiMan headphones is to replace the Focus-A Hybrid Ear Pads with others that would be even better in the face and, at least in theory, give the impression of deeper bass. Probably the most popular pads you should use to achieve this are Brainwavz HM5 pads, made of sheepskin, and available in perforated and non-perforated variants. In addition, you will need plastic rings that fix them, and you can get them directly by ordering from HiFiMan's US store or buying any HiFiMan genuine pads in Europe, from which you will then remove the necessary rings. Owners of the HE4XX swear that their Brainwavz HM5 pads have further smoothed out the high frequencies and further expanded the sound stage, but as we have not tried them ourselves, we cannot confirm that this is true. However, it is possible that it is, first of all, because these pads are thicker than the factory ones and therefore the speaker units are thus slightly further away from the ears.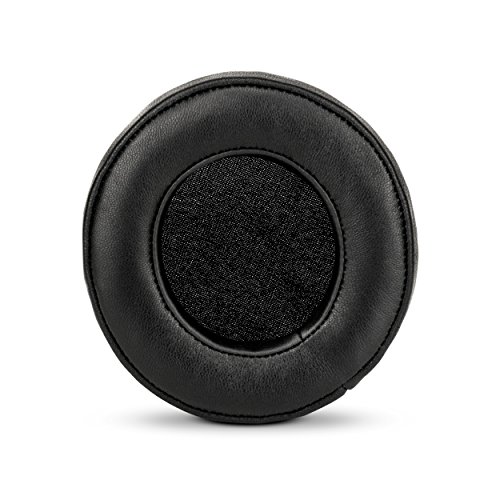 For other modifications, such as removing the dust filter from the driver and changing the outer grille on the ear shells, consult the audiophile forums, where you will find many such interventions, more and less meaningful.
Conclusion
The price of these headphones on Amazon is around $180. For that money, it is virtually impossible to find a model that can match their sound quality. Their acoustic performance, versatility (great for just about any genre of music and playing), but also susceptible to modification, could make HiFiMan HE4XX the only headphones you'll ever want to buy. An unreserved recommendation!
The user manual can be found here: HiFiMan HE4XX User manual
√ Check The Price and Read Customer Reviews √
Pros
Well balanced
Smooth sound
Deep, precise and controlled bass
Cons
Slight brightness up top
Considerable weight
HiFiMan HE4XX Specifications
Open principle

Planar magnetic drivers

The exclusive midnight-blue colorway, Soft-touch matte finish

Spring steel and hand-stitched protein leather headband

Focus-A hybrid ear pads with Adjustable sliders

Steel gimbals and Allen screws with black oxide finish

Silver printing with Laser-etched serialization

Frequency response: 20 Hz–35 kHz

Sensitivity: 93 dB

Impedance: 35 ohms

Cable: 4.9 ft (1.5 m), removable

Plug: ⅛ in (3.5 mm)

Weight: 13.1 oz (370 g)
Included:
⅛ in (3.5 mm) to ¼ in (6.35 mm) adapter
If you liked this article, please rate below.
(Visited 4,534 times, 1 visits today)