Klipsch R-15PM powered monitor speakers with USB-DAC and Bluetooth – rich sound for $ 300?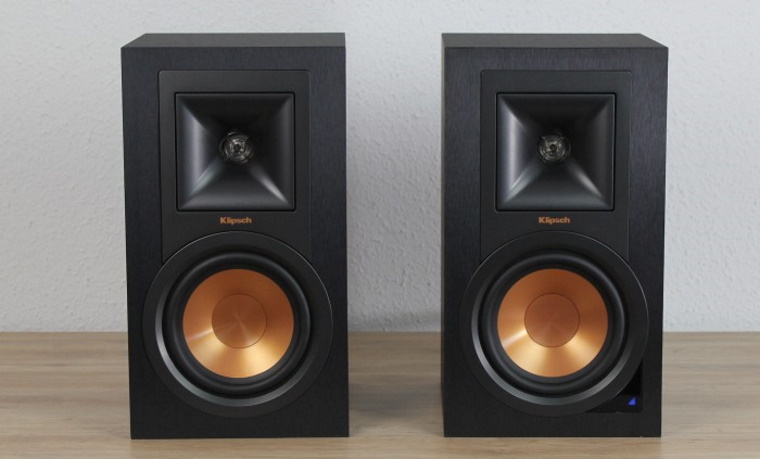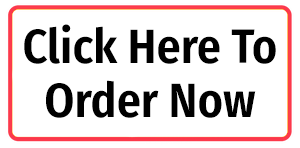 Klipsch now wants to stay in the business by offering an attractive product – active, compact multifunctional loudspeakers and is launching the R-15PM active monitors at a price of $ 300. Equipped with Bluetooth interface, optical digital input, USB-DAC for use as an external sound card with PC and Mac, cinch input (can even be used as a phono input via switch), 3.5 mm audio socket and pre-out for connection an active subwoofer, hardly leaves any wish unfulfilled. Unfortunately, Klipsch does not specify which bit rates and sampling frequencies the built-in USB DAC processes, so we had to check this using our Apple MacBook Pro (2015 model) and the Audirvana Plus player. The result: Klipsch does not have to be ashamed, because up to 96 kHz/24-bit are reproduced without restrictions.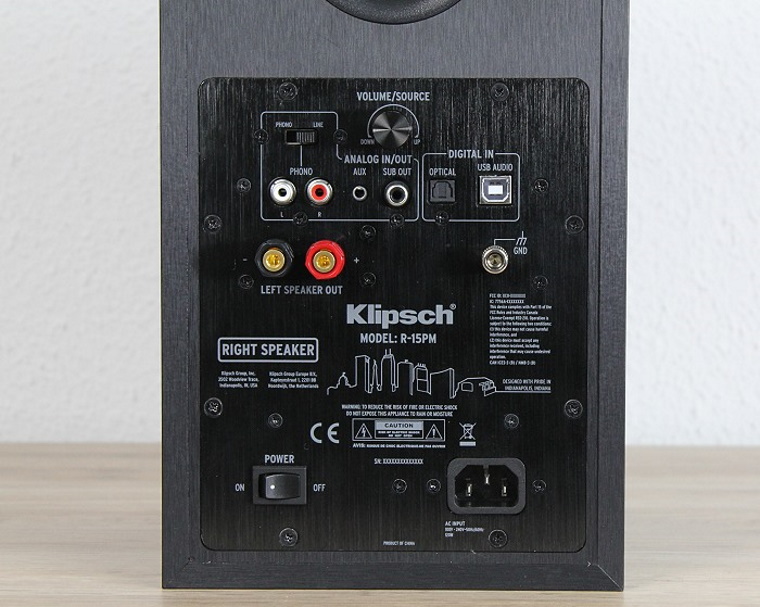 Only one of the two speakers supplied is active. The 50-watt amplifiers are installed in the right box. The passive left speaker is then connected using a commercially available speaker cable. Typical for Klipsch speakers, an aluminum tweeter (2.54 cm) with Tractrix horn attachment is also here. A 13.3 cm bass-midrange driver with Klipsch-specific copper-coated cone complements the range. The frequency response ranges from 62 Hz to 24 kHz (at +/- 3 dB), if you want more depth, simply connect an active subwoofer to the intended output. Due to the rather small dimensions (31.8 cm high, 17.8 cm wide, 20.6 cm deep), the possibilities of the R-15PM in the deep bass range are of course limited.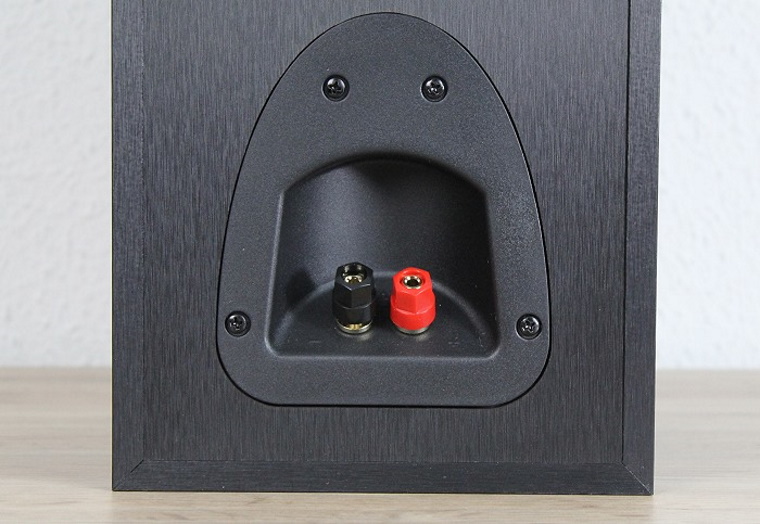 The housing is made of MDF, which is foiled in the "Brushed Black Polymer Veneer" finish. We already know this from other Klipsch speakers. The foiling is neat and looks good. We can not fully approve of the very sharp corners of the case. With all sympathy for an "edgy" and distinctive design, rounded corners could perhaps be considered here.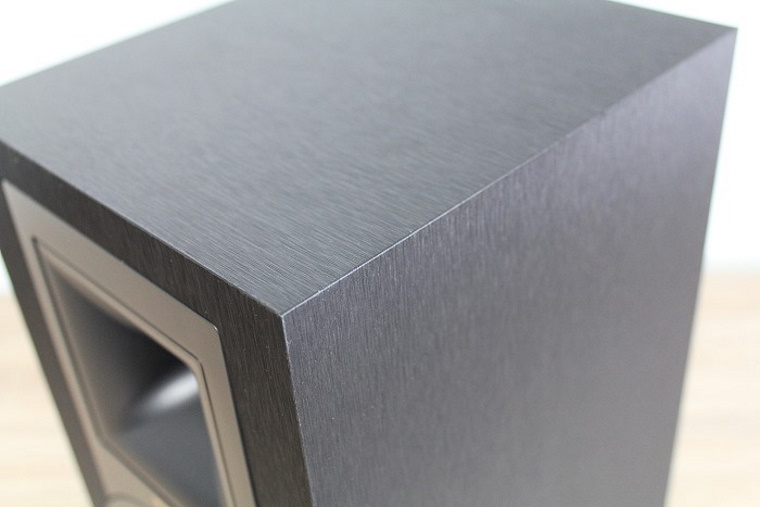 What is positive: The loudspeaker chassis are fitted without any visible screws, and the gap dimensions on the front of the Klipsch loudspeakers are the same – the titanium-colored cover inside which the tweeters and bass-midrange drivers are fitted.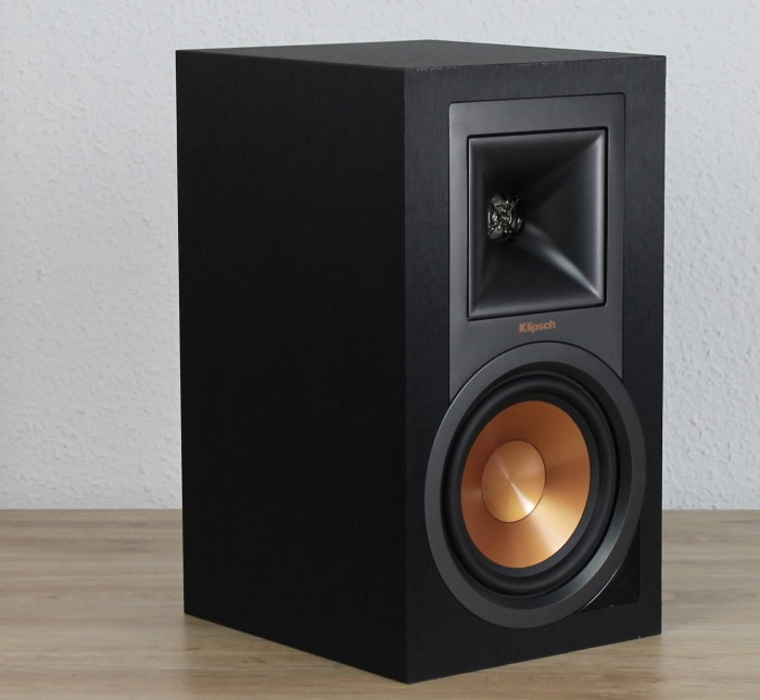 The delivery package includes a remote control in credit card format with membrane keys, which is, however, visually very chic and works very well with the boxes in practice.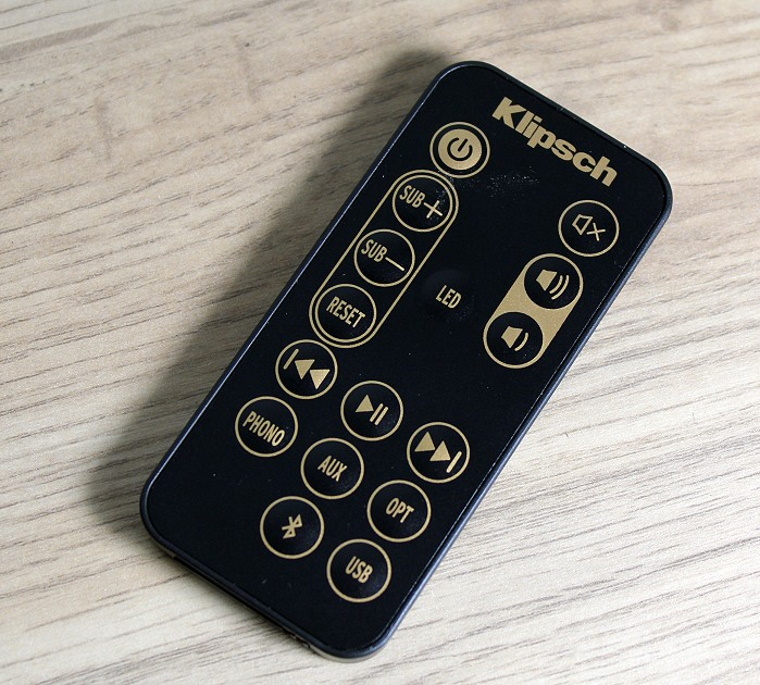 How do we see the Klipsch active box so far? Based on our previous experience, we can consider the pair price as very fair. Here are our pros and cons:
Pros:
Excellent connection equipment
USB-DAC processes with 96/24
2 x 50 watts of ample amplifier power
Horn attachment for best efficiency
Compact dimensions for high flexibility in housing
Solid workmanship
Favorable purchase price
Cons:
Pointed case corners and sharp edges
Only one color version available
Now we come to what is actually interesting – what does the pair of R-15PM sound like?
Klipsch R-15PM Sound Test
And we don't make it easy for these active speakers right from the start. Wolfgang Amadeus Mozart's Violin Concerto No. 4 in D major (FLAC 96/24), 1st Allegro, should be reproduced accurately. Klipsch and classic music? Always fond of rock or pop music, but classical, and still in HiRes quality? We were excited, but are now pleasantly surprised. Because what the two compact boxes do here is anything but bad. The resolution is quite appealing, the strings are presented with good tracking. Certainly, you shouldn't expect the maximum here, but the clearness is very good. The room in the high-frequency range is also really flawless. Structures in the overall orchestral use are presented well. The two loudspeakers work out smaller dynamic differences with surprising impulse accuracy. In addition, the sound is not too shrill, even at high levels – this used to be a significant problem for many Klipsch speakers. The transitions between the high, mid, and low ranges are fluid so that the overall sound appears quite homogeneous and pleasing.
Sale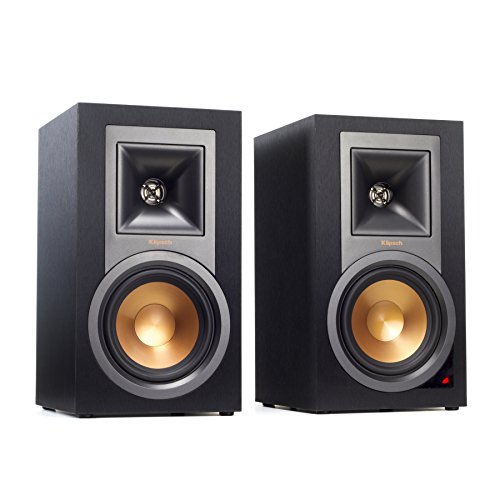 Klipsch R-15PM Powered Monitor - Black (Pair)
The R-15PM powered monitors deliver room-filling sound without taking up...
1 x pair of RCA phono level inputs with switch for Phono/Line input...
1 x USB digital audio from a PC or Mac single RCA line level output for...
1 x Digital optical, 1 x 3.5mm mini jack line level, Full featured IR...
How do "Desperado" and "Don't Dream It's Over" (FLAC 48/24) in the adaptation by Diana Krall (from the album "Wallflower") sound? Here, too, the two Klipsch speakers don't disappoint. The beginning of "Desperado" comes into its own in a pleasant way. The voice reproduction is really good. For $ 300, the performance of these speakers is great. And those who always took the view that Klipsch speakers act extremely dynamically and emphatically, but are less suitable for serious tasks, should rethink. It is a real pleasure to hear these two songs on Klipsch R-15PM. The separation of voices and instruments is also flawless. "Don't Dream It's Over" also scores with clean incorporation of the piano. Of course, you cannot expect to hear the touch response of the keys perfectly, because there is a lack of detail. But if you also consider the price range for this factor, you can be extremely satisfied with the performance offered. The two Klipsch speakers can also deliver the tight and relatively precise bass. The ability to differentiate is not always convincing – voices and instruments are still well separated even at higher levels, but some of the individual instruments "blend" somewhat.
Torsten Goods "Freedom Every Day" in FLAC 88.2/24 proves once again: The Klipsch R-15PM can handle voices excellently. Emotional, lively, fresh – everything fits here. The entire USB work of the speakers leaves an absolutely convincing impression. The R-15PM are recognized immediately by PC (under Windows 7) and Mac (OS Yosemite), no separate driver installation is necessary. With the Audirvana Plus Player, the Klipsch were immediately available as an audio playback device. On the Windows PC, we use WinAmp as a software player. However, we listened to all HiRes examples via Audirvana Plus and the MacBook.
"Diamante" (96/24 FLAC) by Sandra and Tony Alessi was the next song. Vocal reproduction, especially with Tony when he raises his voice, quickly becomes too shrill and distortions tend to occur at higher volumes. How are the R-15PM doing here? If you listen at a higher level, the two compact speakers stay on the safe side. Only when it gets really loud does a shrill component mix into the sound. Otherwise, we also note very good results here. The sound is fresh and lively, the space appears authentic. The transitions between the individual frequency ranges are also fluid here, giving the impression of a complete sound image. It should be clear that speakers with more housing volume and larger drivers can develop more depth and emphasis in the bass range. Nevertheless, what the two R-15PMs do is sufficient for most potential users without any problems, we are pretty sure. If you are "bass hungry", we refer to this again, you can also connect an active subwoofer. We recommend the Klipsch R-10SW, this bass player leaves nothing to be desired at a fair purchase price.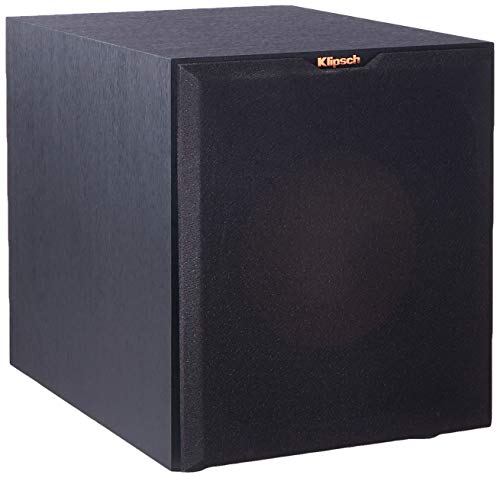 Klipsch Reference R-10SW 10" 300w Powered Subwoofer (Black)
Powerful 10" copper-spun front-firing woofer
All-digital amplifier delivers 300 watts of dynamic power
Equally impressive with music and movies
Low pass crossover and phase control,Dimensions:14(H) x 12.5(W) x 15.7(D)...
Line/LFE inputs for compatibility with most receivers
The two Klipsch boxes also have no problems with the material in CD quality. "Love In Portofino" by Andrea Bocelli convinces with amazing volume, a very direct, unfiltered reproduction and a lot of flairs. Honestly – we never thought that we would hear this quality from these speakers. We also like "Senza Fine" (also from Andrea Bocelli's album "Passione"). It is striking how well the two speakers surround the listener with a dense sound and include the listener in the sound.
How well does the Bluetooth connection work? Pairing with a smartphone or tablet is very easy. You press the button marked with the Bluetooth symbol on the remote control a little longer, a tone is heard and the blue LED in Bluetooth mode in the lower right corner of the master loudspeaker flashes rapidly. Then the speakers appear in the BT devices menu of the smartphone/tablet, and you can pair them.
We are now listening to the current club hit "California Dreaming" in the remix of Calvo. For the compact case, the bass range is extremely good – quite powerful, precise, solidly graded – a top performance. Typical of Klipsch is the very good coarse dynamics and the excellent level of stability. The vocals are convincing, the structure of the track is easy to understand at any time. The "new edition" of the Gigi D'Agostino classic "L'Amour Toujours" by Dzeko & Torres in the Tiesto Edit is also reproduced with good emphasis and an impeccable spatial effect. There is real listening fun again, the two R-15PM proves to be a full-fledged solution even for the smaller living room. The sound lacks anything superficial or poor – strong, lively, dynamic, but also pleasant to hear – further proof that the R-15PM pair is a really good buy.
Our Pros & Cons Arguments For Sound Quality:
Pros:
Level stability very good
Enormously dynamic
Sounded mostly pleasant even at increased volume
Surprisingly good detailing
Amazingly good voice reproduction
Authentic space
Cons:
At high levels, the ability to differentiate between different instruments suffers
Sound stage, of course, limited due to the compact dimensions
Conclusion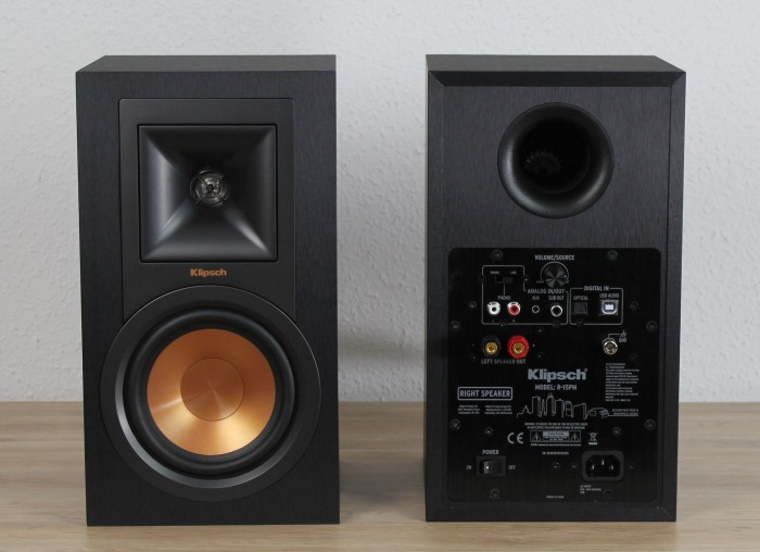 The Klipsch engineers made this brilliant – the R-15PM can confidently serve as a prime example of an excellent, inexpensive and fully equipped active speakers. As is usually the case, one speaker is the active "master" speaker, while the other box takes on the passive "slave" role. But we shouldn't care any further – because the performance is convincing in every detail. Perfect connection equipment including USB-DAC up to 96/24 and Bluetooth, stable BT connection, very good cooperation with the compact remote control, and excellent acoustics – what more could you expect for $ 300? Level-stable, excellent in terms of gross dynamics, but also absolutely top-notch in terms of factors such as fine dynamics, fulfilling of the room, and voice reproduction – the Klipsch  R-15PM could develop into a threat for the competition.
The user manual can be found here: Klipsch R-15PM User Manual
√ Check The Price and Read Customer Reviews √
Klipsch R-15PM
Pros
Very easy to set up
Sharp and a natural sound
Solid performance
Phono input will be of interest to fans of vinyl new and old
Excellent looks and build quality (except for the plastic remote)
Cons
If you're having a party in a large room, you might want to look at something with a beefier amp
Lean on bass, seem to be voiced to work with a subwoofer
All the cables connect to one speaker unit
Klipsch R-15PM Specifications
FREQUENCY RESPONSE: 62Hz – 24kHz +/- 3d
BLOW FREQUENCY EXTENSION: 54Hz
CROSSOVER FREQUENCY:1800Hz
HIGH-FREQUENCY DRIVER: 1″ (2.54cm) Aluminum diaphragm compression driver mated to 90° x 90° square Tractrix Horn
LOW-FREQUENCY DRIVER: 5.25″ (13.3cm), copper spun magnetically shielded IMG woofer
AMPLIFIER POWER: 50 Watts per channel
ENCLOSURE MATERIAL: MDF
ENCLOSURE TYPE: Bass-reflex via rear-firing port
INPUTS: 1 x pair of RCA phono level inputs with switch for Phono/Line input versatility (Phono Preamp with ground screw terminal), 1 x USB digital audio from a PC or Mac single RCA line level output for connection to sub, 1 x Digital optical, 1 x 3.5mm mini-jack line level, Bluetooth® wireless technology
HEIGHT: 12.5″ (31.8cm)WIDTH7" (17.8cm)DEPTH8.11" (20.6 m)
WEIGHT: 10.3 lbs (4.67kg)
FINISH: Brushed Black Polymer Veneer
If you liked this article, please rate below.
(Visited 6,160 times, 1 visits today)