Stanton ST-150 Turntable Review
Today we will write something about not so popular turntable in our Stanton ST-150 review article.
If you are looking for a professional vinyl turntable we have the best deal right here – the Stanton ST-150. It has a superb motor and great for getting back to your vinyl record roots with a deck made for both DJs and home entertainment and been around for a while. Modeled in the form of the old Technics SL-1200 that is still one of the best oldies on the market, although not in production anymore. It has improved functions and classified as a Super-OEM – one of the best record players presently sold in the market.
Disclaimer: If you purchase through links on our site, we may earn an affiliate commission. Read More
This lack of a dust cover can be easily solved with additional buying of a Decksaver Stanton ST-150 Turntable Cover, like in the picture below: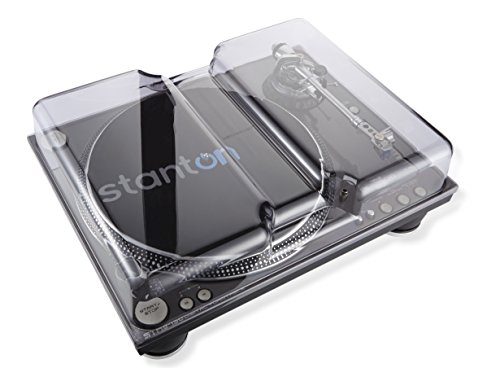 Decksaver Stanton ST-150/STR8-150 DJ Turntable Cover
Cover shields faders and knobs from dust, liquids and other damaging...
Designed to fit the Stanton ST-150 and STR8-150 DJ turntables
Strong, attractive protection for your console
Made of polycarbonate. a plastic used in bullet proof glass
Covers while cables remain connected
For a beginner in becoming a turntablist, the Stanton ST-150 is a great scratching machine and saves you loads of headaches compared to the Audio Technica AT-LP1240 that does not come with a pre-installed cartridge. Installing a cartridge is not a simple task and you will need to invest some time and patience in learning how to do this. Where the ST-150 has an installed cartridge, making life simpler.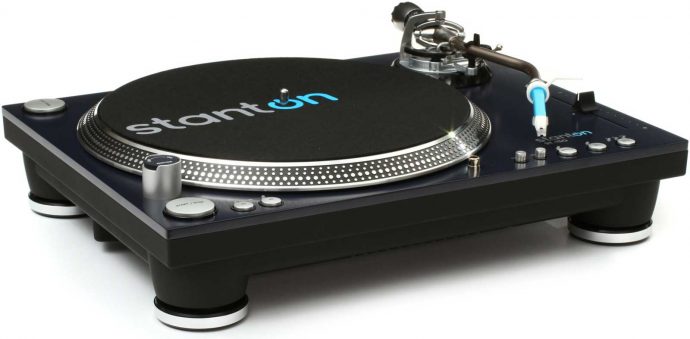 A Heavyweight Turntable
As the vinyl turntable comes with steel construction and lower heavy rubber construction to help dampen and isolate sound when used, it is a durable deck packed with superb components and built to last.
It has a heavy-duty 4.5 KG motor with the ability to play three different speeds when using vinyl 33, 45, and 78 RPM. It has a reverse play, a separate start/stop speed adjustment knobs, internal power grounding, adjustable pitch range buttons, a replaceable pop-up light, 2 starts/stop buttons aligned perfectly, and rubber feet.
To stop this, you receive a felt slip mat to get you started and prevent slippage while scratching. It has a great s-shaped tonearm with superb button placement and comes with a pitch slider providing great quality sound when used. The only concern is that it does not come with a USB port allowing you to copy your oldies to your computer.
Although you can plug it straight into a CD-R as it has a digital output and key correction with the motor off feature. The provided feet are adjustable to the height you need and a great turntable for its price.
√ Check The Price and Read Customer Reviews √
Conclusion
If you are a Turntablist or DJ and serious about music the Stanton ST-150 is a dream come true making your craft superb when used. They are the best for beginners and professionals as it has a heavy built construction, easy to use, heavy-duty motor with the superb build made for both DJs, Turntablists, and home entertainment as one can connect it directly to your home entertainment center and enjoy some great vinyl music while relaxing. As a conclusion, we can tell that this is one of the best turntables under 1000 $ that money can buy.
If you want to know more about Stanton ST-150 turntable, here is a manual to read/download: Stanton ST-150 User Manual
Pros
Designed with an all-steel
construction providing
durability when used
Has a high-torque direct-drive motor
Comes mounted with a
Stanton 680.V3 cartridge
and slip mat
Standard turntable for both:
scratching and listening to vinyl's
Cons
No dust cover
No USB port included
Stanton ST-150 Turntable Features & Specifications:
World's strongest torque motor (4.5 Kgf-cm)
Heavy-duty steel construction
Ultra stable platter and tonearm
Includes Stanton 680HP cartridge
Start/Brake speed adjustment
Digital output [S/PDIF] plug straight into CD-R or computer sound card
Key correction
Selectable phono or line output (key correction works on line output only)
Dual start/stop buttons
Height adjustable tonearm
Reverse play
3 speeds [33, 45, 78]
Quartz lock
Selectable pitch control [+/-8%,+/-25%,+/-50%]
Motor off feature
Removable target light
Adjustable feet
Includes slipmat and "L" shaped cables
If you liked this article, please rate below.
(Visited 12,633 times, 2 visits today)