Audioengine A2+ Powered Speakers Review
Beautiful Design With Clear, Warm Sound – Audioengine A2 + Review
Disclaimer: If you purchase through links on our site, we may earn an affiliate commission. Read More
A new version of the very popular A2 + speakers from Audioengine company, A2 + Wireless brings equally warm sound and simple design, but with added practical features. Priced at $ 269, A2 + wireless speakers from Audioengine are designed for small rooms and to pair with desktops. These speakers are compact and easy to set up while delivering powerful sound. With a height of 15 cm, a width of 10 cm and a depth of 13.3 cm, these speakers easily fit on a desk or shelf in a small room, and with multiple inputs, you can use them almost anywhere.
Unboxing Audioengine A2+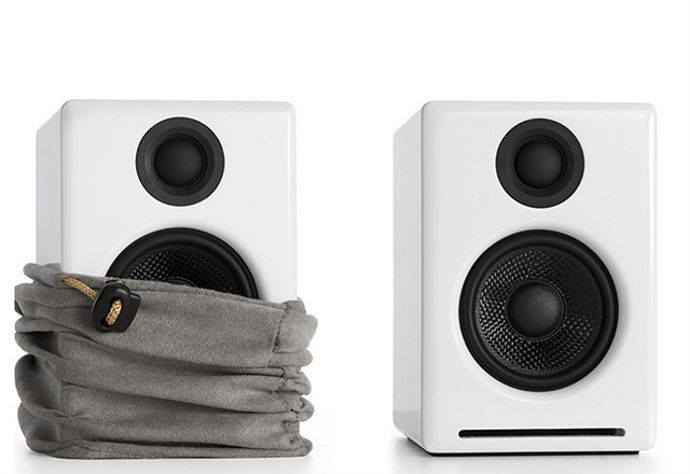 Audioengine made sure that A2 + speakers act as a high-quality product, judging by the packaging. After you open the box you come across two soft bags containing accessories for these speakers. Below you will find speakers and some paperwork. The speakers also come in a soft bag and are well coated to protect their clean, modern design. Inside the accessory, the bag is everything you need to connect and empower these speakers. Setting up is simple without the necessary cables. The multitude of ways you can connect these speakers gives you many options for creative settings.
Audioengine A2+ Design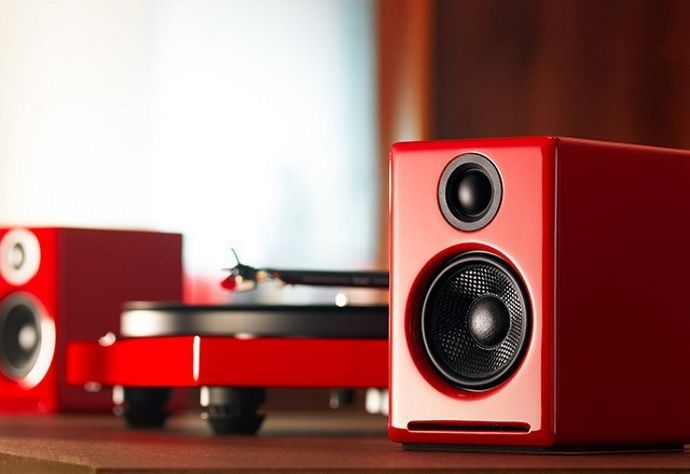 Audioengine has always had beautiful products. The stylish, clean A2 + wireless speaker design is available in three colors. Black, red and bright white. The 2.75-inch and 0.75-inch drivers paired with the perfectly crafted bass reflex port on the front look good and deliver impressively powerful sound with 60W max power. On the back of the left speaker are all the inputs and outputs. The volume dial, RCA input, and output, 3.5mm headphone jack, USB port, Bluetooth connect button, and right speaker outputs provide plenty of options for connecting to A2 + Wireless speakers.
Key Features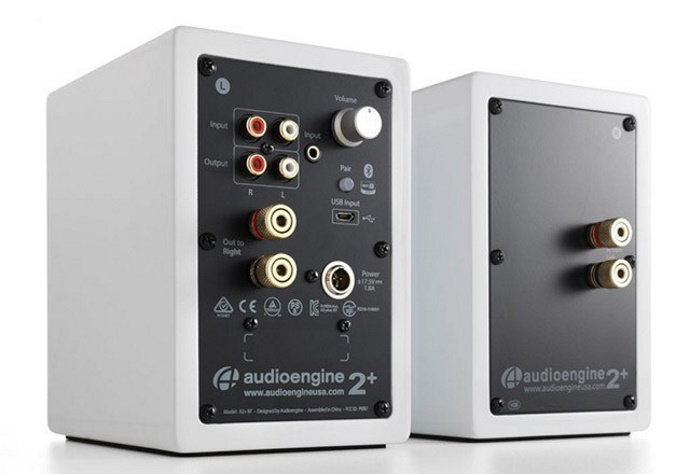 Bluetooth 5.0 and aptX are the main features that separate the wireless version of A2 + speakers from the older version. In addition to RCA inputs, USB ports and 3.5mm headphone inputs, the addition of Bluetooth technology makes A2 + wireless speakers as easy as possible to connect to almost any device.
Sound Test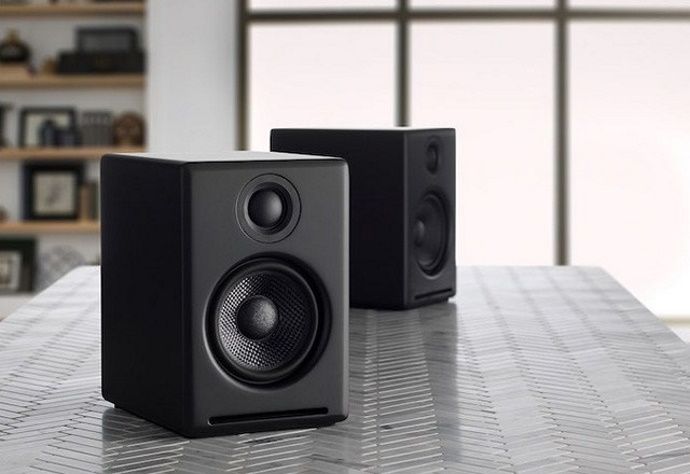 For their size, the A2 + wireless speakers deliver a really impressive sound. One thing that makes Audioengine stand out is the use of fully analog A / B class amplifiers. This is pretty unique for desktop speakers in this price range and this size and thus received praise as a great pair of speakers. Clear, warm sound is delivered through a 65 Hz to 22 kHz frequency response. A2 + wireless speakers handle the bass quite well given the small driver size, but if you want deeper sound you can always add the Audioengine S8 subwoofer and take the sound to new depths.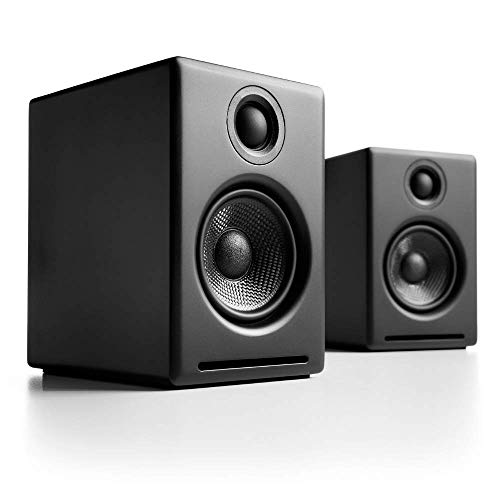 Custom-Built
Audioengine designs and manufactures our own tweeters, woofers, and other critical components. In other words, these are not "box built" speakers with off-the-shelf parts but custom-designed to our specifications. What we do not fabricate directly in our factory we have made to our designs (parts such as transformers, magnets, and wiring harnesses, for example). The cabinets, drivers, bass port designs, amplifiers, and crossovers are all painstakingly tuned together for each Audioengine model. This, in turn, makes for a much more efficient system that requires much less power than passive speakers and a separate integrated amplifier or similar A/V components.
Drivers
Audioengine uses audiophile-quality, ferrofluid-cooled silk dome tweeters with neodymium magnets. Silk tweeters hold up well under high power and the edge-driven design gives very smooth response. The woofers are aramid fiber woven glass composite with rubber surrounds. Aramid fiber is obviously very strong, which means that the woofer retains its shape when being driven at high levels. The speaker materials and construction are robust enough to stand up to some serious thrashing, so speaker grills aren't needed and they will sound and look great after many years of use.
Power Amplifiers
The amplifiers in Audioengine speakers are located in the left speaker and are a conservatively rated analog design. All components are tuned together for each model, which provides a much more efficient system requiring less power than passive speakers and separate amplifiers. Circuit boards for the power and preamp sections are mounted for maximum mechanical shock protection.
Power Transformers
Power transformers are a large contributor to the overall audio performance, especially in the low end. Again, no off-the-shelf parts. Audioengine uses gapless core toroidal transformers which have a tighter radiated magnetic field, directly translating to lower noise. They are lighter than standard, lower-cost "EI" transformers and also generate less heat.
Shielding
Both drivers are directly video shielded and allow the user to place the speakers within a few inches of a video monitor. This shielding also offers protection for hard-drive digital music players.
Based on Studio Monitor Designs
Studio monitor speakers are used by producers and engineers in recording and production studios. They are designed with a theoretical flat frequency response which allows the engineer to create a final mix in such a way that the recorded music will sound good on most other speakers. Although Audioengine speakers are not designed to be up-close "nearfield" studio monitors, we do carry over much of the same higher-end technology, components, and design philosophy for Audioengine speakers.
Cabinets
To minimize unwanted resonances and distortion, Audioengine cabinets have thick high-resin MDF walls with extensive internal bracing. Heavy internal sound-damping material is used to reduce unwanted sound reflections inside the cabinet. All cabinet edges are rounded which look great and reduce high-frequency diffraction effects on the front baffles. Each cabinet contains tuned front-port slots. Both speakers are tuned and tested together and sold in pairs.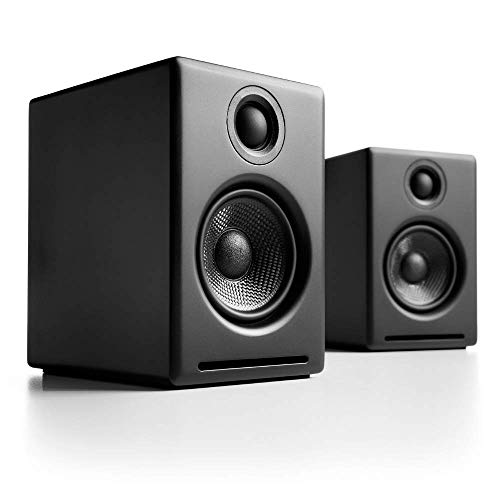 √ Check The Price and Read Customer Reviews √
Conclusion
If you're looking for a high-quality speaker pair for your desk or small room, A2 + Wireless are a great choice. Their impressively warm sound, combined with the multitude of inputs, guarantees that you will find a use for them even if you get bigger speakers at some point, and their beautiful design fits perfectly with the setting on any desk or in any small room. Of course, you can still get the cable version, without Bluetooth integration, for $ 299 here: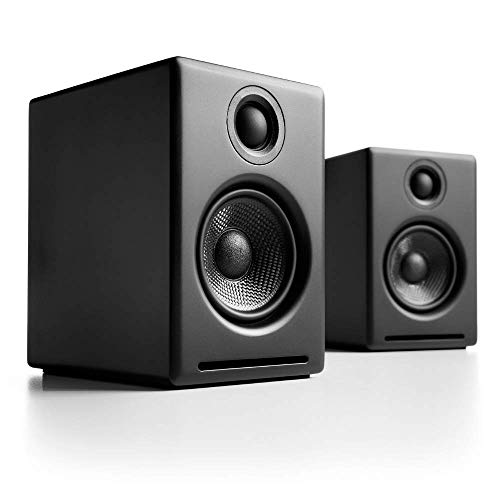 You can find a manual here: Audio Engine A2+ User Manual
Pros
Compact
Attractive style
A lot of power
Stereo speakers
Impressive sound for its size
Internal DAC and USB connection
for purer audio playback
Excellent sound quality,
especially bass
Dual input options
Rear connectors well laid out
Cons
Lack a remote control
Volume and power switch
on the back
Wireless streaming only available
with an additional accessory
Lack of bass
There's no way to toggle
between inputs
Pricey compared with less refined
PC speakers
Audioengine A2+ Specifications:
General Specifications:
Type: 2.0 powered (active) multimedia desktop speaker system
Amplifier type: Dual-class AB monolithic
Power output: 60W peak power total (15W RMS / 30W peak per channel), AES
Drivers: 2.75″ aramid fiber woofers, 3/4" silk dome tweeters
Inputs: 3.5mm stereo mini-jack, RCA, USB
Outputs: RCA variable line-out
Input voltages: 100-240V 50/60Hz auto-switching
SNR: >95dB (typical A-weighted)
THD+N: <0.05% at all power settings
Crosstalk: -50dB
Freq. response: 65Hz-22kHz ±2.0dB
Input impedance: 10K ohms unbalanced
Protection: Output current limiting, thermal over-temperature, power on/off transient protection
USB Specifications:
Connector type: USB type-B
USB device class: type 1.1 or above
Internal D/A converter: TI/Burr Brown PCM2704C
Input bit depth: up to 16 bits native
Input sample rate: up to 48KHz native
Weights and Measures:
Dimensions (each): 6"(H) x 4"(W) x 5.25"(D)
Weight (LEFT speaker): 1.6Kg/3.55lbs
Weight (RIGHT speaker): 1.4Kg/3.15lbs
Shipping weight: 4.6kg/10lbs per pair
Shipping box dims: 10.5" (H) x 15" (L) x 7" (W)
Audioengine A2+ Features:
Finish Options
Satin Black Paint
Hi-Gloss White Paint
Hi-Gloss Red Paint
Environmental Requirements
Operating temperature: 32° to 95° F
Non-operating temperature: -4° to 113° F
Relative humidity: 5% to 95% non-condensing
Materials and Construction
6.35mm thick MDF cabinets
3/4″ silk dome tweeters with neodymium magnets
2.75″ aramid fiber woofers with advanced voice coils
Included Accessories
Speaker wire (16AWG), 2 meters (~6.5 feet)
Power supply
AC power cord
Mini-jack audio cable, 1.5 meters (~5 feet)
USB cable, 1.5 meters (~5 feet)
Microfiber speaker bags
Microfiber power supply bag
Microfiber cable bag
Setup guide
Product line brochure
If you liked this article, please rate below.
(Visited 3,533 times, 1 visits today)