Audioquest Dragonfly Red Review
From the moment they appeared on the market, AudioQuest's digital-to-analog converters with built-in headphone amplifiers are the favorites of critics and audiences. Finally, we had the opportunity to test one of them – AudioQuest DragonFly Red.
Disclaimer: If you purchase through links on our site, we may earn an affiliate commission. Read More
FEATURES:
Type: DAC with Headphone Amplifier
DAC: ESS Saber 9016 (24-bit / 96kHz)
Connectors: 1x 3.5 mm (headphones / line output)
Interface: USB
Warranty: 2 years
Audioquest Dragonfly Red Review:
We tested the more expensive DragonFly Red, which, with a price of $ 200, targets the middle and higher class headphone owners, especially the models that require more power. Due to its outputs of 2.1 V and 135 mW (at 32 Ω) per channel, you will have to try hard to find the headphones that DragonFly Red will not run at sufficient volume. On most headphones, we used to test (Sennheiser HD 660 S, Oppo PM-3, Philips Fidelio X2) we did not feel the need to raise the volume to more than 45 to 50% of the total range, as we would risk hearing damage. Only the HiFiMan model HE4XX has driven up to 65-70% volume because its planar-magnetic units are relatively demanding for the power. For example, a FiiO E10K, a very popular DAC with a headphone amplifier, can not even drive them at a satisfactory volume level at all. We only mention headphones, but both DragonFly models can also drive active speakers. In order for their 3.5-mm connector to work as a line output, it is necessary to increase the volume in the operating system and the music listening application to the maximum, after which the volume level is regulated on the speakers themselves. When used in this way DragonFly works only as a digital-to-analog converter – the amplification of the converted, analog signal is performed by the amplifier in the speakers.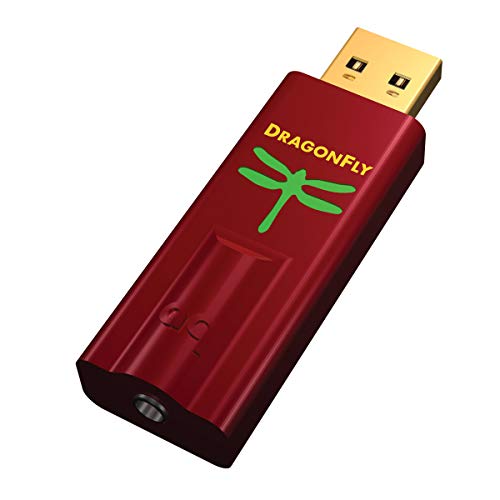 AudioQuest - DragonFly Red USB DAC/Headphone Amplifier
32-Bit SABRE DAC
2.1v Output Drives Almost Any Headphones
Works With Apple and Android devices when paired with a simple adapter
Plays everything from MP3s to 24-bit/96kHz high-resolution files
This versatile DAC improves everything – detail transparency immediacy...
The power of the headphone amplifier is also the fundamental aspect in which the DragonFly Red differs from exactly half cheaper DragonFly Black ($ 100). The amplifier of a Red model is approximately three times more powerful. Black also has a different DAC – ESS Saber 9010, compared to the ESS Saber 9016 in the Red model – although their maximum depth and resolution are the same: 24 bits and 96 kHz. Although DragonFly Black we did not listen and we can not judge its acoustical performance, technical specifications suggest that it is a better choice for headphone class to approximately $ 200, most of which have relatively high sensitivity and reasonable amplification requirements.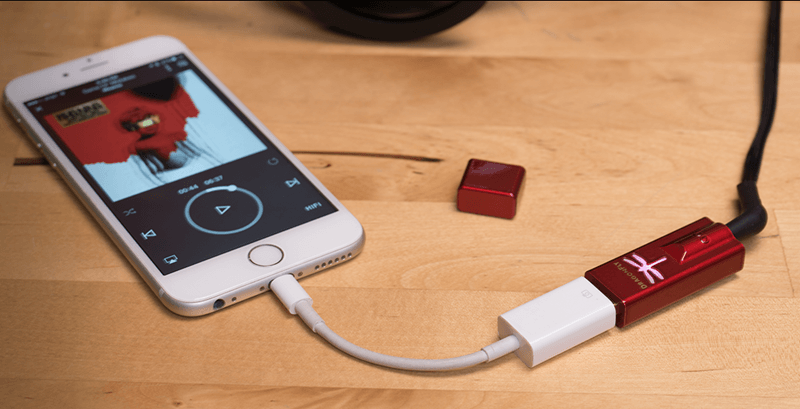 Using the appropriate OTG adapter, which can be bought in the bundle with Dragonfly Red or also purchased separately, the DragonFly Red can be connected to a mobile phone.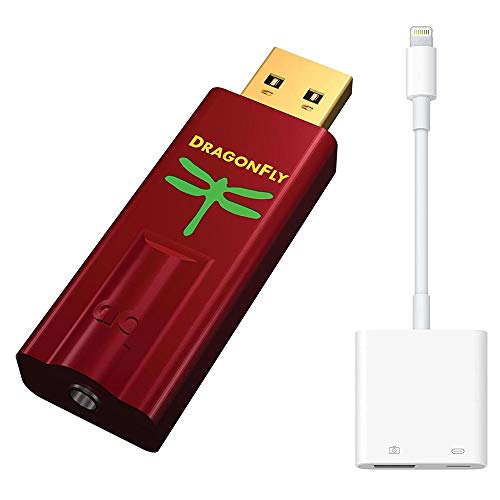 Let's go back to DragonFly Red Review. The biggest potential "disadvantage" of this device is that it looks like the most common USB stick. The dimensions are the same, and it is also a plastic casing; Only the built-in 3.5-millimeter audio output can suggest that this is something more serious. Why do we mention this as a potential disadvantage? Because a part of potential buyers will surely be sorry to pay $ 200 for a piece of acoustic hardware that does not have a specific mass, a large volume knob, and at least a few inputs and outputs. Everything the DragonFly Red has, except for the mentioned 3.5-millimeter output, is an illuminating dragonfly silhouette cut out on the top of the unit. The color of the dragonfly symbolizes the selected pattern – it will be green for 44.1 kHz, 48 kHz for blue, 88.2 kHz for orange, and 96 kHz for pink.
However, we suggest that you release the prejudice because the shape and look of the DragonFly Order are like they are with a reason. In addition to being designed as an instant upgrade to the acoustic performance of any desktop or laptop, it can also be connected to mobile phones by using a standard OTG adapter (or Apple's Lightning to USB Camera Adapter if you own an iPhone/iPad). In all cases, the DragonFly Red works without any additional drivers. If you want you can install the AudioQuest Device Manager – the firmware upgrade application. This application automatically recognizes the current version of the firmware as well as the latest available version and offers the ability to start the upgrade process in one click. So in less than a minute, the tested DragonFly Red gets support for the MQA file that came with the firmware 1.6.
Audioquest Dragonfly Red Sound Quality
The DragonFly Red sound quality is pretty impressive. We do not only focus on the raw power that is huge, but also on the purity and detail of instruments and vocals, the bass strength and the general sense of airiness and grandeur of the music. The overall presentation is exceptionally fun, and improvement, compared to the integrated sound cards, even the best among them, is drastic. In the latter, we have convinced directly by comparing the DragonFly Red with the Asus SupremeFX S1220, the best sound card that is currently installed on the motherboard.
√ Check The Price and Read Customer Reviews √
Conclusion
Although it's not cheap, the DragonFly Red gives a great impression and is a clear upgrade for every headphone that does not already have a good external DAC/amplifier.
The manual can be downloaded here: Audioquest Dragonfly Red Owners manual
Pros
Excellent acoustic performance
Great stock of power
Extremely compact design
Simple firmware upgrade
Cons
Audioquest Dragonfly Red Specifications
DragonFly Black and Red – Status/Sample rates supported (LED indicator color code): Standby (Red), 44.1kHz (Green), 48kHz (Blue), 88.2kHz (Amber), 96kHz (Magenta), MQA (Purple)
Volume Control: Analog Volume Control (Black); 64-position, 64-bit, bit-perfect
Output voltage:2.1 V
Headphone Amp: ESS Sabre 9601
DAC Chip: 32-bit ESS 9016 with minimum-phase fast roll-off filter
Microcontroller: Microchip PIC32MX ; Microchip PIC32MX274 reduces current draw and increases processing speed by 33% over DragonFlys Red
Dimensions: 12mm H x 19mm W x 62mm L (Black, Red); 12mm H x 19mm W by 57mm L (Cobalt)
If you liked this article, please rate below.
(Visited 4,423 times, 2 visits today)